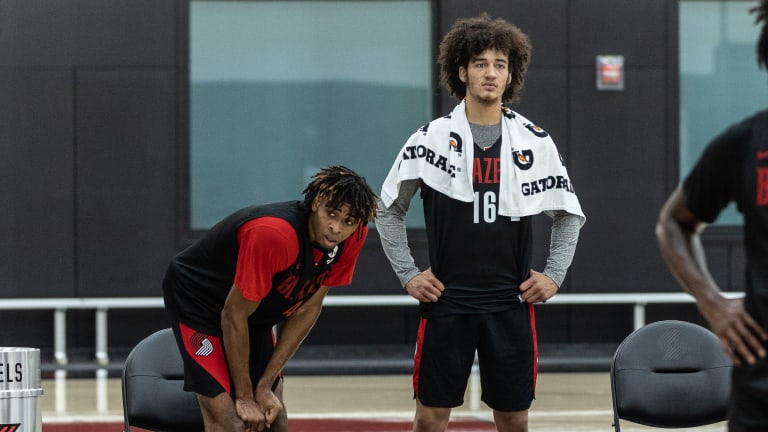 Blazers Fall to Suns, Evening Summer League Record
The Trail Blazers fell to the Phoenix Suns 79-70 on Saturday, moving to 2-2 at Summer League.
The Trail Blazers wasted a spirited early second-half run in their penultimate Summer League game on Saturday, falling to the Phoenix Suns 79-70 to move to 2-2 in Las Vegas.
Portland talked a big game about taking home hardware from Sin City during the leadup to Summer League, their bevy of veterans setting a serious, professional tone during training camp. The Blazers' dreams of a championship were very likely dashed after an ugly loss to the Indiana Pacers in their previous game. But Saturday marked the official end of those ambitions, Roy Rogers' .500 squad now out of the running for the title game.
Portland followed up a disjointed first half by storming out of the locker room, using a 12-0 run to go up 48-39 on Indiana early in the third quarter. The turnover-prone Pacers settled down from there, forcing the Blazers to play in the halfcourt rather than get easy looks in transition. Just a few minutes after its own double-digit run, Portland was on the wrong end of a 15-0 surge highlighted by this ferocious and-1 dunk from Tyrique Jones.
The Blazers played catchup throughout the fourth quarter, never getting the score within a single possession. 
Michael Beasley led Portland with 16 points on 5-of-10 shooting, though his lethargic defense in the fourth quarter didn't help the Blazers' comeback efforts. Emmanuel Mudiay, Kobi Simmons and Antonio Blakeney also reached double figures for Portland, which struggled to sustain rhythm offensively from the opening tip. Kenneth Faried didn't play.
The box score doesn't necessarily show it, but Greg Brown III put together another encouraging performance—mostly on defense. The rookie finished with three blocks, including a jaw-dropping recovery swat of Jalen Smith, Phoenix's 2020 lottery pick.
Brown wasn't airtight defensively. He got a bit lackadaisical at times, moving a step behind the ball as a help defender or letting down early in isolation.
Any 19-year-old who can combine defensive highlights like the above with multiple-effort subtlety like the below, though, is one worth watching, let alone keeping—which Portland has assured for the foreseeable future by inking Brown to a three-year deal.
Portland will play a fifth and final game in Las Vegas on August 16 or 17.