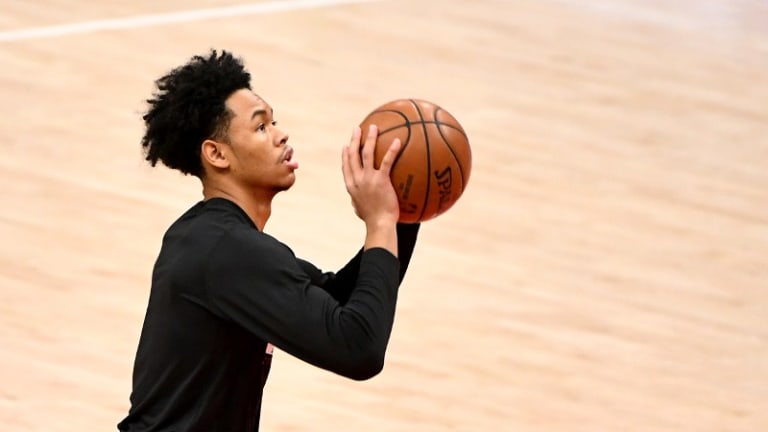 Pregame: Short-Handed Blazers Meet Sorely Depleted Hornets
Down Damian Lillard, Portland still has a golden opportunity for a road win against a Charlotte team missing its stars.
Down Damian Lillard, Portland still has a golden opportunity for a road win against a Charlotte team missing its stars.
Opponent: Charlotte Hornets (27-28 overall, 4-6 last 10 games)
Offensive Rating: 110.3 (19th)
Defensive Rating: 111.7 (16th)
Net Rating: -1.4 (20th)
Where: Spectrum Center (Charlotte)
When: 4:00 p.m. (PST)
Broadcast: NBC Sports Northwest
Point Spread: Portland -4.5
Moneyline: Portland -190, Charlotte +160
Over/Under: 217
Injuries/Health
Charlotte: LaMelo Ball (out), Nate Darling (out), Devonté Graham (questionable), Gordon Hayward (out), Malik Monk (out), P.J. Washington (questionable)
Portland: Zach Collins (out), Damian Lillard (out)
Primer: The Hornets are 7-7 since LaMelo Ball fractured his wrist on March 20th, with a -1.4 net rating, per NBA.com/stats.
Their offense has been predictably toothless without the presumptive Rookie of the Year, scoring at a bottom-six rate with pace slowing to a near-crawl. Charlotte's been able to stay afloat over that timeframe due to solid defense, the result of James Borrego playing more defensive-oriented lineups as his team deals with a spate of health issues.
The injury bug, by the way, has bitten the Hornets with abandon – and it's starting to show in the standings. Charlotte has been without Gordon Hayward and Malik Monk since April 2nd, leaving the team lacking even more offensive juice. The Hornets' energy and activity helped them to a 2-1 initial record without Ball, Hayward and Monk, but they enter Sunday's game losers of four straight, staring two more major absences in the face.
Whether Devonté Graham and P.J. Washington play or not, Portland's talent advantage – even without Damian Lillard – should be enough for a win. Charlotte lineups sans Ball, Hayward and Monk have a 108.4 offensive rating, per Cleaning the Glass, just above the Houston Rockets' 26th-ranked mark. 
Miles Bridges, basketball's most ferocious in-game dunker, has taken major strides as a shooter and playmaker this season, but he's ill-equipped to be anything more than a supporting offensive piece for now. Terry Rozier is enjoying a career season, too, the only player in the league with a clutch resumé on par with Lillard's. Still, he remains at his best occupying a secondary offensive role, using his much-improved stroke to spot-up for threes and attack aggressive close-outs.
The Hornets' defense is good enough to keep them competitive, especially if Portland struggles from deep. Should the Blazers play anywhere close to their peak, though, this game could be a perfect opportunity for Nassir Little and Anfernee Simons to make their case for additional playing time and a permanent spot in Terry Stotts' rotation.
Simons played perhaps the best game of his career on Friday. Little seemed well on his way to an expanded role early last week, but has been a bit player ever since. All data points matter, even on the backend of playing rotations. Maybe Sunday's game is when Simons or Little stakes another forceful claim to be the Blazers' ninth man.
Bottom Line: Charlotte is sorely depleted, and Portland has already shown it can beat a superior opponent without Lillard. Anything less than a comfortable Blazers victory would be disappointing.