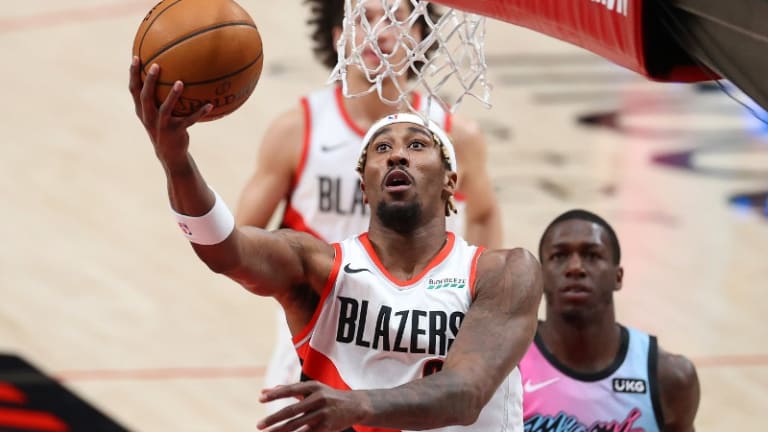 Blazers Officially Sign Rondae Hollis-Jefferson For Season's Remainder
Rondae Hollis-Jefferson has already made an impact for Portland as a small-ball center.
It's official: Rondae Hollis-Jefferson isn't going anywhere. Just how big an impact he ultimately makes for the Trail Blazers, though, remains to be seen.
Portland president of basketball operations Neil Olshey announced on Wednesday that Hollis-Jefferson has been signed for the remainder of the 2020-21 season.
The six-year veteran signed a 10-day contract with the Blazers on April 8th. He then signed another 10-day contract when his first expired, ensuring Portland would have to make a final decision on his future. League rules stipulate that players can only play under two 10-day contracts with a certain team.
Hollis-Jefferson has appeared in seven of the Blazers' 12 games since he was first signed, averaging 3.0 points, 2.7 rebounds and 1.4 assists in 11.5 minutes per game. He's shooting 42.9 percent from the field and 64.3 percent at the free throw line, missing his lone three-point attempt.
Though Hollis-Jefferson initially took the court with Portland as a power forward, he's more recently been playing small-ball center – by far his best position – each time he steps on the floor. He flashed defensively during brief playing time in the Blazers' last two games against the Memphis Grizzlies, allowing them to switch across all positions while making his presence felt with active, disruptive hands. 
Hollis-Jefferson isn't a regular part of Portland's rotation, and almost surely won't be going forward. But there are definitely some matchups, like Memphis, where the defensive versatility his presence provides will get him on the floor, even in the playoffs. 
It's worth mentioning that Hollis-Jefferson played against the Grizzlies on Wednesday while Derrick Jones Jr. sat on the bench for the game's duration. When the Blazers go small, Hollis-Jefferson seems to be ahead of Jones in Terry Stotts' hierarchy.
Will that persist over the last three weeks of the regular season, into the play-in tournament and playoffs? Given the whims of Stotts' substitution patterns, maybe not. But that's it's a question at all suggests just how much Portland has liked what it's seen from Hollis-Jefferson, a player without a job as recently as a month ago.