Woes continue for several 2012 playoff teams; more Week 6 Snaps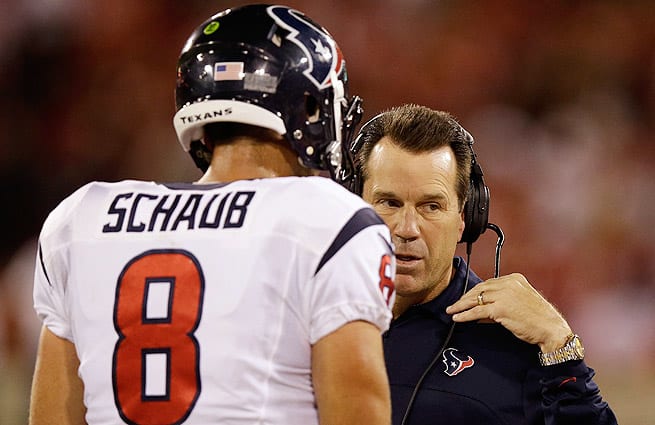 • This somersaulting into the end zone trend is getting silly. Seriously, somebody's going to break a rib or worse with that style of over-the-top end zone celebration, and I have a hard time thinking Pittsburgh head coach Mike Tomlin loved seeing Emmanuel Sanders launch himself into the end zone like a gymnast. Sanders' 55-yard touchdown catch was the highlight of the Steelers' 19-6 win at the Jets, but I'd say we're one ridiculous injury away from that showboat move being strongly discouraged.
• Let's hear it, though, for the Steelers defense, which picked off Jets rookie quarterback Geno Smith twice, finally producing Pittsburgh's first two takeaways of the season. That makes the Steelers 16-2 when facing rookie quarterbacks under defensive coordinator Dick LeBeau.
As for the 3-3 Jets, they've turned into a model of inconsistency. Through the season's first six weeks, New York has gone win, loss, win, loss, win and loss. Let's see if that streak can continue with the Patriots visiting MetLife Stadium next week.
• So much for Weeden Fever in Cleveland. Just when it looked like the Browns might be on their way to just their second four-game winning streak since 1999 and at least a share of first place in the AFC North at 4-2, Cleveland's offense went MIA in the entire second half, after leading 17-7 at the break in a 31-17 loss to visiting Detroit.
Weeden threw for 292 yards, but had two interceptions, including an ill-advised shovel pass that was picked off by Lions linebacker DeAndre Levy with less than five minutes remaining and Cleveland down by only seven points.
"It's a bone-headed play,'' Weeden said. "Any time you try underhand stuff bad things happen.''
We agree wholeheartedly, Brandon. Panic moves rarely work out.
• Three touchdowns for rookie Lions tight end Joseph Fauria was one of the headlines of the day. I doubt his uncle, former Patriots tight end Christian Fauria, ever did that. That puts Joseph on pace at this point in his nascent career to be his family's most prolific Fauria ever.
But about those end-zone dances, Joe. They need work.
BURKE: Fauria's touchdown dance highlight reel continues to grow
• I guess we should never be surprised by the lack of sensitivity and civility shown by a frustrated home football crowd, but cheering when Matt Schaub gets injured in Houston, the week after some crazy invades his driveway at his house? Texans fans are starting to make quite the name for themselves in the NFL.
• Well, Matt Cassel did nothing to slow the start-Josh-Freeman-now movement in Minnesota. Christian Ponder remains either injured or ineffective (or both), and Cassel turned in an underwhelming starting performance in the Vikings' 35-10 loss to visiting Carolina. Cassel threw two interceptions to Panthers safety Mike Mitchell and Carolina turned both into touchdown drives.
Apparently Cassel is better internationally than domestically, because his showing did little to replicate the strong game he had in Minnesota's Week 4 win in London against the Steelers.
• Watching Texans backup quarterback T.J. Yates enter the game for the injured Houston starter, and almost immediately throw a pick-six to the Rams, all I could think of was: Playing the role of Matt Schaub in today's performance will be T.J. Yates, the understudy. Must have been like a Wednesday matinee showing on Broadway.
• Road teams were all the rage on Sunday, at least in the eight early games. Seven home teams took it on the chin in the 1 p.m. games, with only Kansas City's 24-7 win over visiting Oakland bucking that trend.
But the home teams restored order in the late-afternoon time slot, with the powerful foursome of Denver, San Francisco, New England and Seattle going 4-0.
• If this version of Cam Newton and the Panthers offense showed up most every week, head coach Ron Rivera wouldn't have to sweat his job security. I don't remember seeing Newton that sharp since his rookie season of 2011. Against the Vikings, Newton was calm, cool and collected, completing 20-of-26 for 242 yards and three touchdowns, and most importantly, nary a turnover.
BURKE: Peterson limited in loss days after death of his son
• If it weren't for bad luck, the Bills would have no luck whatsoever at the quarterback position. Buffalo got a pretty nice start out of Thad Lewis in its 27-24 overtime loss Sunday against Cincinnati, so naturally Lewis was seen in a walking boot after the game and has a reported right foot sprain. That might put Buffalo in the market for Matt Flynn's services, according to several reports. Flynn was released last week by Oakland, and he could be the Bills' third starter of the season if Lewis can't play at the Dolphins next week.
Making just the second start of his NFL career, Lewis showed me a little bit of playmaking magic, throwing for two touchdowns, running for another and completing 19-of-32 passes for 216 yards without an interception. Buffalo's starting quarterback, rookie EJ Manuel, is expected to miss at least a couple more weeks after suffering a knee injury in the team's loss at Cleveland in Week 5.
• Never thought I'd write this, but Kansas City at Denver in Week 11 is shaping up as one of the games of the year in the NFL. And the two teams meet again in Kansas City in Week 13, for a quick rematch.
Both the Chiefs and Broncos won Sunday at home to improve to 6-0, although it wasn't easy against the plucky Raiders and spunkier than expected Jaguars. There's a decent shot Kansas City and Denver will arrive still unbeaten at 9-0 in Week 11. The Chiefs' next four weeks go: Houston, Cleveland, at Buffalo and bye. The Broncos are: at Indianapolis, Washington, bye, at San Diego.
BURKE: Roads team dominate early action in Week 6
• There are no moral victories in the NFL and that's almost a league rule. But good for the winless Jaguars (0-6) that they didn't play to our script and go meekly at Denver. Jacksonville trailed only 14-12 at the half, prompting boos from the Broncos' home crowd. The Jaguars lost 35-19, but the 16-point margin of victory for Denver was considerably closer than the historic 28-point pregame spread. Teams like the Ravens, Giants and Eagles didn't get that close to victory against the Broncos.