J.J. Watt is the best defensive player in the NFL, and his ability to rush the passer from multiple spots is a key reason. Here are some more players who excel in that area that you may not know as well.
As the NFL develops an overall passing game that is more productive and expansive than ever before, the need for pass rushers has grown correspondingly. Additionally, it's not just the edge-rusher who provides value: More and more, defensive players who can pressure quarterbacks from multiple gaps have become secret weapons in great defenses. Those players who can line up everywhere allow themselves to be used in more ways, and for more downs. Offenses are faster and more complicated than ever before, which places a premium value on, for example, a defensive end who can kick inside to five- or three-technique tackle on obvious passing downs and help a team avoid any substitution issues. Or a linebacker who can read blocking arrays and move around the formation to exploit mismatches.
How do we estimate the best examples of these skill sets? Pro Football Focus has a metric called Pass Rushing Productivity, which measures pressure created on a per snap basis with weighting toward sacks. Nathan Jahnke of PFF assembled a list of the most productive inside and outside pass rushers (for our purposes, we'll delineate that as inside and outside the offensive guards).
Of course, not all those weapons are secret. J.J. Watt is universally recognized as the NFL's best defensive player, and part of his transcendent excellence is his ability to demolish blocking schemes from all around the formation. No player had a higher Pass Rushing Productivity rating in 2014 than Watt's 16.2 score. Watt also scored highly when charted for inside pressure (13.6), but it's his ability to pressure from the outside as a hybrid three-tech inside end and nickel edge man that is his key to the kingdom.
Here are some of the NFL's best multi-gap players whose names aren't as familiar.
Michael Bennett, Seahawks
(Inside PRP: 11.7/Outside PRP: 11.1)
Bennett has never made a Pro Bowl or been voted to an All-Pro roster despite his status as one of the most effective 4-3 pass rushers over the last three seasons for two teams, the Buccaneers in 2012 and the Seahawks in 2013-14. Last season, including the postseason, no 4-3 defensive end had more total pressures than Bennett's 87, including 18 quarterback hits and 63 quarterback pressures. And he did it while playing a dual role of end and tackle, especially after Seattle tackles Brandon Mebane and Jordan Hill were injured. To look at Bennett's sack total of seven in 2014 and leave it at that is to completely misrepresent and undervalue his contributions to the Seahawks' outstanding defense.
• ​MURPHY: Kraft backs off tough talk against NFL
Seattle's opponents have no issue with undervaluing Bennett, though. When I spoke to Patriots offensive line coach Dave DeGuglielmo during Media Day leading up to Super Bowl XLIX, he was very talkative—until I brought up Bennett's multi-gap disruptive abilities. Then, DeGuglielmo paused, sighed and told me that Bennett was the guy the Patriots were most worried about from a pass rush perspective. He then compared Bennett to Reggie White, which was a bit of a shock, because Bennett presents so many problems.​
The Seahawks paid tribute to Bennett's versatility against New England by lining him up at every possible position on the first four plays of the Patriots' first drive: left end, then left tackle, then right tackle, then right end. Bennett responded by getting pressure against quick passes from both tackle positions. The pressure he brought on the second play of the game was especially impressive, because he got past left guard Ryan Wendell with a great foot fake, knocked running back LeGarrette Blount out of the way and nearly took Tom Brady down on a three-step drop pass to Danny Amendola. To beat two blocks (well, Blount's attempt may be categorized as half a block) and almost get home on a quick pass is pretty impressive stuff.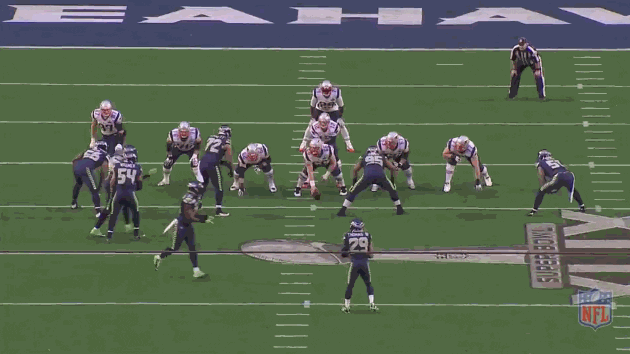 The Seahawks can think outside the box with a player of Bennett's versatility, and they've liked to do that. In their Week 13 win over the 49ers, they tried a couple of interesting things. Here's a first-quarter sack of Colin Kaepernick in which Bennett and fellow end Cliff Avril were aligned outside the formation in a close stack, with two linebackers aligned on the other side in the same fashion. The idea was to make San Francisco's guards act like tackles, responding to edge pressure in ways they're not used to. It worked for Seattle here, because Avril and Bennett nearly met at Kaepernick at the same time, with Avril beating his teammate by a step.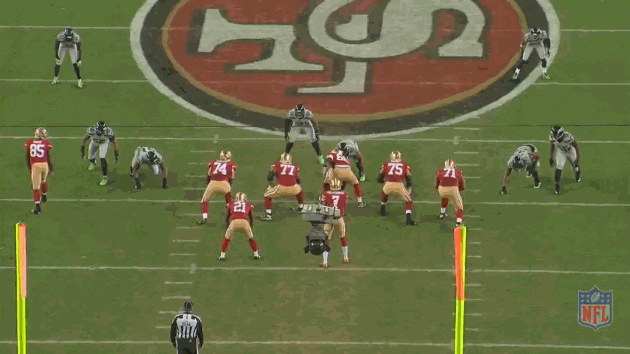 And in that same game, the 49ers learned what happens when you ignore Bennett at the one-tech shade nose tackle position: Your quarterback goes down. Even when he's blocked well at this position, Bennett has a rare combination of power and first-step quickness to excel inside as most 6'4", 271-pound players can't. Jim Harbaugh is not amused by the efforts of his offensive line, and you can hardly blame him.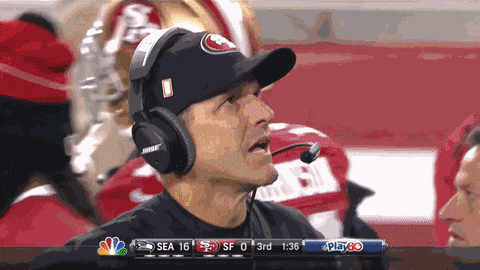 Bennett has made a bit of a scene this off-season by saying that he's underpaid, despite the fact that Seattle rewarded his efforts with a four-year, $32 million contract with $16 million guaranteed before the 2014 season. But based on the tape, Bennett may actually have a point. He's playing (at least) two crucial positions at an elite level with starter's snaps. Outside of Watt, it's tough to think of another player who can claim that.
Pernell McPhee, Bears
(Inside PRP: 13.9/Outside PRP: 15.1)
New Chicago defensive coordinator Vic Fangio is definitely one of the smartest guys in the room, and he worked wonders with San Francisco's defense from 2011 through 2014. Various front-office shakeups had the 49ers inexplicably deciding to move on from Fangio in the wake of the Jim Harbaugh debacle, and that's to the extreme benefit of a Bears defense that underperformed woefully in 2014. Another step in improving that defense was the acquisition of free-agent linebacker Pernell McPhee, who has been an underrated and productive player in Baltimore's defense over the last few seasons. McPhee wasn't a starter per se—more a situational pass rusher—but it was the extent to which he could upset the pocket from anywhere on the field that proved his inherent value as a player.
•​ MMQB: Brandt: The battle ahead in Brady's appeal
I first detailed what the Bears were getting in McPhee soon after he signed that contract, and it's worth revisiting here, because this guy is all over the place. 
According to Pro Football Focus's 2014 metrics, McPhee rushed the passer 75 times in 372 total passing snaps from the standard outside linebacker position; he also played 115 snaps as a defensive end on either side of the formation with his hand on the ground and 120 snaps from other linebacker positions. In addition, McPhee rushed occasionally from three-tech and one-tech defensive tackle positions or gaps, with a stand-up stance and with his hand on the ground. He registered 7.5 sacks, 24 quarterback hits and 40 quarterback hurries with those limited opportunities, and if you want to see him at his best, look no further than his two-sack game against the Browns in Week 17. On the first sack, he beat left tackle Joe Thomas, one of the NFL's best at his position for years, for a straight-up takedown.
This came with 13:12 left in the second quarter, and featured McPhee in a wide-9 set with his hand on the ground.Thomas can barely get up and into his kickstep before McPhee is on him, and with a quick inside move, quarterback Connor Shaw is left to wonder what the heck just happened.
The second sack of McPhee's day shows what happens when you leave a crossing tight end (in this case, Cleveland's Jordan Cameron) to block him one-on-one. Quite simply: Bad things happen. McPhee is closing off the offensive right side, and right tackle Mitchell Schwartz (who's generally the anti-Joe Thomas from a talent perspective) pinches inside to double defensive tackle Brandon Williams. Running back Terrance West barely puts up a fight at the last line of resistance, and this does not go well for Shaw at all.
Here, in Week 5 against the Colts, McPhee is lined up with his hand off the ground between center Jonotthan Harrison and right guard Hugh Thornton. At the snap, McPhee just okey-dokes Thornton into oblivion with a quick rip move, and the Colts have to re-set one sack later. 
The Ravens knew they were probably going to lose McPhee. After the season he had, he was going to get paid in a serious way, and Baltimore's loss is Chicago's gain. Pernell McPhee might just be the next Monster of the Midway.
Ryan Davis, Jaguars
(Inside PRP: 9.5/Outside PRP: 11.1)
Davis is the least-known player on this list outside of the greater Jacksonville area, but his ascent is representative of the ways in which the Jags have been assembling talent under the radar. An undrafted free agent out of Bethune-Cookman who first saw NFL snaps in 2012, Davis ramped up his performance pretty seriously in his third NFL season. He's never started a game, but amassed 6.5 sacks, five quarterback hits and 13 quarterback hurries in just 310 snaps in 2014. Moreover, as indicated by his Inside PRP of 9.5 and Outside PRP of 11.1 (both top-10 NFL numbers), Davis can blow up a quarterback's intentions from different places on the line.
Davis had two two-sack games in 2014, one against the Eagles in Week 1 and another against the Dolphins in Week 8. He played three-tech tackle on both Philly sacks, and sacked Ryan Tannehill from two different gaps against the Dolphins.  
We'll start with his two sacks against the Eagles. The first one came with 13:38 left in the first half. Davis (No. 59) was lined up between left tackle Jason Peters and left guard Evan Mathis, which is as imposing a blocking duo as you'll find in the NFL. Mathis has been one of the league's best guards for a number of years, but Davis got to quarterback Nick Foles pretty easily here by moving to Mathis's outside shoulder and getting quickly by him with excellent speed and strength. 
Then, with 1:38 left in the first half, Davis blew through Philly's slide protection, fending off an additional block from center Jason Kelce.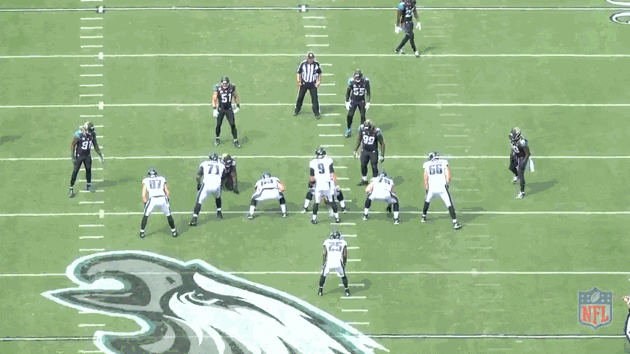 Davis got his first sack against the Dolphins with 10:53 left in the first quarter, with a straight-up speed move past left guard Daryn Colledge, who tried an armbar in vain. This is just physically beating your opponent.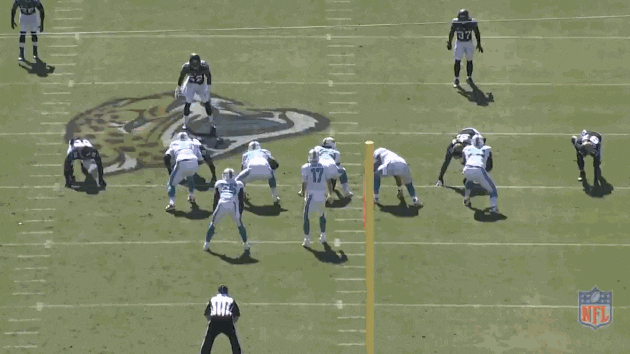 Then, with 13:11 left in the third quarter, Davis was opposing rookie right tackle Ju'Wuan James. The Jags put Davis in the middle of an interesting blitz concept on the left side, with tackle Sen'Derrick Marks to his right and end Chris Clemons to his left. At the snap, Clemons stunted inside and Marks took right guard Mike Pouncey head on. Davis beat James with a bull rush and good quickness around the edge.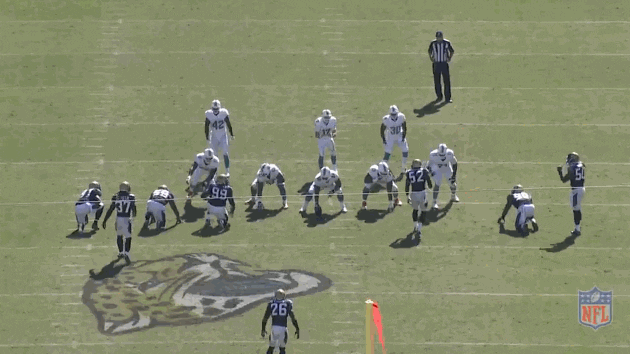 With the unfortunate season-ending ACL injury to first-round draft pick Dante Fowler, there's still a need for a consistent pass rush from Jacksonville's veterans, and Davis appears to be headed for a breakout season.
Other multi-gap stars:
Robert Ayers, Giants (Inside PRP: 16.7/ Outside PRP: 12.9)
Anthony Barr, Vikings (Inside PRP: 15.8/Outside PRP: 10.8)
Vinny Curry, Eagles (Inside PRP: 9.0/Outside PRP: 12.9)