The Atlanta Falcons' starting left tackle, who was drafted sixth in the 2014 NFL draft, allowed 51 total pressures in 2014, tied for fourth-most in the league. But this season, Jake Matthews has allowed no sacks, no quarterback hits and just four quarterback hurries through four games.
The Falcons' left guard is a former free-agent bust who the Titans couldn't wait to jettison. Acquired from Tennessee for two low draft picks in early September, Andy Levitre is now playing with a confidence and competence not seen since his salad days in Buffalo.
Their center was picked by the 49ers in the seventh round of the 2011 NFL draft out of Montana State, who's bounced from team to team as a hybrid lineman and depth guy. This season, Mike Person is epicenter of the complex, dominant offensive line.
Their right guard was waived away by the Redskins as they looked to go with more of a pure running game under new offensive line coach Bill Callahan. Now, with his new team, Chris Chester has allowed one sack and two quarterback hurries through four games, and he's partly responsible for the front-side power in several of Atlanta's run game concepts.
Their right tackle is a third-year undrafted free agent from Valdosta State who got some starts last season after Atlanta's Gabe Carimi experiment blew up. This year, Ryan Schraeder is holding his own on the right side.
These five players compose what has been the NFL's most surprising offensive line so far this year. Perhaps the most impressive part is the short amount of time they've had to work together. Chester was added in late May and Levitre was acquired via trade in early Sept., long past the point when you want to establish your starting left guard. On top of that, Person moving from center to guard wasn't expected to pay immediate dividends.
• BELLER: What will happen to Freeman's production when Coleman returns?
Coaches will tell you that line continuity is crucial to success, but the Falcons couldn't afford to wait for that. While this starting five wasn't really established until the week before the regular season, new offensive coordinator Kyle Shanahan and new offensive line coach Chris Morgan made these guys look like they've played together for years.
Second-year running back Devonta Freeman would certainly attest to that. A fourth-round pick out of Florida State in 2014, Freeman played just 237 snaps in his rookie campaign, rushing 65 times for 248 yards and a touchdown. This season, in just 184 snaps, Freeman has gained 252 yards on just 66 carries and scored seven touchdowns on the ground, making him the first player since at least the 1970 AFL-NFL merger to score three touchdowns in each of his first two NFL starts. For good measure, he caught three passes that traveled over 15 yards in the air against the Texans last week—the first NFL back to do that since Arizona's Andre Ellington in 2013.
Sure, you already knew about Matt Ryan and Julio Jones—they've been stars for years. But even the stars are playing at an elevated level, especially Jones, who's on pace for 152 catches for 1,912 yards and 16 touchdowns.
New coach Dan Quinn has received his fair share of kudos when people talk about Atlanta's 4–0 start this season, and deservedly so. But Shanahan is the real x-factor on that coaching staff. He took an offense that was stuck in the mud, and handed a patchwork offensive line the tools for success. Shanahan did well for the Redskins in Robert Griffin's rookie season of 2012, tying Baylor's offense to pro-style concepts. And as much as he was hamstrung by personnel issues as Cleveland's offensive coordinator last season, Shanahan was able to escape that situation after a single year with relatively little blame. Hired by the Falcons on Jan. 18, Shanahan waited for Quinn's hire on Feb. 2 and then got to work.
• KLEMKO: How daily fantasy football is changing NFL viewership
"We believe in the outside zone scheme," Shanahan said during his first Falcons press conference on Feb. 10. "We are going to do a lot of things, but we are going to major in using the outside zone. It's what I used in Houston. It's what I did in Cleveland. It's what I did in Washington. It's something I believe in very strongly. The main thing when get these linemen in here, is we are going to get them to run. They are going to run more than they ever have before. We are going to challenge the defense sideline to sideline, not just between the tackles. It's a challenge to get guys to run and still be as physical as anybody."
That's been proven out to this point, to be sure, and when you go back to that first presser, it's clear that Shanahan had a vision in mind, and that he was excited to weld it to his new offensive personnel.
"Players want to be coached," he said at that press conference. "It's as important to them as it is to you. They want to do as good as they can. You want a quarterback to believe you can help him, so you work hard as you can put guys in a situation to be successful, and you want to know what makes them comfortable. You want to communicate to you that, 'Hey, I know this might work, but I'm not comfortable with it.' You need that dialogue through the week, and you try plays through the week. That's why you practice through the week, but on Sunday, you have to have a good idea of what [they] like, and what you like."
Before the season, Quinn, Shanahan and the entire staff made DVD cuts of all 90 players on the roster, allowing them to focus on what each player in what role could do best for them. It's all very forward-thinking in a league where coaches still frequently try to superimpose their schemes onto players, no matter the (frequently disastrous) results, but all of it wouldn't matter if it wasn't working.
In Atlanta, it's working, and here are a few reasons why.
The Plays
Freeman's 23-yard touchdown run with 14:45 left in the second quarter against the Texans last Sunday shows what you get when an offensive line is working in sync. The Falcons go trips right with an in-line tight end to the left and Freeman lined up in offset Pistol left, and Houston responds with dime coverage and a four-man base front. Schraeder keeps J.J. Watt at bay from a wide-nine look, while Person seals tackle Vince Wilfork out to his right. Levitre and Matthews double-down on tackle Jared Crick, Chester pulls outside of Mathews to block defensive back Eddie Pleasant and tight end Levine Toilolo keeps Jadeveon Clowney out of the lane just long enough for Freeman to get going.
But the key play here is Matthews', because he pulled off Crick and hit linebacker Brian Cushing at the second level. Freeman times the lane perfectly, breaks two arm tackles, and that's a touchdown.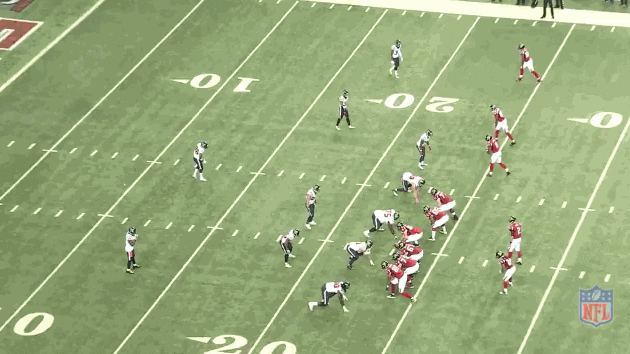 Shanahan talked about his devotion to the outside zone concept, and this three-yard Freeman touchdown with 3:05 left in the first quarter in Week 3 against the Cowboys shows how that commitment has paid off. Having Jones split wide against the playside takes one point of Dallas' defensive focus, but this play is all about the blocking. Atlanta's offensive line is assignment-correct for the most part (Levitre misses linebacker Anthony Hitchens at the second level, but it doesn't matter), and fullback Patrick DiMarco absolutely blows up linebacker Kyle Wilber to clear the way for Freeman. DiMarco has been an essential part of the Falcons' run game this season.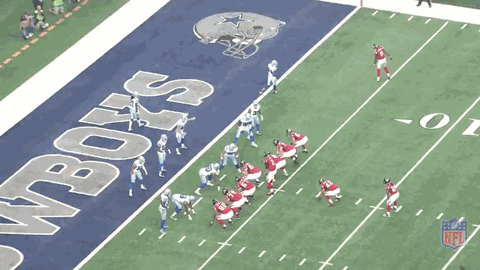 Shanahan has also been very creative in how he schemes openings for Freeman in the passing game, and this 44-yard reception with 5:12 left in the second quarter against Houston is a great example. Both Toilolo and Roddy White run inside routes from the offensive left side, and with Toilolo's pre-snap motion constricting Houston's pass defense to that side, Cushing, who would be covering Freeman out of the backfield on this play, gets caught up in the scrum. As a result, Freeman is wide, wide open.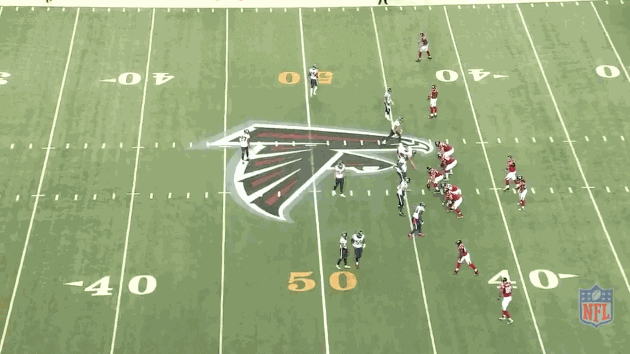 Here's another cool concept, played out with 28 seconds left in the first half against the Cowboys. Toilolo motions away from the play pre-snap, and Ryan has a wheel route to Freeman. The Falcons took a chance on Sean Lee blitzing, which he did, and that put end Jack Crawford on Freeman when Lee would have been the far better matchup. Result: a 35-yard reception. I'd put this down to Ryan's pre-snap recognition as much as anything.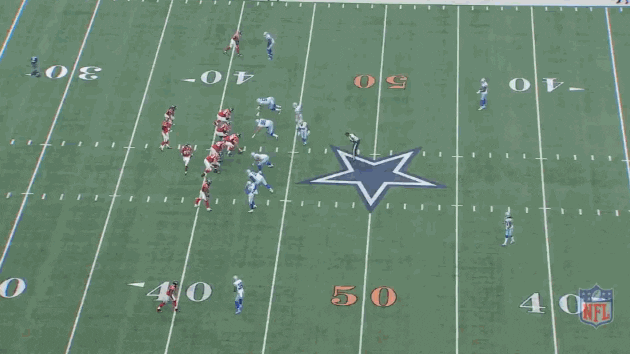 Here's another variant that came with 3:12 left against the Giants in Week 2. It's just an 11-yard reception, but it shows the same principles—tight end motion to slant the defense and inside routes from the playside receivers to create openings. And just like that, Freeman's route path is easier. Add in a perfectly-timed pitch from Ryan, and it's very tough to defend.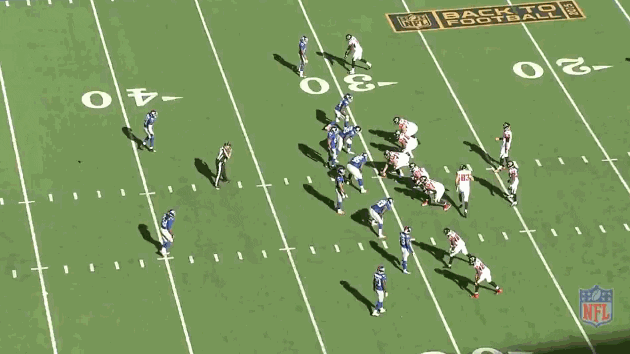 White has said that Ryan is still getting the hang of Shanahan's system, and that things haven't opened up as much as they will, which has to give Atlanta's future opponents pause. Still, Shanahan has made Ryan's life easier, and his receivers more productive, with route concepts that create designed openings within the timing of the play. I really liked this play that went off with 11:41 left in the third quarter against the Texans. It's a crossing concept with Toilolo occupying two defenders from inside, and receiver Leonard Hankerson taking advantage of the rub concept on a quick slant.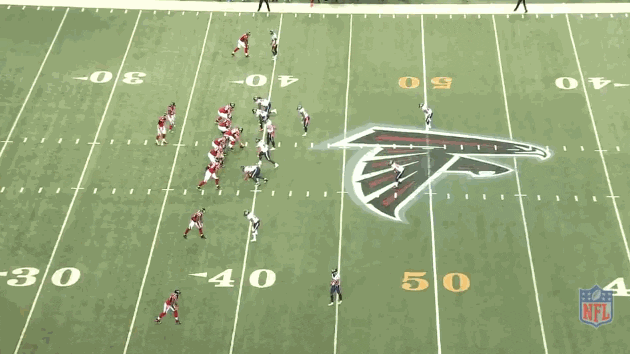 When you combine these motion and route ideas with an unstoppable force like Jones, things get really complicated for opposing defenses. The Eagles found this out on this 22-yard touchdown pass with 51 seconds left in the first half. Jones is the iso receiver to the right side, with Hankerson going in motion from right to left pre-snap. The motion to a bunch look slants Philly's coverage, and also sets Ryan up with a sneak peek into the coverage—he knows he's probably getting a zone look here. Safety Malcolm Jenkins passes Hankerson off to the defensive right side, safety Walter Thurmond covers Hankerson to that side, safety Chris Maragos leans to the bunch side, creating essentially a one-on-one matchup between Jones and Maxwell.
The result was predictable. Ugly coverage from the Eagles, yes, but predicated on a play design meant to give the offense the advantage.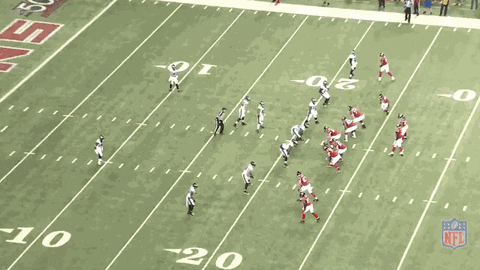 Shanahan has said that Jones makes his job easier, but he's also making Jones' job easier with creative placement and route concepts. Let's take a look at his two touchdown receptions against the Cowboys. With 7:16 left in the first quarter, Ryan hit Jones on a 45-yard post pattern with Jones coming out of the near left slot against cornerback Tyler Patman, which really isn't fair. As Jones said after the game, "On the long one, they had No. 26 holding me. Just by watching film, he loves to play outside leverage. Kyle drew it up like he's going to play outside. He played me outside. I crossed his face and that was it."
Indeed.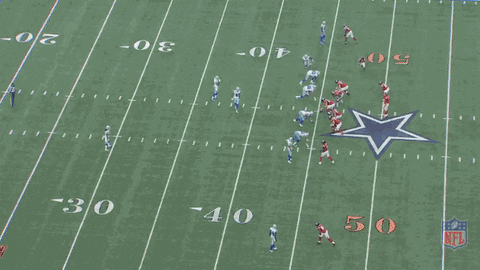 This four-yard score with 3:09 left in the game was another beauty. Ryan delays a playfake to Freeman, and boots right to Jones, who runs across the formation to a wide-open look against a confused Dallas defense. It's a setup from the base zone running concept, as Jones explained.
"We ran a truck [block]. This came off another play we usually run, basically a run play…a toss play to that side. The defense is very fast. They are a fast-flowing downhill defense. We just set them up like we were going to run that and we just snuck me behind the defense."
Sneaking Jones behind a defense isn't something you often see, but that's the level of schematic diversity and opponent setup Shanahan is running these days. Jones may have best explained the effect of his new offensive coordinator.
"Kyle, man, he's just a genius. He draws it up and we go execute... [he] did a great job moving me around in the second half, putting me inside. They didn't have an answer for it. That allowed me to get open and move around a little bit. It doesn't matter who I'm going against. I just try to go out there and do my best.
"The sky's the limit for this team. We've just got believe in this locker room. We've just got to stay together in this locker room. You said there's ninety thousand out there but those ninety thousand can't win or lose this game for us. We've just got to have the mentality we're going to play for each other until it's 0:00 on the clock. It's just the confidence that we have in each other as a team. We have to play to the end. It doesn't matter what the score is. As long as there is time on the scoreboard, we've got an opportunity."
That confidence, and the 4–0 record that goes with it, has a lot to do with the man drawing up the plays on the offensive side of the ball. Kyle Shanahan now has his ideal right-time/right-place scenario, and he's stayed true to the vision he expressed from the day he first walked into the Falcons' front office.