NFL News and Notes: Root of the Cowboys' Issues, Kyle Allen's Productivity
Also, Kliff Kingsbury's offense is taking shape, Sam Darnold's vision, an inside view of the Chargers-Steelers game and more.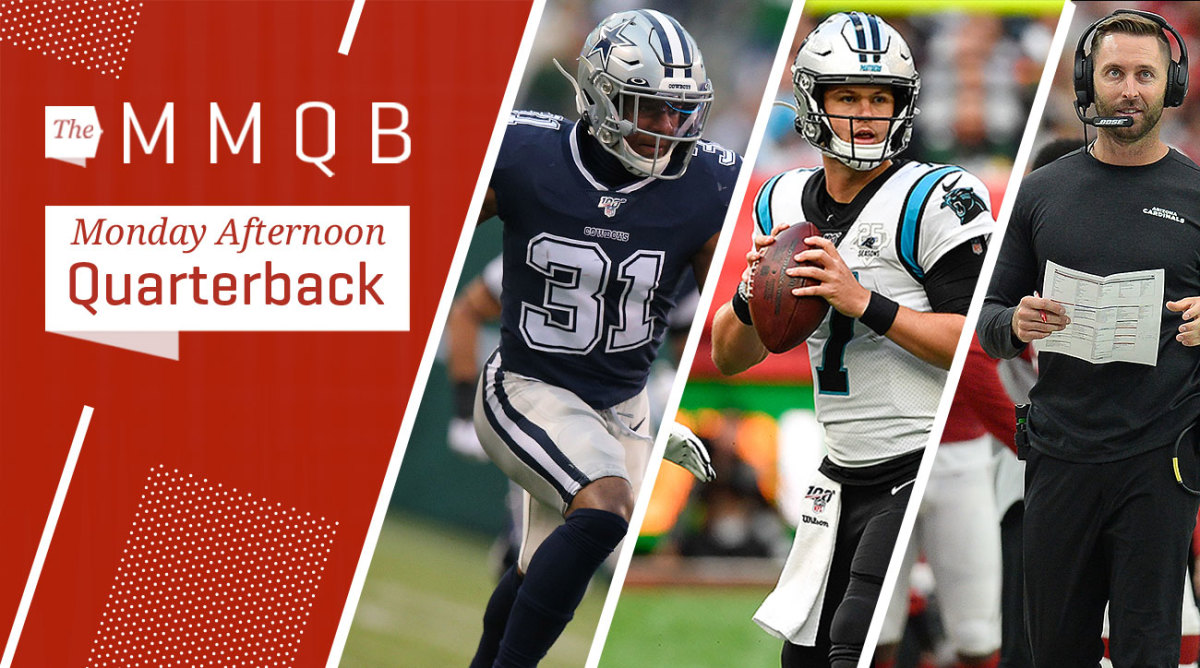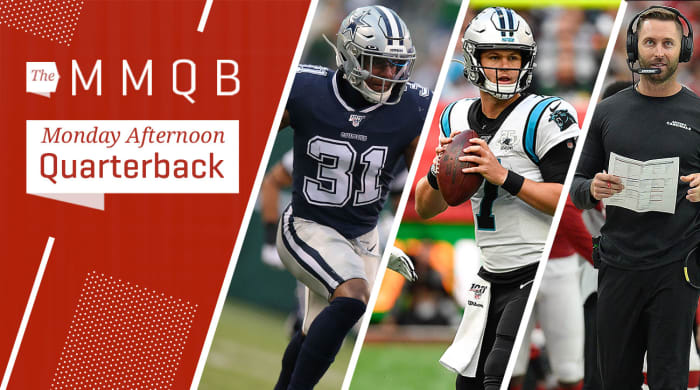 Six weeks of the NFL season (almost) down, 11 weeks to go. And lots to get to …
• The Cowboys' issues on Sunday mostly boil down to something that had previously felled the other team on that New Jersey field—flaws at corner and along the offensive line are very tough to cover up. The latter issue is health-related, and it'll be hard to pass judgment on where this Dallas team is until Tyron Smith and La'el Collins are healthy again at tackle. The former is more troubling. The quartet of Byron Jones, Chidobe Awuzie, Jourdan Lewis and Anthony Brown hasn't performed to the level that Dallas anticipated it would, and that needs to quickly improve, particularly with Jones now injured.
Aside from that, an internal talking point has been the inconsistency in players following and trusting their assignments and teammates—that has led to slow starts and some of the big plays given up the last few weeks.
• Credit the Panthers coaches, and in particular offensive coordinator Norv Turner and quarterbacks coach Scott Turner, for putting Kyle Allen in a tremendous position to succeed. Multiple people in that building have told me that Carolina really hasn't needed to change anything to accommodate its new quarterback, which I've found most interesting. In fact, they've done a little more with Allen in certain ways, since they don't have to worry as much about managing the hits he takes in the running game. 
That, of course, isn't to say Allen is Cam Newton. But he's been smart enough to pick up the system to the point where the change hasn't disrupted the other 10 guys in the huddle, and that's shown in their collective production—Carolina is fifth in the NFL in offensive points scored.
• Don't look now, but Kliff Kingsbury's offense is taking shape in Arizona—the Cardinals piled up a season-high 514 yards last week against the Bengals, and scored a season-high 34 points this week against the Falcons. The difference? As the coaches see it, there's the natural learning curve everyone faced in getting comfortable in Kingsbury's wide-open scheme, and the one Kyler Murray faced simply being a rookie quarterback.
But there's also something specific—the elimination of negative plays, which fell largely on Murray's ability to stop taking sacks. The coaches harped on it, and the message got through. Through four weeks, the Cardinals were taking about a dozen negative plays per game. They've sliced that number in half the last two weeks.
• Vision is an underrated trait for a quarterback, and on Sunday, Adam Gase's staff was most impressed by that trait in their young quarterback's return to action. Sam Darnold, still just 22 years old, saw the field exceptionally well, which is one thing the previous regime saw in the USC product coming out of the draft—he had, in scouting terms, "fast eyes." While there's been a lot of tumult over the last 10 months in Jets Land, Darnold's presence is a very legitimate reason for optimism.
• Redskins QB Colt McCoy was a healthy scratch on Sunday, which was very interesting, if you're paying close attention. I'm told that McCoy was 100% healthy, and not much reason was given for the move. It's fair to look at how McCoy was seen as Jay Gruden's guy, and wonder if that had any sort of impact in the decision-making, and question at what level of the organization that decision-making came.
• What was the crowd like at Dignity Health Sports Park on Sunday for Chargers-Steelers? There's no one better to summarize the experience than my old NFL Network colleague Dave Dameshek (also, check out his podcast, the Dave Dameshek Football Program!). Shek, a dyed-in-the-wool Steeler fan, was sitting in Section 117, and says he saw the stadium as about 80% Pittsburgh. 
"Somewhere in between San Diego and downtown L.A., Carson isn't no-man's land—it's pigskin purgatory for a Chargers' franchise in physical transition, a SoCal-based football team that's somehow never at home … even at home. But this chapter in pro football's yin and yang has its beneficiaries—namely, the fans of visiting teams, never more so than for Sunday night's provincial invaders, 3,000 miles from their mecca, proselytizing via towel wave to the already-converted familiar faces and would-be strangers in black-and-gold No. 19 and No. 75 jerseys. Standing a few miles away from the Pacific Ocean, watching a night game in the golden-hour light, the paradox was more than just transparent, it was it spiritual. It wasn't Pittsburgh … but it did feel like home."
And the Steelers' fans even got to leave with a win.
• The league's current situation in Los Angeles, by the way, is on the docket for discussion at this week's NFL Fall meeting in Fort Lauderdale. Nine months until the ribbon is cut on $5 billion SoFi Stadium.
• We mentioned the Saints defense in the All-32 in MMQB this morning, and it's worth diving deeper in what has taken coordinator Dennis Allen's group to the next level. The coaches believe that a big part of it has been the players' understanding of not just the 'what' but the 'why' in the playcalls. That's allowed the team to take away a couple things from every offense it faces, disguise looks, and change coverages post-snap. If you need an example of the kind of edge that can give a defense, go back to the Super Bowl and take a look at what New England did to the Rams. The Saints' scheme is different, of course, but the idea is the same. It also doesn't hurt that Marshon Lattimore, Marcus Davenport, Cam Jordan and DeMario Davis are playing at a Pro Bowl level, and guys like Malcom Brown, David Onyemata and Eli Apple have given the defense a nice second layer of talent.
• Was there anything extra personally for 49ers coach Kyle Shanahan in beating his ex-staffmate / Rams coach Sean McVay at the Coliseum?
"No, honestly, I know everybody wants there to be," Shanahan said. "It's kind of comical to look at it that way cause it's not Sean vs. me. It's 49ers vs. Rams and, yeah, we call plays and stuff but there's a lot of coaches and players who do a lot of stuff. This is step one in trying to win our division. I'm glad we got one down but we're gonna see those guys again. It's just getting started, I've been 4-1 before and haven't made the playoffs. Fortunately, we're 5-0 so we're one ahead of that, but I never feel good until the year is over. There's only one happy team at the end of the year. I know it's going to be a grind."
• A few weeks ago, in the MMQB, I cited a number I came across: At that point, the 49ers had 15 players who'd broken 20 MPH in game action, per the NFL's Next Gen stats—a league high. When I asked Shanahan about it, he said, as he's said to me before, that he's always wanted speed on offense to play the matchup game. He then added that idea extends the other side of the ball too.
"Speed is critical," Shanahan explained. "It''s the way I want to play offense. It's critical in how we play a lot of zone coverage, when you do that, you better have guys who can run and hit. You guys can run and hit in the secondary and get after the quarterback. John [Lynch] and his staff have done a really good job getting that for us."
Question or comment? Email us at talkback@themmqb.com.