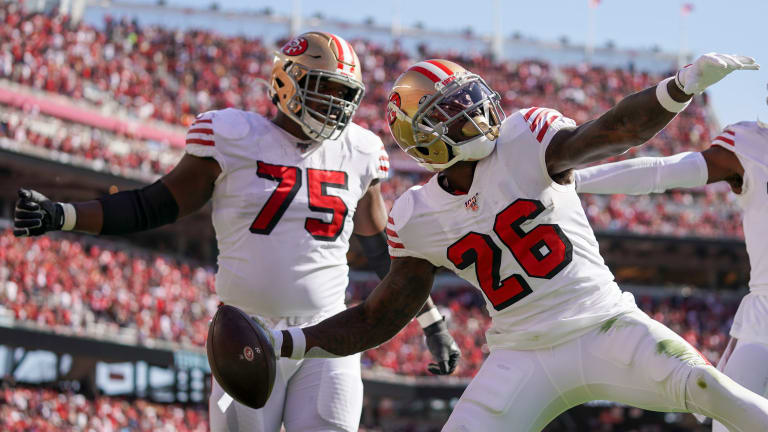 3 Takeaways From the San Francisco 49ers 51-13 Win vs. Panthers
The 49ers showed no mercy to the Carolina Panthers in their 51-13 blowout win. San Francisco improves to 7-0 on the year. Here are three takeaways from the 49ers victory.
At some point, a 49ers' win should cease to surprise the masses. The undefeated 49ers were able to silence any talk of an upset with a dominant win over Christian McCaffrey and the Carolina Panthers.
The 49ers gifted George Kittle a happy National Tight Ends Day with a 51-13 win to hand Carolina quarterback Kyle Allen his first career loss. With the win, Kyle Shanahan and the 49ers move to 7-0 this season and remain in first place in the NFC West.
Here are five takeaways from the San Francisco 49ers win over the Carolina Panthers in week eight.
Bosa is a Generational Talent
Nick Bosa has quickly ascended from a good rookie to defensive MVP-level play. In a game that saw running back Tevin Coleman score four touchdowns, Bosa stole the show.The second overall pick from Ohio State wreaked havoc on Allen, recording three sacks, three QB hits and his first career interception.
With the onslaught of pressure from the 49ers, led by Bosa, Allen was erratic with passes, leading to his first, second and third career interceptions. Bosa was absent from one drive in the first three quarters, and that also happened to be Carolina's one touchdown (a 40-yard run by McCaffrey).
Just by being on the field, Bosa can change the game. Add in his elite pass-rush skills, Bosa owns the game. In just seven games, Bosa has seven sacks, 11 tackles for loss and 13 QB hits. That's Aaron Donald and JJ Watt-level dominance. He has elevated his play to the point where anything less than amazing can be seen as a disappointment. 
One important factor in Bosa's success is the overall talent of the 49ers' pass rush (27 total sacks, 43 TFLs). If a team chooses to double or triple team Bosa, they would then have to deal with the likes of Arik Armstead, DeForest Buckner, Dee Ford and more.
Coleman Outduels McCaffrey
It was no secret heading into Sunday's game that both teams were going to be running the ball. Whereas the 49ers use their run-game to open up their play-action, the Panthers have no other option but McCaffrey to carry their offense to victory. McCaffrey was able to break loose for a 40-yard touchdown in the third quarter, but was held in check long enough for the 49ers to build a commanding lead.
The Carolina offense failed to create any momentum and the frustration began to show. San Francisco defenders got in McCaffrey's face and the running back could do nothing about it. With all hopes of a comeback dashed, McCaffrey exited the game for reserve running back Jordan Scarlett. While McCaffrey found the end zone just once with his 18 touches, Coleman feasted with four scores on 13 touches.
In the first half alone, the first year 49er signee from Atlanta had 101 total yards and three touchdowns. In the second half, Coleman added another touchdown to put the game away. He ended his day with 11 carries for 105 yards and three touchdowns, and two catches for 13 yards and a touchdown.
Sunday's Win Proved Lynch Right
Following injuries to left tackle Joe Staley, right tackle Mike McGlinchey and cornerback Ahkello Witherspoon, many were clamoring for 49ers' general manager John Lynch to go out and get disgruntled Washington left tackle Trent Williams or then-Jacksonville cornerback Jalen Ramsey. Rather than mortgage the future by trading multiple first round picks, Lynch and Shanahan chose to stick with the unproven depth they had built.
The 49ers were able to overcome the injuries to Witherspoon, McGlinchey and Staley without really missing a beat thanks to quality play from replacements — cornerback Emmanuel Moseley, right tackle Daniel Brunskill and left tackle Justin Skule. Although Skule was beat by longtime 49er adversary Bruce Irvin for a safety, the two young offensive linemen helped free Coleman for a couple big touchdowns.
After the game had long been in the 49ers' favor, Brunskill moved to right guard and had a big block to free up Raheem Mostert for a 41-yard touchdown. That versatility could pay off in the long run for both Brunskill and the 49ers. With McGlinchey and Staley's return in the horizon, Brunskill could also fill in at guard if another injury crops up. On the defensive side, Moseley has turned heads since his inception into the starting lineup against Cleveland.
Moseley, a 2018 undrafted rookie out of Tennessee, saw his hard work pay off on Sunday when he caught his first career interception, jumping an Allen pass intended for Curtis Samuel. While Lynch chose not to pull the trigger on Williams or Ramsey, he did on wide receiver Emmanuel Sanders. The move paid immediate dividends as the veteran receiver caught a four-yard touchdown on the first drive of the game.
Bonus Takeaway
Punter Mitch Wishnowsky can hit. The Australian rookie, drafted in the fourth round out of Utah, let Carolina kick returner Reggie Bonnafon know firsthand that he isn't a typical kicker. After the 49ers went up 21-3, Wishnowsky threw it back to his Australian football days with a booming hit, but was penalized for lowering the head to initiate contact.