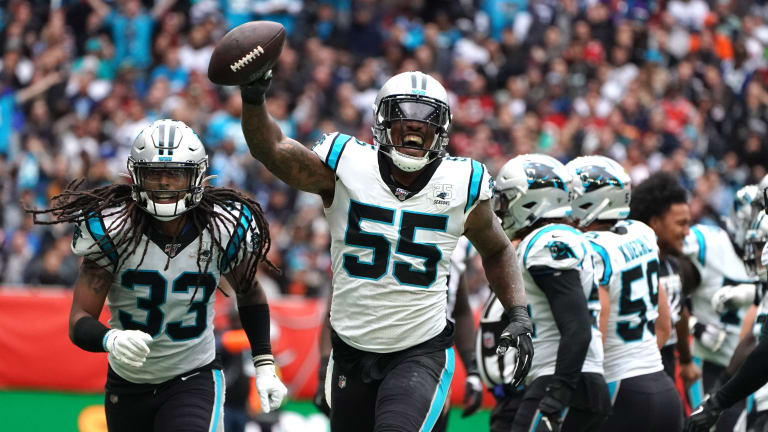 Behind Enemy Lines: Carolina Panthers
Scott Hamilton of Panthers SI Maven answered five burning questions regarding the matchup between the Carolina Panthers and San Francisco 49ers.
Sunday's matchup with the Carolina Panthers will be a much more difficult task than most people think. Carlonia has been rolling since week three and hasn't looked back. They play solid defense and rely on Christian McCaffrey to gash opposning defense's. 
However, the Panthers are more than just one elite running back. We went behind enemy lines with Sports Illustrated's Panthers Maven to scout the team. 
1.) Kyle Allen will get the start against the 49ers on Sunday with Cam Newton still rehabbing. He's done an excellent job of taking care of the ball and making the crucial throws. What is it about him that has this team rolling on a four game winning streak?
He's got the tools physically, though not on the level of a Cam Newton when Cam is healthy. But the biggest thing Allen has going for him is he knows his role is to be a distributor of the football. He allows the offense to breathe and the playmakers to make plays, accepting the fact that he's a facilitator of the football. 
He also has other intangibles such as strong leadership qualities, a level mindset that's rare for a guy with a limited NFL resume and a quiet confidence about him. I spoke with longtime NFL veteran Trent Dilfer about him recently. Here's what he had to say about Allen:
2.) The 49ers' defense specialty is their core of pass rushers. Offenses have not been successful in slowing down these guys and it looks like the Panthers haven't done that great of a job with protecting Allen. He's been sacked 10 times since he took over the starting job. How confident are you that Allen will have enough time to deliver throws? What will Norv Turner have to do to ensure his quarterback isn't getting pressured all game?
All indications are he should at least have a chance. A big part of that will be because Trai Turner is returning to the lineup after being out since Week 3. But also Norv Turner is really good at creating situations to protect the quarterback be with by implementing more quick passes or simply moving the pocket to provide a bit more time.

3.) It's no secret that Christian McCaffrey is one of the best, if not the best offensive player in the league. He has been torching defenses left and right. However, much like with Kyle Allen, he hasn't faced a defense as talented as the 49ers. Defensive coordinator Robert Saleh will do everything he can to scheme him out. What do you think the Panthers can do to ensure McCaffrey doesn't get bottled up by the 49ers?
Try to stretch the field horizontally as well as vertically and create as many one-on-one matchups as possible. And that could mean the best -- or at least the most intriguing -- matchup in all of the NFL this weekend if he's often isolated with 49ers linebacker Fred Warner.

4.) On the defensive side of the ball, Carolina has an underrated defense with stalwart player Luke Kuchely at the forefront. Who are some players that can cause some trouble for the 49ers' offense?
Donte Jackson is only in his second season and still developing skills as an NFL corner. But the defense is a bit tighter when he's in the lineup (which he will be for the first time in weeks because of a lingering groin injury). I have to think that only puts more pressure on a San Francisco passing game that's struggled all season.

5.) San Francisco just acquired Emmanuel Sanders via trade from the Broncos. With him in the mix, it'll make it tougher on defenses to want to put all their focus on George Kittle. What do you think is the Panthers approach to this and the pass game of the 49ers overall?

Could put more coverage responsibilities on the linebackers, especially in man-defense situations. A lot of the can be alleviated, however, with a strong and consistent pass rush that might incorporate more blitz packages than has been the norm this season. It's hard to hit wide receivers for chunk plays if the quarterback is having to get rid of it quickly -- which again could mean more looks for Kittle.