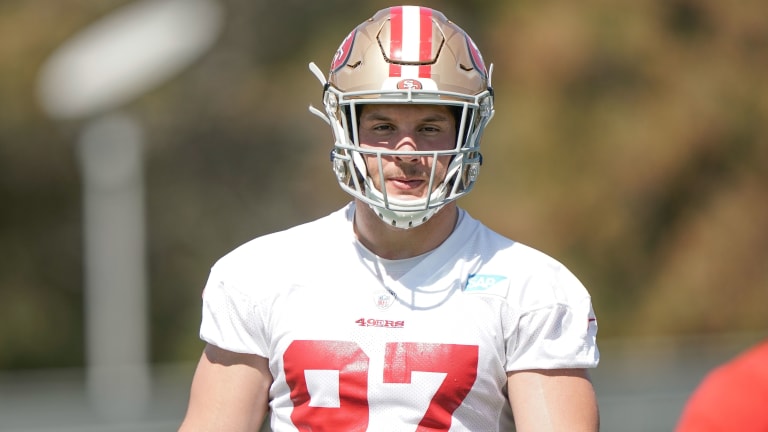 49ers Camp: Limiting Nick Bosa's practices in 2019 is key to his health
San Francisco 49ers first round pick Nick Bosa has suffered two injuries in a three month span. He joins the long list of injuries that the 49ers have which includes Dee Ford, Jason Verrett and Jerick McKinnon. Limiting Bosa, as well as these three players, is the key to sustain their health.
Yesterday at San Francisco 49ers training camp there was a bit of a scare for Nick Bosa and Jason Verrett. Both players left practice with lower leg injuries in which an MRI revealed that they both suffered ankle sprains. In Verrett's case, he got off with a mild one so he should be fully health within a couple weeks, but the 49ers will take precautions by sitting him out of preseason.
As for Bosa, his is a bit tricky because he's now suffered two injuries before even taking a regular season snap. That fact alone should start to brew up a bit of a concern. The 49ers have announced that Bosa will not take a snap in preseason as a precaution, which is the right move. As a matter of fact, that would be the ideal scenario for not only him, but even Dee Ford and Jason Verrett as well.
Ford has been missing in action due to tendinitis in his knee. Three of the 49ers major additions to their defense are already being bitten by the injury bug. That is why the San Francisco 49ers must limit these three players during practice for the 2019 season. The same goes for running back Jerick McKinnon who started feeling pain in his knee again. Add him to the long list of players that will not see the field during the preseason.
All of these players injuries should have Kyle Shanahan and general manager John Lynch  thinking of ways to help reduce their injuries. That way is by limiting their practices for the 2019 season. The 49ers do not need these players during practices, especially Nick Bosa and Dee Ford. Without these two players the 49ers edge reverts back to what it has been the last two seasons. A gaping hole of no standout players who will struggle to generate pressure.
The depth at edge rusher becomes severely exposed when Ford and Bosa are out. San Francisco cannot afford these two to miss time just because they wanted them at practice 100% of the time. For a team that needs to make major strides of improvement this season they need all of their star players healthy. The 49ers would be wise to follow this method and implement on these two, as well as Jason Verrett.
Verrett has been plagued so heavily by injuries that this really should've been a no brainer. Even with Dee Ford, the Kansas City Chiefs limited him in practice because they know his value on game day is what matters. Keeping these injury prone players fresh throughout the week and grinding them on Sunday's is what the San Francisco 49ers need to do. The injuries that have constantly thrown this team off it's course has become an annoyance.
It's time that the team start's to look a little inward by limiting some of these players. The extra practice reps will benefit their younger and unproven players, so that they will be sharp when they get the call. I understand that injuries are unpredictable, but with these players I've discussed they have a history of injuries. They require special handling and any mishap could cost them to miss a game or two. It's simply not worth the risk at this point.