They're not gonna get him:
Cordarrelle Patterson
takes it to the house. (Kiichiro Sato/AP)
The Chicago Bears have been known for great special teams over the last decade, but they were in for a nasty shock on the first play of their home game against the Minnesota Vikings Sunday. Minnesota rookie receiver Cordarrelle Patterson, one of the Vikings' three first-round picks in 2013, took the opening kickoff 105 yards back for a touchdown. The Vikings wanted Patterson to take on a Percy Harvin-esque role in their offense, as Harvin was traded to the Seahawks in the offseason (he's currently recovering from a hip injury). Patterson is a raw route-runner, but he's got the kind of speed and explosiveness to make a big difference in space on the field, a fact the Bears were schooled on quickly.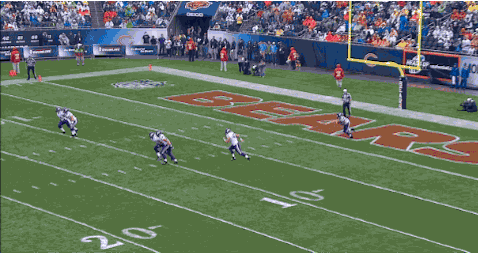 Not to be outdone, Chicago's Devin Hester, one of the best return men in the history of the league, returned the subsequent Vikings' kickoff from deep in his own end zone and trucked 76 yards to the Vikings' 32-yard line. The Bears scored five plays later on a one-yard touchdown pass from Jay Cutler to Martellus Bennett.
There had been some concern about how to best get Patterson on the field and productive in Minnesota's offense, and he had just one target and one catch in the Vikings' 34-24 loss to the Detroit Lions last Sunday. However, he returned two kicks for 54 yards in that contest, giving his new team a taste of the kind of special teams force he can be.
"We're going to try to get him [Patterson] a few more snaps, but we have to get a few more first downs so we can stay on the field a little bit longer with our offense," Vikings head coach Leslie Frazier said this week. "But we want to get him more snaps for sure."
This is certainly one way to do it.
[si-nfl-player id="7ec0193fcfe44f2e87691492c599240b"]