Monday's scouting combine drills featured the defensive linemen and linebackers. Who excelled, and who came up short, when asked to put it all on the line?
Risers
DT Aaron Donald, Pittsburgh
Donald sure looked like a top-level NFL prospect when he tallied 11 sacks and 28.5 tackles for loss for the Panthers in the 2013 season. And he most definitely looked like a boss when he went to the Senior Bowl and looked just about unblockable all week. But from a national attention perspective, NFL fans now have Donald on their radar because of the combine performance he put together Monday. Donald ran an official 4.68 40-yard dash at 6-foot-1 and 286 pounds. He also rolled on the bench press, putting up 35 reps at 225 pounds, and timed at 7.11 seconds in the three-cone drill, which was the fourth-fastest among all defensive linemen, regardless of position.
BEDARD: Aaron Donald could be next Geno Atkins
But it's not the track numbers that will make Donald a top-10 (perhaps top-5) pick. It's the game tape that shows him to be a marvelous gap penetrator -- a true difference-maker along the line. His size may limit him a bit positionally, but as an undersized three-tech or satellite player in the NFL's increasing use of multiple fronts, Donald has the potential to disrupt as few in his class do.
And on Monday, he showed more of that potential. I would compare Donald to Cincinnati's Geno Atkins, who's been perhaps the league's most purely disruptive tackle over the last two seasons when he's been healthy. When you pull off the grand slam of postseason awards at his position (Outland Trophy, Bronko Nagurski Trophy, Rotary Lombardi Award and Chuck Bednarik Award), you have to be special. Donald is.
DE Jadeveon Clowney, South Carolina
Clowney's unofficial 40 time is faster than every active QB that has ran at the combine since 2006 except Robert Griffin III.

— ESPN Stats & Info (@ESPNStatsInfo) February 24, 2014
Clowney had said before the combine that he wanted to run a sub 4.4 40, which would have been one of the more remarkable accomplishments in the history of the event. After all, at 6-foot-5 and 266 pounds, such speed would be historic. Clowney didn't quite pull that off, though he did run an official 4.53. After that, he skipped the rest of the drills, which raised some questions.
"No, I doubt it," Clowney told the NFL Network, when asked if he thought NFL teams would be concerned about the decision. "Some of the guys were like, 'That's fine, just get ready for Pro Day and we expect you to do all of the drills at Pro Day,' which I don't have a problem with. I just felt like I was out here for a reason to do the Combine stuff. The drills are part of it but I just know I got Pro Day for that and I'll just be ready for that on Pro Day."
Just a cursory look at Clowney's burst off the blocks reinforced his ability to shoot off the line and make plays. There will be all kinds of discussions over the next new months about his "want-to" and declining stats in 2013, but few players in recent years can match his pure physical talent.
OLB Telvin Smith, Florida State
In recent years, the NFL has trended toward smaller, faster linebackers in order to deal with offenses that feature multiple receivers and quick starts in no-huddle concepts. And the 6-foot-3, 218 pound Smith showed during his drills that he's going to be able to keep up with just about any tight end on a seam route, or slot receiver on a slant. He ran a 4.52 40 and looked extremely quick and agile in drills.
"That's something we probably won't be able to show in the combine drills, but you turn on my film I'm probably the best, bar none, cover linebacker at the combine or in the country," Smith said last week about how his speed helps his game. "Period."
We'll see how that works in the NFL. Smith has elements of Tampa Bay's Lavonte David in his game -- David played at 225 coming out of Nebraska -- and he'll probably have to put on a bit of weight, though that's been a problem for him in the past (we should all be so lucky).
Sliders
DE Michael Sam, Missouri
Sam absolutely won the day last Saturday when he took to the podium at the scouting combine and answered all kinds of questions (stupid and otherwise) about his decision to come out as the first openly gay draft prospect in NFL history. But when it came to the field drills, Sam's average overall talent was again problematic -- as it has been on his game tape. He ran a 4.91 40 and looked very upright and stiff on the track and in drills. It supports the notion that when NFL teams are looking to place him on their rosters, Sam will present issues from a positional perspective. There are those who believe that he's got the outside speed to switch to 3-4 linebacker, though one wonders about his ability to drop into coverage. And, does he have the pure power to become a professional run-side end, which I believe would be his most natural fit in the league?
DT Louis Nix III, Notre Dame
Well, we knew Nix wouldn't blow anyone away at the combine. That's not his game, and the best pure nose tackle in this draft class ran an expected time of 5.42 -- only Arkansas State's Ryan Carrethers was slower from that standpoint. The real standout moment, however, was when Nix tried to nail his broad jump.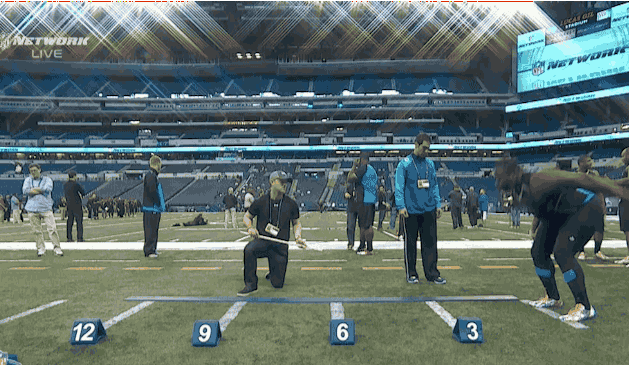 (GIF courtesy CBS Sports)