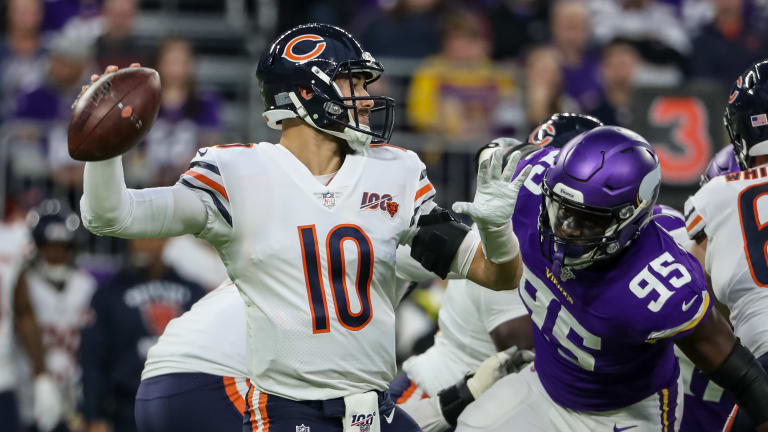 GAMEDAY Open Thread/Live Blog: Bears 21, Vikings 19  Final | Week 17
The Chicago Bears (7-8) are at the Minnesota Vikings (10-5) in a noon game on Fox. It carries no significance for the Bears or Vikings. Minnesota will be the sixth seed in the NFC regardless of the outcome, and Viking coach Mike Zimmer reportedly plans to use backups extensively. The Bears have won three straight over Minnesota including 16-6 at Soldier Field on Sept. 29.
Join us as we live-blog and discuss Bears vs. Vikings here in our weekly GAMEDAY Open Thread. Dive into the conversation—it's easy—by simply going to the top of the site and in the bottom right-hand corner of the Bearmaven logo, click the follow button.
You can log in with Facebook or Google and either way, it's free. From there, sound off in the comment section and share your reactions and observations with Bearmaven editor Gene Chamberlain or fellow members of the Bearmaven community as we react to the game in real time.
Inactives
Bears
DE Akiem Hicks
NT Eddie Goldman
G Rashaad Coward
LB Danny Trevathan
T Bobby Massie
TE Bradley Sowell
DB Michael Joseph
Vikings 
RB Dalvin Cook
LB Eric Kendricks
LB Anthony Barr
S Jayron Kearse
RB Alexander Mattison
T Riley Reiff
DT Shamar Stephen
T Brian O'Neill
First Quarter
15:00: Sean Mannion quarterback for Vikings, who start from the 25 and Mike Boone gashes the Bears on the first play for 59 yards. Ha Ha Clinton-Dix had no interest in stopping it. But Bilal Nichols recovers a fumbled toss the next play.
14:00: Short pass to Allen Robinson. Only needs 10 for 100. Now he needs nine. Two catches for 9 yards. Can't figure out why they started Ted Larsen's old bones.
David Montgomery is facemasked after a short gain, but officials wave it off.  Tarik Cohen and Montgomery lined up in the same backfield but then Montomery motioned out, but he threw to Cohen for 4 yards. Third and 6. Allen Robinson's third catch already for a first down, has eight to go. Cordarrelle Patterson makes a nice 11-yard run out of the backfield up the middle. Lined up Cohen and Montgomery again but this time gave it to Cohen and he broke off tackle for 19 to the Vikings 16. Mitchell Trubisky with a wild pass to nowhere on second-and-7. Bears face third-and-7 at the 13. Charles Leno Jr. beaten badly on pass rush and Trubisky had to throw quickly to Anthony Miller short of the sticks, so Eddy Pineiro will kick a 26-yard field goal. Trubisky 5 of 6 for 31 yards on the drive. Bears 3, Vikings 0
7:41:  Vikings offense takes over at the 25. Boot pass to Irv Smith Jr. gets a first down on first play.  Nick Kwiatkoski snuffs out a run for a yard. Kwiatkoski could be in his last game in Chicago today, since he's unrestricted after this season. Kevin Pierre-Louis with the pick on a deflection off of Boone. Bears at the Vikings 39. Bears now have 18 takeaways on the season. Half of last year's total.
6:17:  Third-and-9 pass to Allen Robinson for the first down in the middle of the zone. Tarik Cohen wonderful job of blocking on the blitz.  Ted Larsen and Cornelius Lucas combine for a nice hole to get 5 yards for Montgomery. Bears at the 18. Third-and-4 after a poor second-down running play.  Allen Robinson's fifth catch for 8 yards in tight coverage. Trubisky drilled the throw. Another wide receiver screen stuffed. Second one shut down on this drive. 
Trubisky throws away a pass on second-and-9. If only he had been so judicious against the Chargers or the Packers, he'd have two less interceptions and maybe the Bears two more wins. Vikings blitz and sack Trubisky to force a 33-yard field goal. Pineiro was knocked to the ground on the kick. No call.  Bears 6, Vikings 0
Cordarrelle Patterson left after his second run on the first drive and is being evaluated for a possible concussion.
:38: Vikings turn back to the running game. It hasn't worked except for one play so far. Quarter ends.  Bears 6, Vikings 0
Second Quarter
15:00: Vikings get a big third-down completion, beating Kevin Toliver along sideline, but then a 4-yard run and incompletion put them in third-and-6 at their own 42. A catch-and-run on a shallow crossing route and the Bears have no one home. First down at Bears 44. Viking tried the same run they broke early but Nick Kwiatkoski was there for a loss of 2 yards. Leonard Floyd taken out  of the play entirely on a plain old sweep. First down for Vikings at the Bears 31. Mike Boone tearing up the Bears and Vikings have another first down at Bears 20. Fullback CJ Ham gets a few carries for Vikings. On second-and-9 from the 19, Mannion has pass batted down by Brent Urban. Floyd breaks through almost untouched and forces incompletion, almost an interception by Aaron Lynch. Minnesota gets a 37-yard Dan Bailey field goal. Bears 6, Vikings 3
9:17: In a meaningless game, the Bear risk Anthony Miller as Cordarrelle Patterson's replacement on kick returns and he gets shaken up. What a dumb choice of personnel. They should have thrown someone like Duke Shelley back there or anyone with a little speed. The only dependable receiver besides Robinson and they get him out there on a play that he doesn't need to be making. And he wasn't even good at returning kicks last year.  Allen Robinson's sixth catch for 17 yards on first down play-action throw, almost fumbles it.
Vikings blitz and pour all over Trubisky for a sack and 8-yard loss. Trubisky actually had two receivers but didn't have time to step up and throw. Vikings called for unsportsmanlike conduct on Andrew Sendejo after a short Tarik Cohen run. Cohen lost his shoe on the play and left. Cohen nailed in the backfield for a 2-yard loss. Vikings linebackers are really coming up hard vs. the run now. Bears need to counter. Trubisky has Wims for a pass downfield deep and overthrows him. Story of his season. A false start on David Montgomery pushes Bears back to third-and-17, another typical problem this season with the offense. Incompletion to Wims and Bears punt from their 42. Deon Bush downs it at the 1-yard line. 
Kwiatkoski nails Boone in the end zone for a safety. Bears 8, Vikings 3
6:03: Bears start from 33 after a free kick punt return by Cohen. 
Eric Saubert, pride of Hoffman Estates, with his first catch in this one for first down. Wims hauls in a reception out of the slot on a crossing route. Ideal throw to Vikings 36. 
Miller's injury is the shoulder. Went out of last year's Vikings game here after aggravating an old shoulder injury and needed offseason surgery. Patterson concussion confirmed.
Maybe Cohen returning kicks now?  He's done it before. Did it in the playoff loss and almost broke one. After a timeout for a Vikings injury, Bears face second-and-8 at the 34 and Trubisky finds Riley Ridley for a 12-yard gain over the middle throwing off his back foot weakly. Flared Cohen out for 9 yards and now they're in the red zone at the 13. Yet another throw out to the side to Cohen and Vikings stuff it for a big loss at the 2-minute warning. Third-and-4 at the 16 for the Bears. Robinson has six receptions for 63 yards. Trubisky flushed out and throws short to Robinson incomplete. Pineiro on for a 34-yard field goal.  Bears 11, Vikings 3
Boone breaks a 41-yard run in the final minute of the half and Minnesota is at the Bears 30. Boone has gotten to 126 yards rushing in the first half but the 3 yards he lost cost them 2 points.  On third-and-4 from the Bears 22, Mannion throws short to Abdullah and Clinton-Dix with a brilliant open-field stop to prevent the first down. Bailey hits a 38-yard field goal. No TDs in this one at half. Bears 11, Vikings 6.
Third Quarter
15:00:  David Montgomery gets 30 yards on three carries. Miller ruled out. Bears had Duke Shelley back for the opening kick. Bears have gone to the power running formations they've used so well in the last 5 games. Montgomery with a spinning 7-yard run breaks a tackle. Second-and-3 at the Vikings 32.
Ryan Nall gets a first down on his first NFL carry! Bears ran it seven straight times but Vikings finally got wise to it and stuff Nall. Second-and-9. Riley Ridley with a first down at the 15 on a 10-yard gain on a sideline route. Montgomery breaks tackles and the Bears move the pile for a 14-yard TD. Lucas and Daniels with the key blocks then Larsen piles on and moves the whole pile to the end zone.  A 75-yard drive almost all on the ground. Bears 18 Vikings 6
Trubisky now 17 for 22 and 128 yards. Montgomery with 68 yards on 10 carries.
9:50:  Vikings go back to Boone, the only thing they've had working today. He gets nothing. Boone's 9-yard second-down run makes it third-and-1. Boone broke outside for the first down behind a hold on Khalil Mack. Mack complained for once. They called it and it's third-and-11. Mack and Lynch force Mannion into an incompletion. Vikings punt.  
Another 6-yard power run from Montgomery on first down. Even Charles Leno Jr. getting in on the power blocking.  Another loss on a pass to the flat. This to Allen Robinson. He has seven catches now. Needs four more. Bears face third-and-6
Robinson hauls in a pass going out of bounds under tight coverage for a first down. Then Robinson is penalized for taunting. That's rare when he gets called for something unsportsmanlike.  Incompletion on post route to Robinson downfield and it's second-and-10 at the Bears 21. Cohen knocked down on screen so Trubisky scuttles it by throwing into the ground. Trubisky finds Cohen short and for once he has running room afterward for a first down. 
Montgomery's power running continues. He gets 8 on first down. Vikings tackle Montgomery for a yard loss and Bears face third-and-2. Probably a poor choice by Montgomery breaking it outside.  He could have had 2 or 3 yards and a first down by running behind Larsen and Cody Whitehair.  Vikings stuff Montgomery, but he still broke the initial tackles and got within a few inches of the first down. Trubisky runs a QB sneak on fourth down but goes into a fetal position and never got the first down. But the officials gave him a generous spot. Still missed by an inch. Really a poor QB sneak try. Trubisky stood in one place too long and the blocking never materialized.
Vikings took over in Bears territory and Mannion hits a completion to the Bears 31.
Vikings face third-and-5 after a dropped pass at the Bears 26. Mannion throws short for the pickup and the Vikings are at the Bears 17. Buster Skrine misses a tackle and Abdullah goes to the 7. Vikings face second-and-goal at the 4 as the quarter ends. Bears 18, Vikings 6
Fourth Quarter
15:00:  The fourth-down gamble by Nagy results in a touchdown against the Bears. Boone scores on a 1-yard third-and-goal run and the Vikings are within five with 14:13 left.  Bears 18, Vikings 13
14:13:  Trubisky rushed into incompletion as Leno gives up a QB hit. Bears call timeout just as the snap is made. Now they have only one left. Whole game has changed after that failed gamble. Another incompletion with no one open. Bears face third-and-10 at the 25. Cohen comes up short on a short pass of 9 yards.
Bears punt.
Vikings incompletion on third-and-2 and the Bears are penaized for a blow to the head against Clinton-Dix, I guess. Clinton-Dix hit him in the pads. A horrible call. 
Vikings at Bears 48 and they run the same play deep to beat Toliver for 35 yards to the Bears 13.  Mack reaches out with one hand and stops a running play. Rather see him let the guy go. That's how guys tear pec muscles. Vikings complete a pass to the 5 but they block after the play and are getting the 15-yard penalty back for unnecessary roughness. The penalty came after the play so it's third-and-18. Abdullah Anderson very nearly had the sack on Mannion. Floyd almost with an interception and maybe a Pick-6 on it. He tipped it and the incompletion means Vikings have to kick a field goal.  A 39-yard Bailey field goal. Bears 18, Vikings 16
8:54:  Bears from the 25. Montgomery gains 4 on run up the middle.  Running the I again this series. And again Montgomery and the line deliver. He gets 6 for the first down.
Montgomery has 2 on first down this time. Needs 4 yards for a 100-yard game, his second. Trubisky sacked and fumbles but recovers it. Third-and-16. Trubisky sacked and fumbles, Vikings take it back for a touchdown.  Leno gives up the sack to a sub.  Vikings going for 2 but it looked like his knee was on the ground.  Ted Larsen made contact with him while he was on the ground. The play comes back. But the Vikings have the ball at the 25 of the Bears.  
6:41:  Boone gets 4 but leaves with some pain. Abdullah gets 4 more. Vikings face third-and-2 at the Bears 17. Incomplete on the post route. Vikings will kick for the lead.  Vikings get a 33-yard field goal by Bailey and lead. Vikings 19, Bears 18
Trubisky finds Cohen for 6 to the 31 and Wims for 5 for a first down.  Swing pass to Cohen and he goes out of bounds for 6.  Bears going to quick passes to negate the pass rush of mighty Vikings reserves. Montgomery bulls forward for the first down at the Bears 48. Incomplete to Robinson on back shoulder after a pump fake.  Trubisky tries to scramble and gets 1 yard. Third-and-9. Pass tipped. Bears fourth-and-9. They'll go for it with 2:36 left.  Trubisky roles right and finds Riley Ridley wide open for 33 yards at the Vikings 17. 2-minute warning.
The roll right was surprising because the formation was set up for some kind of pass left, but Ridley broke wide open and Trubisky showed great touch hitting him while throwing on the run. Montgomery ahead for 3 more. Timeout Vikings. Bears looking at about a 32-yard field goal right now. Montgomery for 1. Third-and-2 at the 11.
Sprint pass to Robinson for the first down at the Minnesota 8. Vikings use last timeout with 1:43 remaining.  Vikings should let the Bears score. Only way they will get the ball back. Vikings were going to let Montgomery score, and he stood there and fell down to keep clock running. I think the Bears should have taken the touchdown then to be safe. Vikings decide to tackle him this time and Bears don't score. Bears call timeout with 12 seconds left to try a 22-yard field goal. 
Piniero's fourth field goal from 22 yards is good. 10 seconds left. Bears 21, Vikings 19
Vikings have time left for two plays or a Stanford Band kick return. 
Great kickoff by Pineiro, forces Vikings to return it from the 1-yard line. They have 4 seconds left from their own 24. Eddie Jackson picks it off and tries to return it for some reason. Then realizes he doesn't have  to. Final: Bears 21, Vikings 19
Bears finish 8-8