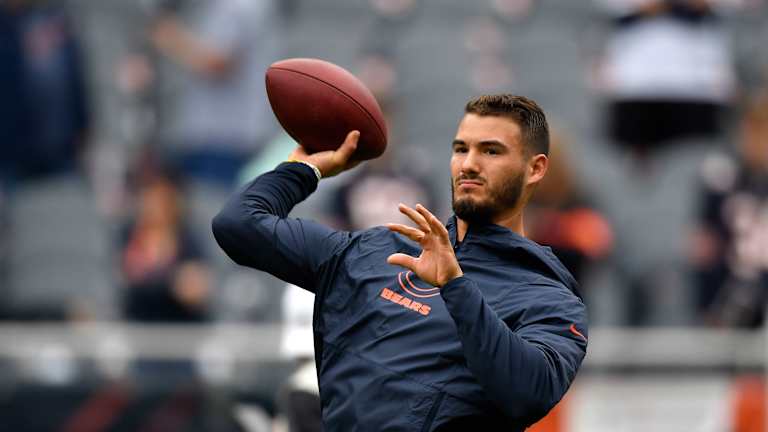 GAMEDAY Open Thread/Live Blog: Bears vs. Chargers | Week 8
The 3-3 Chicago Bears host the 2-5 Los Angeles Chargers. The Bears are trying to win after consecutive defeats while the Chargers are in the middle of a three-game losing streak.
The Bears come into Week 8 entirely healthy with the exception of players on injured reserve. Only defensive end Bilal Nichols was on the injury report as questionable but will play. 
Join us as we live-blog and discuss Bears vs. Chargers here in our weekly GAMEDAY Open Thread. Dive into the conversation — it's easy — by simply going to the top of the site and in the bottom right-hand corner of the Bearmaven logo, click the follow button.
It's better than sounding the Bear-Raid siren. You can log in with Facebook or Google and either way, it's free. From there, sound off in the comment section and share your reactions and observations with Bearmaven editor Gene Chamberlain at Soldier Field or fellow members of the Bearmaven community as we react to the game in real-time.
Inactives
Bears
DB Duke Shelley
LB Josh Woods
LB Kevin Pierre-Louis
G Alex Bars
TE Bradley Sowell
WR Riley Ridley
Chargers
QB Easton Stick
K Michael Badgley
RB Justin Jackson
LB Jatavis Brown
DT Cortez Broughton
DT Justin Jones
NT Brandon  Mebane
After a miserable Friday night and all Saturday with rain and wind, it's a perfect football day at Soldier Field. High of 59, 12 mph wind.
The Bears have won six of the last seven against the Chargers dating back to 1993, with the one loss coming in 2007 at San Diego, 14-3. 
Russell Okung starting for Chargers at tackle. Was supposed to play and share duties.
Coin flip - Bears won the toss and defer.
Thomas Jones, Brian Urlacher and 2006 Bears lead the cheering after  coming out of tunnel before kickoff.
14:54: Chargers start from their 26 after return. Chargers get 3 on first-down run by  Melvin Gordon, and then two incompletions and punt. 
13:49:  Bears in I formation with fullback to start. Wild cheers and a 10-yard gain on first down by David Montgomery. Rashaard Coward's false start on second down sets the Bears back in a second-and-12. Negative plays and penalty killing the offense, and Trubisky sacked on third-and-long buy Bosa to force punt. Almost another Bears punt blocked like last week. The blocking for Pat O'Donnell has to get better. It's getting ridiculous when you can't get a punt off. Maybe they should quick kick on third down.
8:53:  Chargers having trouble with footing but field is dry. Incomplete on third down. Bears take over after a 6-yard return by Tarik Cohen.
8:42:  After the 10-yard  gain on their first run, the Bears have gone 3, 1 and 1 yards on runs. Poor choice by Trubisky on read-option for loss on first down. He was  looking right at Bosa a yard or two away and obviously wasn't going to get it.  Free play for Mitchell on offsides penalty and he connects like a QB shold for a big gain of 25 to Anthony Miller on third-and-11.
4:31:  Bears at Chargers 19 after 31-yard play-action pass to Tarik Cohen. Play fake was to Cordarrelle Patterson on jet sweep. Cohen hurt on short pass on third down after hit with Casey Hayward.
Cody Parkey Alert: Eddy Pineiro misses 33-yard field goal wide right off the upright.
2:14: Chargers finding it tougher to run on Bears than Saints and Raiders. Two runs net 1 yard. Kyle Fuller picks ball when pressure is  applied by Roy Robertson-Harris up the middle and 28-yard return gets Bears first-and-goal at the 4. Quarter ends on second-and-goal from the 4.
2nd Quarter
15:00: Bears get a 22-yard field goal from Pineiro after going nowhere on three plays from the 4. 3-0 Chicago.
13:21: Khalil Mack and Nick Williams force incompletion on second-and-seven and Chargers fail to pick up first down on short third-down pass. Another LA punt. Cohen has been getting close to breaking these. Breaks 24-yard punt return and almost goes all the way. Beas at own 26. It's apparent the defense took those two losses to heart.
12:28:  Bears benefit from a Chargers holding penalty at get to the 43. But Rashaad Coward's second false-start penalty has them on their heels. A rare sight these days, Trubisky scrambles but gets no gain and it goes down as a sack. Third down incompletion and the first boos for Trubisky. Punt leaves Chargers at their 14. So far, only the Kyle Fuller interception has made it possible for a score, his third pick of the year. He has 10 in the last two seasons.
10:10: The Bears are confused on second-and-5, have too  many on the field and are forced to burn a timeout. Usually the confusion is when they are on offense, not defense.  Hunter Henry with a rare drop of a first-down catch on third-and-5.  Bears take over at their own 29 after punt.
8:30: Another I formation run for 14 yards by Montgomery. That's two tries and 24 yards like that with a fullback. Play action and it's 35 yards to Anthony Miller. Wow. Look  what happens when you run, you can fake a run to throw. Bears at 19 and get a 6-yard run from Cohen plus illegal hands to the face. Hands to the face has been called repeatedly against the Bears this year. First and  goal at 9.  Cohen runs around left end for 2 yards on strange third-and--goal call. Pineiro 25-yard field goal. 4:16. Nine plays, 64 yards. Bears 6, Chargers 0
4:16: Bears with 3 red zone trips, 6 points. Chargers with the ball at 25. A 10-yard completion by Rivers to Virgil Green got the Chargers going and Rivers hit Mike Williams for 43 yards to the 19. Melvin Gordon a 19-yard TD run and Bears' first half of decent work has them down 7-6. Chargers 7, Bears 6.
2:06:  Bears at 30 after a 7-yard completion to Taylor Gabriel. at 2-minute warning. Isaiah Irving questionable to return with a quad injury. The Bears will be hurt by this late in the game because Irving lets them give Khalil Mack and Leonard Floyd some downs off. 
 David Montgomery a 55-yard run up the middle and the Bears are at the Chargers 15. Trubisky has to scramble and  looks like  he's in slow motion. Gains a yard. Third-and-8 at the 13.  Bears get a rare play with Mike Davis involved. A 4-yard pass and horsecollar on Chargers and it's first-and-goal at 4. A pass interference gives the Bears new life at the 1 but they still can't get in.
The Bears are forced to accept a 19-yard field goal and 9-7 lead. Booos rain down after they failed to get in on six plays inside the 5.  Bears 9, Chargers 7
3rd Quarter
14:54: Bears start with the ball and Montgomery plows for 8,  5 and 5, and get out to 43. On third-and-2 from 46 they risk, gasp, a handoff and Montgomery gets it with a 2-yard gain. Third-and-1 and they come up well short and are going for it anyway on fourth-and-1 at the Chargers 43.  Huge fourth-down pickup Trubisky for 8 to Miller at Chargers 35.
Bears at the 4 after a 31-yard Trubisky to Robinson. And a TOUCHDOWN 4-yard Montgomery run. What was different there? They ran off the edge of tackle instead of trying to  dump it up the middle. Bears 11 plays, 75 yards, 6:52. Bears 16, Chargers 7
8:08: Chargers going right to the air to Hunter Henry for 11 yards at 36.  But Henry then shoves off the  next play and so much for the yardage. Big hit on the pass by Roquan  Smith is his first physical play in a few weeks. Bears outside pass rush not really getting it done in this one since the first few drives. Melvin Gordon 2-yard gain and  incompletion set up third-and-8 and Rivers has all day to find Keenan Allen at the 23-yard line. Chargers face third-and-inches at the 9 after another easy completion and they pick it up. First-and-goal.  
Mack pass deflection on second-and-goal and a stuffed third-down run force Chargers to accept a 20-yard Chase McLaughlin field goal. A 14-play 73-yard drive for 7:29. The Chargers had no problem establishing momentum on that drive after they had nothing going on offense. Bears 16, Chargers 10.
Quarter ends on a 3-yard Montgomery run. Bears 16, Chargers 10.
4th Quarter
15:00: A key 9-yard pass on third-and-7 by Trubisky to Gabriel lets the Bears keep marching at 32. 
Casey Hayward Jr. with a huge interception on a dumb throw by Trubisky, well covered to Trey Burton. A 38-yard return sets up Chargers at Bears 20.
12:39: Chargers continue hurting themselves with silly penalties. A holding negates a first down at Bears 10. Third-and-14 at Bears 24. Prince Amukamara with an ill-timed leap when he could have had a pick in the end zone, but then Keenan Allen drops the TD. So McLaughlin with a 42-yard field goal try that misses right. Trubisky dodges a real bullet there.
10:42: Bears get a good spot on 4-yard first down run by Montgomery but then Trubisky overthrows wide open Gabriel for a TD on a bomb. Just like last week with Miller. 
Trubisky fumbles it without a hit and Ingram recovers on the self-sack. Chargers at Bears 26. Trubisky has turned it over on the last two Bears fourth-quarter possessions. They gave the forced fumble to Damion  Square, who did nothing to get it.
9:25:  Leonard Floyd surfaces. Commits a facemask penalty to put ball at Bears 11. Sets up an 11-yard TD pass to Austin Ekeler.Three-play, 26-yard TD drive. Chargers 17, Bears 16
7:57: Bears start at 16 after penalty on return. Montgomery having a career-high day and Bears are at their own 27. Great leap by Gabriel gets the ball to the 45 with 15-yard gain on third-and-7. Coward follows up two false starts with a holding penalty to jeopardize this drive.  Chargers save Bears with another penalty for DPI after a clutch 17-yard reception by Trey Burton. Bears at LA 37. Drive dies on Bosa sack on third-and-10. Trubisky stayed in pocket, didn't scramble. Doesn't seem to know how to run anymore. Chargers get it on a punt at their 15.
2:04: Mack with first sack since win over Vikings. Why Chargers are passing makes no sense but then again they are 2-5. Now back at their 9, face second-and-16 with 1:59 remaining. Bears still have all three timeouts.
Bear-Raid siren blaring.
Chargers get a 4-yard pass completion and  Bears use first timeout.  Chargers to punt after coming up a yard short. Punt leaves Bears at own 35, 1:33 left.
1:33:  Incomplete to Burton over middle in double coverage.  Trubisky to Gabriel for 22 to Gabriel and 9 to Allen Robinson. Bears at the 34-yard line of Chargers with 58 seconds left. 
Chargers call timeout, anticipating the Bears will score. They haven't watched enough Bears games.
Trubisky of old returns. He scrambles 11 yards to avoid a sack and gets Bears to the 21 of Chargers. Bears not trying to get closer and take a knee. Seem content to let Pineiro try a 40-yard field goal. 
Misses 41-yard Field Goal wide left. Chargers 17, Bears 16 Final