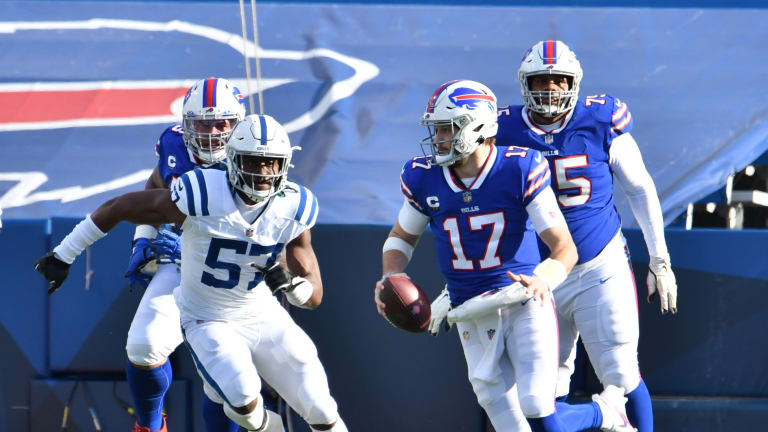 Bills-Ravens: Exciting and fascinating matchups abound
Can the Bills stop the Ravens' running game? Can the Ravens stop Josh Allen?
Another playoff game day is almost upon us.
On Saturday night, the Bills will be stepping up in class when they host the Baltimore Ravens, who feature the league's reigning MVP in quarterback Lamar Jackson, who is at the heart of the NFL's top rushing attack.
The AFC East champion Bills earned the right to be here by defeating the Indianapolis Colts, 27-24, in the wild-card round.
Here's a closer look:
Game Facts
Who: Baltimore Ravens (12-5) at Bills (14-3)
What: AFC divisional round playoff game
Where: Bills Stadium
When: 8:15 p.m. Saturday
TV: NBC
The spread: Bills favored by 2½
Total points: 49½
Three storylines
1. Andy Reid's coaching tree.
Ravens coach John Harbaugh and Bills coach Sean McDermott once worked together on Andy Reid's staff with the Philadelphia Eagles.
Reid at one point had seven future head coaches on his staff in the early 2000s, with Harbaugh, McDermott, current Bills defensive coordinator Leslie Frazier, Brad Childress, Ron Rivera, Pat Shurmur and Steve Spagnuolo.
Doesn't get much better than that.
"It's remarkable," Harbaugh said Wednesday. "I guess I realized that when it was pointed out to me in practice to me today. You kind of take a moment and think about it, it's pretty amazing. I think it speaks really highly of Andy, the kind of coach that he is. We all learned so much from him."
Interesting as well is that McDermott and Harbaugh are sons of college football coaches.
That's a lot of football at the dinner table.
2. Hurdle cleared.
The Bills last week held on to win their first playoff game since the 1995 season. On Saturday, they look to win in the divisional round for the first time since the 1993 postseason, which wound up being the last of their four straight Super Bowl appearances.
3. Defense has transitioned
In many ways, this season was one of adjustments for the Bills defense, which has been remarkably more effective since allowing 32 points by the Arizona Cardinals in a loss on Nov. 15.
The most points the Bills have allowed since then is 26 against the Miami Dolphins to close the regular season. But the Bills scored 56, so it didn't matter.
The Bills have held teams under 20 points four times over their last seven games.
"You have to be able to adjust," defensive coordinator Leslie Frazier said. "Don't be pigheaded and say, `OK, I'm just going to keep doing XYZ because it was good with this group a year ago or two years ago.' You've got to adjust. We've tried to do that."
Five matchups to watch
1. Bills WRs vs. Ravens CBs
This will be perhaps the most fascinating dynamic. Although most games are won or lost in the trenches, this would could be decided by what happens furthest from the line of scrimmage.
Bills receivers Stefon Diggs and Cole Beasley, who each are playing through minor injuries, were named All-Pros this season.
But the Ravens counter with perhaps the finest cornerback group in the league, starting with Marcus Peters, whose 33 interceptions since 2015 lead the league. Nobody else is even close.
On the other side, Jimmy Smith is not only big for a corner (6-2, 210) but can run with anyone. Yet he doesn't get noticed perhaps because of Peters and 2019 All-Pro slot corner Marlon Humphrey.
Humphrey is the perfect answer to Beasley.
2. Bills LBs Tremaine Edmunds and Matt Milano vs. Ravens running game.
The Ravens rely on the strongest running game in the league.
Even more unique is that the running game starts with quarterback and reigning league MVP Lamar Jackson, their only 1,000-yard rusher.
But that statistic doesn't mean he runs more than their running backs do, just that J.K. Dobbins and Gus Edwards have split the workload while averaging 6.0 and 5.0 yards respectively.
Because the Bills employ their nickel package on 90.4% of their defensive snaps, that puts even more pressure on the back end, where tackling machine Jordan Poyer resides.
This will be fun to watch.
3. Bills blitz vs. Ravens QB Lamar Jackson.
Maybe because of Jackson's ability to escape containment, the Bills back off here. But it's important to note that they've blitzed more than ever under McDermott this year.
That approach has helped the Bills get 15 interceptions and recover 16 fumbles by their opponents this season.
Although they produced just 38 sacks, they did produce 92 quarterback hits, and any hit on Jackson behind the line of scrimmage is a plus.
4. Bills returner Andre Roberts vs. Ravens special teams.
Roberts had an uncharacteristically poor game last week. But he made the Pro Bowl this season after averaging 9.4 yards on punt returns and 30.0 yards on kickoff returns.
One of the reasons the Bills started so poorly against the Colts is that they had trouble getting out of their end after being buried with poor field position, which will be a factor again this week.
5. Bills QB Josh Allen vs. Ravens pass rush.
By now, everyone understands that Allen rarely gets fooled anymore. He can't be baited into throws opponents want him to make. And the longer he extends plays, the clearer things become.
And much like his counterpart on the Ravens, Allen makes a living outside the pocket. The longer he gets to throw, the less likely it is that the Ravens' superb corners will be effective.
His ability to extend plays will be extra crucial in this game.
Injuries
Ravens: G D.J. Fluker (knee) and CB Marcus Peters (back) are questionable.
Bills: DE Darryl Johnson (knee) is questionable.
Prediction
The Bills cleared a major hurdle by breaking through with their first playoff victory in 25 years last week. But fissures showed up in their run defense and return game that they eventually will not be able to overcome this deep into the postseason. The Ravens will pick up where the Colts left off but, unlike the Colts, finish the job.
Ravens 26, Bills 23