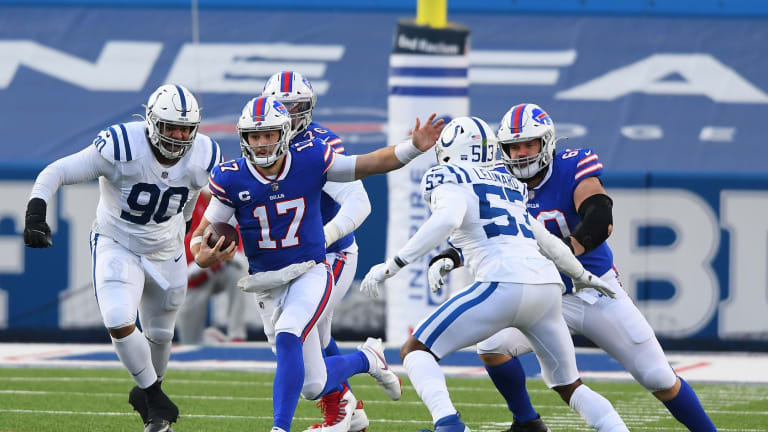 Bills-Ravens playoff matchup starts with quarterbacks Josh Allen and Lamar Jackson
Bills QB Josh Allen and Ravens QB Lamar Jackson to duel again as teams meet again on Saturday with much more at stake
Whenever a team makes it to the divisional round of the playoffs, it almost always has more going for it than just the quarterback. That's certainly the case with the Buffalo Bills and Baltimore Ravens, who will do battle Saturday night at Bills Stadium.
But quarterback clearly is where you look first with both of these teams because Baltimore's Lamar Jackson is the reigning NFL MVP and Buffalo's Josh Allen could well snare that baton from him for the regular season he just completed.
Both were first-round picks in the 2018 NFL Draft and both came through with the first playoff wins of their career last weekend, making Saturday's intersection somewhat bittersweet for Allen.
"I tell this to everybody I talk to about him," Allen said Tuesday. "He is one of the greatest dudes you can be around. He really is. And for him to kind of have the adversity of coming out the first year and people doubted him, and then go out and explode on the scene last year and just be this dynamic quarterback -- you see the impact that he makes in his communities on Instagram and stuff like that. He's just one of those special guys. Obviously, they've been having success, he's had a lot of success early in his career.
"I root heavily for him, just knowing what he went through his first year, how he's been able to do it, and how humble, how awesome he is off the field. He's just one of those guys you root for. And it's hard to not root for him when we're playing against him. But we're enemies on Saturday, and we both know that. But he's just one of those guys, again, I can't say enough about just how good of a dude he is and it makes you love him that much more on the field."
Allen encountered similar struggles throughout his first two seasons before exploding with a breakout year that rivals what Jackson did in 2019.
He was 396-of-572 for 4,544 yards and 37 touchdowns against 10 interceptions and averaged 4.1 yards on 102 carries that produced eight more TDs. His rushing and passing yards combined came to 4,965 with 45 TDs.
Jackson the year before produced a combined total of 4,333 yards and 43 TDs.
Those are huge numbers even by the stadards of the wide-open offenses that dominate the NFL today.
If both quarterbacks have big games, the Las Vegas total points figure of 50 could be smashed by halftime.
So keeping them from doing damage with their legs will be the top priority for each defense.
The Bills had some success with that part when the teams met last season. Jackson was held to 40 yards on 11 attempts and 145 passing yards. But he threw three TD passes and the Ravens prevailed, 24-17.
"We had an idea [what he could do] going into it, seeing his stats going into that game a year ago, you know, when he was on his way to an MVP season," Bills defensive coordinator Leslie Frazier said. "So you had an idea how talented he was. But once our players got on the field and myself and rest of the coaches got a chance to see him up close, we were like `wow, this guy's really special.'
"The tape doesn't do him justice. He creates so many problems for you on defense. We did some really good things in that ballgame."
But that was then.
"It's a different year," Frazier added. "They've grown since then and they've added some wrinkles to their offense that we're going to have to adjust to."
The Josh Allen the Ravens faced last season also has grown with an offense that has produced more points than every team except Green Bay.
Maybe both teams will have to throw out what worked for them on defense just 13 months ago.