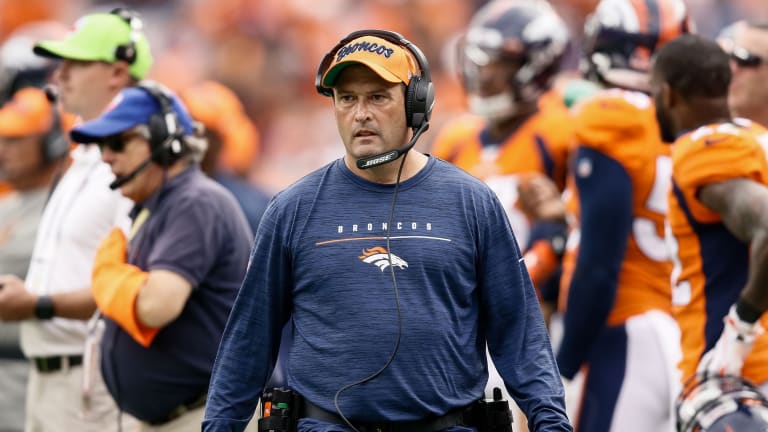 The One Position Really Hurting the Broncos on Special Teams
The Broncos' third phase is missing a crucial component and it has hurt the team this season.
Denver Broncos fans, like all football fans, talk a lot about what the team is doing on offense and defense. The aspect that doesn't get talked up enough is special teams.
Or, I should say, it doesn't get talked up enough until an obvious mistake happens, whether it's a shanked punt, a missed extra point or a fumbled return.
But special teams are an important part of a team's success. It makes a difference regarding field position — a good special teams unit can get good field position for the offense or pin an opponent deep in its territory, thus taking some pressure off the defense.
The Broncos have had problems on special teams this year — per Football Outsiders DVOA, the Broncos rank last.
The Broncos are about average in terms of kick returns, punt returns and field goals/extra points. However, they are at the bottom regarding punts and kickoffs.
It's easy to blame Colby Wadman for much of this — and he does share in the blame. However, it's not all on his shoulders.
Wadman is averaging 44.2 yards per punt on 47 punts, the lowest among punters with 45 or more punts. Certainly, he can do a better job with his punting distance and, yes, part of that comes from a few punts he has shanked.
However, there's punt distance and there's net punting, and the latter is dependent upon coverage of returns. Wadman's net average is 38.5 yards per punt, or nearly six yards less than his average distance. In this case, the punt coverage team is to blame.
The punt coverage unit has allowed 16 returns for 187 yards, more than any other team that has allowed 16 to 17 returns. Some teams have allowed more total yards, but those teams have allowed more total returns.
Wadman has issues to fix, but he hasn't been helped with poor coverage and execution by the coverage unit. There are two examples I watched in which opponents got long returns, even though Wadman executed well.
Remember the long punt return that Mecole Hardman had when the Broncos faced the Kansas City Chiefs in Week 7? The Broncos had fourth and 25 at their own 10-yard line, meaning Wadman had to punt out of his own end zone. 
His objective was simple: Punt the ball downfield as far as he could. He had a great punt given the circumstances, but the coverage unit was slow and took bad angles, allowing a long return for Hardman that forced the Broncos to defend the short field.
Another example is Week 6 against the Los Angeles Chargers, in which the Broncos gave up a punt return for a touchdown. Once again, the Broncos were pinned deep in their own territory, their own 17-yard line. Wadman had a good punt and several Broncos got downfield in time to contain Desmond King, but two missed tackles allowed the returner to break loose and nobody else was in position to stop him.
It hasn't been just the punt coverage that's been an issue. When teams have opted to return kickoffs, the Broncos have tended to give up long returns. This happened against the Raiders in Wek 1, then the opening kickoff against the Indianapolis Colts in Week 8. 
I watched the return against the Colts and the Broncos' pursuit on the return was bad, allowing Zach Pascal to sprint down the sidelines. Only Brandon McManus' intervention kept Pascal from getting the touchdown.
Certainly, the Broncos will need to bring in competition at punter and kicker this offseason — the Broncos are very likely to do this with McManus because he enters the final year of his contract and a high cap number for a kicker of $4.25M. Wadman's cap charge isn't large ($660,000), but it wouldn't hurt to bring in another punter to challenge him.
But what the Broncos really need is one of the most overlooked positions in the NFL: the special teams gunner.
What happens next for the Broncos? Don't miss out on any news and analysis! Take a second and sign up for our free newsletter and get breaking Broncos news delivered to your inbox daily!
All About the Gunner
The gunner's task is to put pressure on punters and contain opposing return men. He needs to identify openings that will allow him to block punts (and sometimes field goals and extra points) and be quick to get downfield to locate the returner and impede his progress. The gunner is also somebody who can locate a ball that's been punted deep in opposing territory and touch it before it bounces into the end zone.
Go back to recent Broncos teams and consider players such as David Bruton and Kayvon Webster. They excelled in the role of special teams gunner. Bruton had multiple blocked punts in his time with the Broncos, while Webster excelled at hustling downfield to stop long returns or down the ball before it entered the end zone. That's been missing for Denver this season.
Part of this goes back to issues with players who excelled at special teams but weren't around at the start of the season.
The first is Brendan Langley. It's true he didn't make it as a return man, but he didn't have to be the return man to be the special teams gunner. His real issue was that he couldn't contribute either at corneback or wide receiver as a depth player — something Bruton and Webster both did for the Broncos. The Broncos didn't have the luxury of keeping a player just to be the gunner, so he was released.
The second is Joe Jones, who was injured to open the season and missed five games. He played special teams against the Chargers and was one of the players who missed a tackle on King's touchdown return. Perhaps Jones will get back on track now that the bye week has passed and he is healthier.
Being a special teams gunner isn't easy, but its importance cannot be understated. The gunner can do a lot to help a team win the field position battle.
So, along with the likelihood of competition at punter and kicker, the Broncos need to keep an eye open for players who can be the gunner. This is why it's important not to overlook depth at positions. The gunner needs to be a good depth player at another position to stick around on the roster.
It's also worth asking if Tom McMahon is the guy that can coach up a player to become the gunner. He can do all the work with the punters and kickers that he wants, but if the coverage units don't come through when needed, you won't have good special teams.
The Broncos certainly have a lot of work to do with the unit that sometimes goes unappreciated — and when it does get noticed, it's usually for what the average fan can easily spot.
But if you want good special teams, it's not just about what you can easily spot. It's also about the position that few people really notice.
Follow Bob on Twitter @BobMorrisSports and @MileHighHuddle.