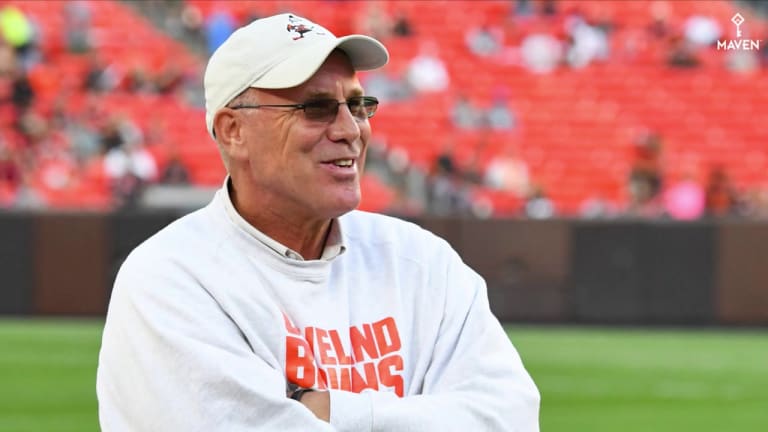 Greg Robinson Benching Raises a few Questions
The Cleveland Browns have benched their left tackle Greg Robinson against the New England Patriots, per the player. This announcement and how it was delivered raises a few questions.
Greg Robinson has been benched against the New England Patriots according to Robinson, who spoke to the media Friday. It's not entirely clear what the Cleveland Browns expect to get better likely having Justin McCray on the field, but another question that comes out of this is one small detail that came out when he spoke to the media.
When Robinson explained he had been benched, he said he had just come from speaking with John Dorsey, the team's general manager, which prompts a question.
Did John Dorsey bench Robinson? Maybe Browns head coach Freddie Kitchens told him before he spoke to Dorsey and this was Dorsey explaining to Robinson his status with the team in light of that fact. Maybe it was a pep talk. It just stuck out that Robinson came out and said he was benched after speaking to Dorsey.
Obviously, the other question is what do the Browns expect out of McCray that they weren't getting out of Robinson? Robinson was playing at pretty much the exact same level in 2018. And perhaps they were hoping he would improve, but they thought enough of him to pay him over $7 million this season.
Meanwhile, McCray to this point in his career is a terrible pass protector. He is a slight upgrade as a run blocker, but when the Browns acquired him in the trade with the Green Bay Packers for a 7th-round pick right before the season started, it made sense insofar as it was a body who knew Offensive Line Coach James Campen's system and those were the two elements the Browns needed in that moment.
It's possible that McCray has shown some marked improvement in practice through the bye week and maybe they catch lightning in a bottle, but this seems like a move for the sake of making a move as opposed to making a meaningful change for the better. The Browns have a lot of mediocrity at left tackle and it's just a question of which version they prefer.
Kendall Lamm, the other left tackle possibility, has been recovering from a knee injury from his first appearance this season against the Tennessee Titans. Were he fully healthy, would he be the guy they throw in there? If McCray struggles, will Lamm be the next man up playing against the Denver Broncos?
This whole thing raises more questions than it provides answers. One answer the Browns are providing, which has been obvious since the season started, Robinson's not in the long-term plans of the team and will be gone at the end of the season, if not sooner. The other that can be answered for the Browns is the answer at that position isn't on the roster currently and won't be this season.