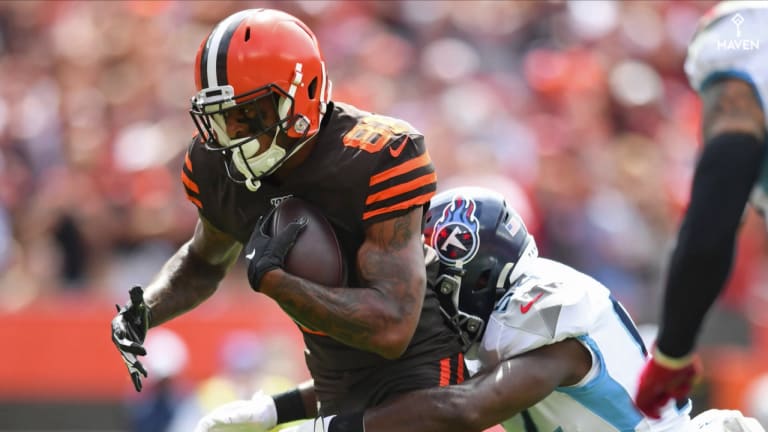 Rashard Higgins Situation gets Weirder
Cleveland Browns head coach was asked about Rashard Higgins in his press availability on Monday and his comments went as far in public about a player as he has since he's been the head coach of the team. Kitchens has always been taken blame himself or speaks in generalities so it stood out when he was so specific about Higgins.
In his media availability on Monday, Cleveland Browns head coach Freddie Kitchens said something that stood out when it came to wide receiver Rashard Higgins and his playing time. Kitchens has never been someone who calls out players in public, preferring to act as a human shield for criticism aimed at the players, the team as a whole.
The incident he is referring, Higgins said he was good to go a couple weeks ago and expressed his disappointment about the situation, suggesting he didn't know why he wasn't called upon to get in the game, despite being active.
Kitchens was asked about Antonio Callaway playing over Higgins to which Kitchens said he thought Callaway was playing better right now, that Higgins was only healthy the past two weeks.
Something is going on here. Maybe it's as simple as a disagreement over the team's view of a player's health as opposed to a player's. That might bleed into another situation with Damarious Randall, who raised some questions in regards to being in the concussion protocol earlier in the season.
Another possibility is that the Browns are effectively punishing Higgins for what he said publicly. The organization's stance may be that they felt he was dishonest about the situation regarding his injury and this is the result.
It could be something else entirely. The bottom line is that the Browns are 2-5, Higgins might be able to help them and this situation becomes a peculiar distraction for a team that can ill afford them. And at some point, this is likely to come to a head, whether it's during the season or after the season when Higgins becomes a free agent.