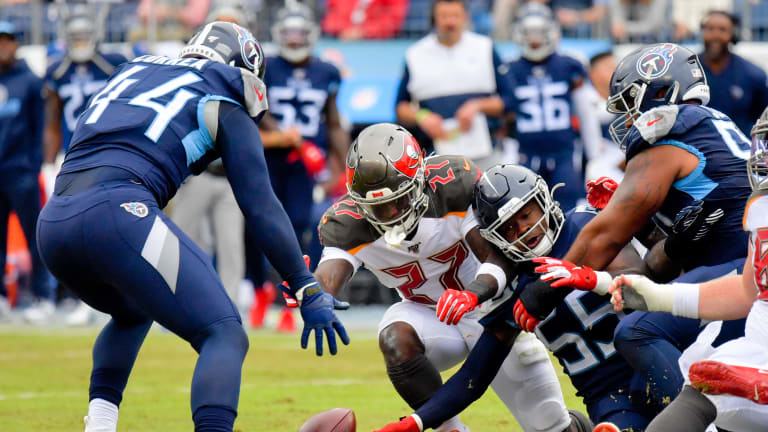 Bucs Can't Overcome Mistakes in 27-23 Loss to Titans
Turnovers and penalties doom Bucs once again in third straight loss.
Despite an impressive performance from the defense and a dominant outing from Mike Evans, the Tampa Bay Buccaneers dropped their third game in a row Sunday, falling 27-23 on the road to the Tennessee Titans.
Evans caught 11 passes for 198 yards and a pair of touchdowns, but four Tampa Bay turnovers, costly penalties and some questionable calls in key moments sent the Bucs to yet another road defeat.
A bad snap and a Jameis Winston interception set the Titans up with short fields on two early touchdown drives, but Evans and kicker Matt Gay kept the Bucs close heading into halftime at 17-15. Evans' second touchdown and a subsequent two-point conversion from Winston to Chris Godwin gave the Bucs the lead in the third quarter, but that was the last time they'd touch the scoreboard.
Carlton Davis III had interceptions on back-to-back plays called back for pass interference, the call on the second play being somewhat controversial. The Bucs challenged the call, but the ruling was upheld. Davis later appeared to be pushed off on A.J. Brown's go-ahead touchdown catch, but there was no call.
After a sack-fumble surrendered by the Bucs, Tampa Bay appeared to make a game-changing play, stopping a fake field goal with a huge hit from Devin White that jarred the ball loose. The Bucs returned it for a would-be game-winning touchdown, but the play as ruled dead. Tampa Bay still retained possession, but would be stopped on a 4th-and-short play with two minutes remaining.
The Bucs got the ball back with less than a minute remaining and no timeouts, but Winston was intercepted by Logan Ryan to seal the loss.
Winston finished the game with 301 yards and a pair of touchdowns through the air, and was also the team's leading rusher with 53 yards on eight attempts. Tampa Bay out-gained the Titans 389-246 in total yardage, but only managed one takeaway to offset their four giveaways.