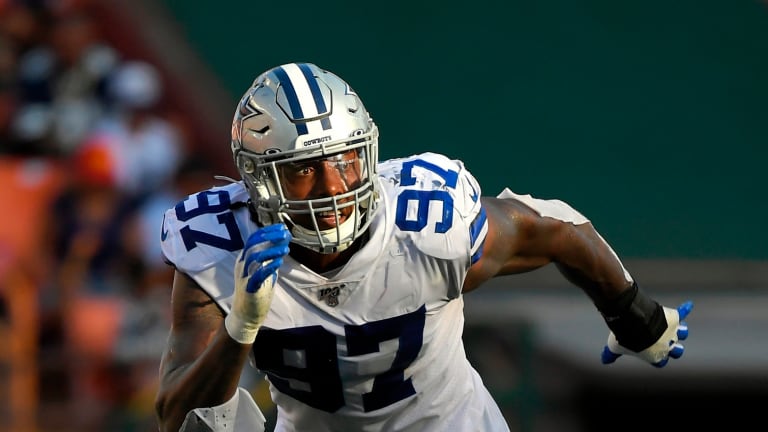 Cowboys cutdown projections - Defense: On a Taco trade, plus Gifford and Olumba and the 53
Cowboys cutdown projections - Defense: On a Taco trade, plus Gifford and Olumba and the 53
FRISCO - One preseason game left. And then to the business of which 53 men get to be Dallas Cowboys. Our 53-man projection going into Thursday's preseason finale against the visiting Bucs, offense first here, defense below ...
Cowboys defense to 53: There will be cuts and recalls, and practice-squad shuffling, and maybe even a trade. but position-by-position, as of now:
Defensive End 5 DeMarcus Lawrence, Tyrone Crawford, Dorance Armstrong, Kerry Hyder, Joe Jackson
My man Taco Charlton is a bit of a wildcard here. And in Week 3 when Robert Quinn is ready? Things get wild again. Maybe that's the reason I'm projecting a move involving Taco Charlton. A trade while his stock is high? IR for an injury that's not too bad?
Defensive Tackles 4 Antwaun Woods, Maliek Collins, Christian Covington, Trysten Hill - Daniel Wise and Ricky Walker make this tough. Maybe it's the practice squad for them.
Linebackers 6 Jaylon Smith, Leighton Vander Esch, Sean Lee, Joe Thomas, Justin March, Luke Gifford. This means no Chris Covington, who they like. But I bet Luke Gifford ends up being healthy enough to keep on the 53. So, the squeeze-in of Covington is pitted against the investment in Taco ...
Safeties 4 Xavier Woods, Jeff Heath, Donovan Wilson, Kavon Frazier - Wilson leapfrogged over a bunch of guys here, and the rookie almost did the same to Kavon.
Cornerbacks 7 Byron Jones, Chidobe Awuzie, Anthony Brown, Jourdan Lewis, C.J. Goodwin, Mike Jackson, Donovan Olumba - The top four corners are easy. After that it's about special teams (Goodwin) and future (the kids). So again, the squeeze: Olumba or Convington? Olumba vs. Covington vs. Taco?
Special Teams 3 Brett Maher, Chris Jones, L.P. Ladouceur - Hopefully the consistency of two of these guys rubs off on the other.