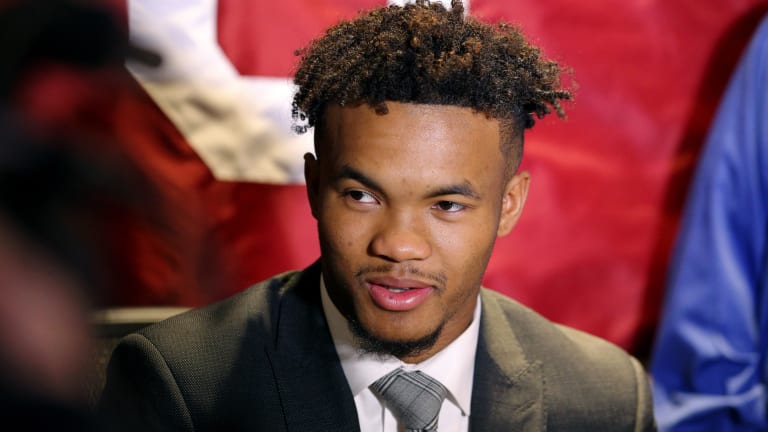 Combine Confidential: Weigh-In Observations
NFL Draft Scout analyst Ric Serritella is on location at the 2019 NFL Scouting Combine.
Check back throughout the week for his latest "Combine Confidential" buzz from inside Lucas Oil Stadium.
Quarterback Kyler Murray came in at 5-10 1/8 and 207 pounds, taller than most expected and a considerably heavier weight than the 195 pounds that Oklahoma listed him on their school site. The additional bulk should help NFL teams feel a bit more comfortable that Murray can withstand the rigors of a 16-plus game schedule. In addition, his hands came in at 9.5 inches, alleviating any concerns about small hands (under nine inches is a concern for fumbling). One organization we can rule out of the Murray sweepstakes are the Denver Broncos, whom GM John Elway said would have a hard time envisioning such a short quarterback play from under center. Murray is not expected to throw at the combine.
Other quarterbacks jostling for draft position include Ohio State signal-caller Dwayne Haskins, who measured in at 6-3 3/8 and 231 pounds. While Haskins will throw, the one area where he is expected to excel the most is on the chalkboard. NFL teams will be very impressed with his football IQ when they meet with him behind closed doors. Missouri quarterback Drew Lock came in at 6-3 ¾ and 228 pounds, while Daniel Jones measured at 6-5 1/8 and 221 pounds.
Interesting to see that just two running backs invited to the combine this year, Justice Hill (198) and James Williams (197) weighed in under 200 pounds. By comparison, there were four running backs at the combine last year who came in under the 200-pound threshold and five the year before that. The players entering the league are getting bigger, stronger, faster every year and this holds especially true for the running back position. Memphis running back Darrell Henderson (5083/208) is a strong candidate to be the fastest of the bunch when they test in Indy on Thursday.
Offensive linemen also weighed in on Wednesday and much ado was made over the arm size of Jonah Williams 33 5/8 (33 5/8), who fell about an inch short of the prototype cutoff that most teams look for in an offensive tackle. NFL teams should be leery about labeling Williams as "alligator arms," as he compares favorably to Bryan Bulaga (Packers) who dealt with the same criticism leading up to the draft nearly a decade ago. Bulaga measured 33 1/4 arms in 2010 and has since started 91 games for Green Bay, at tackle.
The heaviest lineman of the day was Stanford offensive guard Nate Herbig at 335 pounds, while the lightest was Memphis guard Trevon Tate at 293 pounds. Longest arm distinction goes to Martez Ivey of Florida who measured in with 36 1/4 arms and a massive 86 1/4 wingspan. San Diego State tackle Ryan Pope came in with the biggest hands at 11 1/8.
PRE-ORDER SALE:The 2019 NFL Draft Bible, Powered By NFL Draft Scout & The Sports Xchange is now available. Reserve your copy today and SAVE 20%,click here.