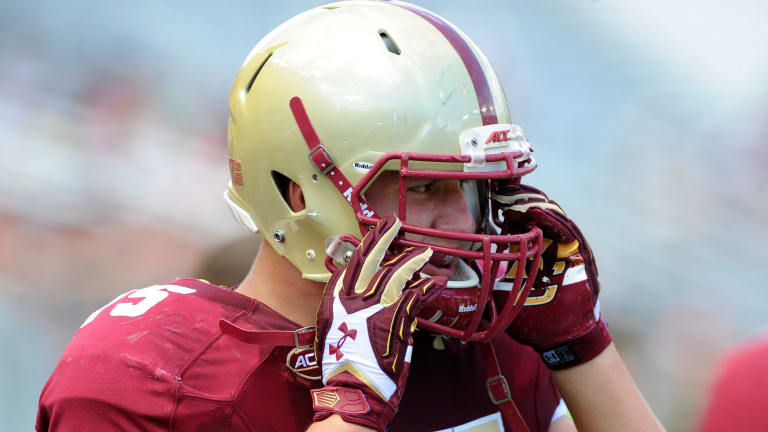 Previewing the 2019 NFL Combine: Studs, starters and sleepers at Offensive Line
A position-by-position look at the 2019 NFL draft class with historical perspective and personal favorites
The 2019 NFL Scouting Combine is now less than two days away and NFLDraftScout.com is taking a daily look at the top prospects at each position to help get you up to speed quickly.
Each day, a different position will be profiled and given a grade with three individual players featured:
A First Round Prototype
Second Day (Future) Starter
Third Day Sleeper
Senior Analysts Rob Rang and Ric Serritella have nearly 40 years of combined experience professionally evaluating prospects for the NFL and after a year spent visiting campuses, watching tape, attending games, all-star practices and Combine training facilities, they have not surprisingly developed some favorites in this talented 2019 draft class.
Hundreds of their scouting reports are being printed for Lindy's NFL Draft magazine right now (RESERVE YOUR COPY HERE) with a snapshot of each position and some of their favorite players to watch available complimentary of NFLDraftScout.com below.
OFFENSIVE LINE
A First Round Prototype: Chris Lindstrom, Boston College
A tremendous grappler who utilizes sound technique, along with an extremely quick first step off the snap of the ball, which allows him to win the initial leverage battle in the trenches most of the time. Possesses great balance, power and toughness. Does a nice job on chip blocks and seeking out a second defender to get a body on—combo blocks are part of his deal. Takes pride in finishing and consistency seals off his blocking assignments in the run game. Lindstrom has started at both right tackle and right guard but projects as guard at the next level. He finished his Eagles career with 48 consecutive starts and could be the best offensive lineman in this year's draft class.
​
Second Day (Future) Starter: Garrett Bradbury, North Carolina State
Versatile and agile offensive lineman who brings a certified toughness, the Rimington Trophy Award winner was originally recruited as a 250-pound tight end and showed off some of his athleticism this past season, lining up for a one yard rushing touchdown against East Carolina. He's a knee and hip bender with great flexibility and good hand placement. Possesses fundamentally sound technique, solid footwork, along with great balance and body control. A team captain, Bradbury has been praised for his great leadership by coaches, teammates and his quarterback. Ability to block on the move makes him an effective second level blocker in the run game. He didn't allow a quarterback pressure during senior season. His skill-set suggests that he can be an immediate plug-and-play starter in the NFL and possibly thrive in a run zone blocking scheme due to his lateral ability. Look for Bradbury to be off the board within the top 50 overall picks.
​
Third Day Sleeper:
A high school quarterback who began his college career as a 225-pound walk-on tight end, Howard was talked into practicing with the offensive line on his first day of practice and nearly 100 pounds later, is now one of the top offensive tackle prospects for the upcoming draft. He experienced a four-inch growth spurt as a freshman and played primarily at right tackle for the Hornets. He possesses a thick upper and lower body, which makes for a solid anchor; he doesn't give up much ground. Strong kick slide and quick fit, helps his ability to mirror. Also very athletic and does an adequate job getting into the second level. Physicality and toughness were on full display during the Senior Bowl—the step up in competition was clearly not a problem. Ironically, he was nicknamed "Weenie" growing up back home but he doesn't hear that no more because the buzz he created in Mobile was deafening. It wouldn't be a total surprise to hear his name called on Day 2 but should he slide to Day 3, he offers plenty of upside.
​
*TUNE-IN: The Ric & Joe NFL Draft Show previews the 2019 NFL Scouting Combine offensive prospects!LISTEN HERE