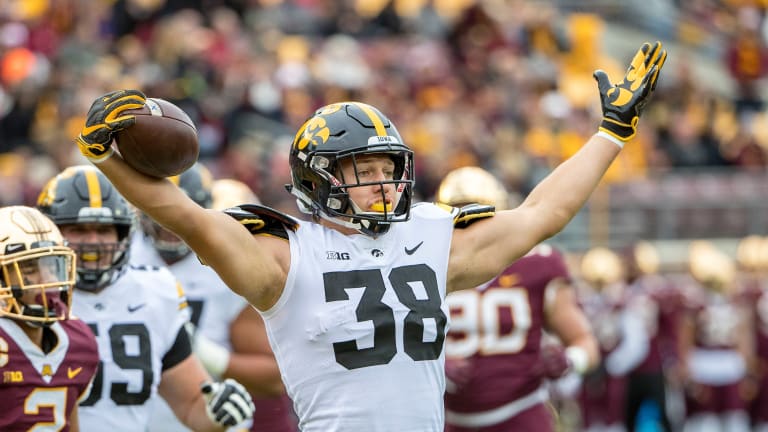 Previewing the 2019 NFL Combine: Studs, starters and sleepers at Tight End
A position-by-position look at the 2019 NFL draft class with historical perspective and personal favorites
The 2019 NFL Scouting Combine is now less than a week away and NFLDraftScout.com is taking a daily look at the top prospects at each position to help get you up to speed quickly.
Each day, a different position will be profiled and given a grade with three individual players featured:
· A First Round Prototype
· Second Day (Future) Starter
· Third Day Sleeper
Senior Analysts Rob Rang and Ric Serritella have nearly 40 years of combined experience professionally evaluating prospects for the NFL and after a year spent visiting campuses, watching tape, attending games, all-star practices and Combine training facilities, they have not surprisingly developed some favorites in this talented 2019 draft class.
Hundreds of their scouting reports are being printed for Lindy's NFL Draft magazine right now (RESERVE YOUR COPY HERE) with a snapshot of each position and some of their favorite players to watch available complimentary of NFLDraftScout.com below.
TIGHT END
A First Round Prototype: TJ Hockenson, Iowa
A first down waiting to happen, you might as well call him, "Mr. Automatic." Hockenson plays beyond the whistle. He would be an all-pro fullback, the fact that he possesses the size to play tight end and can be a receiving threat as well, makes him a blue chip prospect at his position. After an outstanding season, in which he accumulated 760 receiving yards on 49 receptions and six touchdowns, Hockenson was awarded with the 2018 John Mackey Award as top tight end in the nation. He also took home the Ozzie Newsome Award and First-Team All-American honors. The way he is able to be used is an offensive coordinators dream. He can play inline, he can play outside, h-back, fullback and is a mismatch for linebackers or safeties. He's a banger; big time blocks and train wreck collisions coming at you. An exceptional blocker who does a nice job of seeking out his targets in the second level and holding his blocks on the seal. He puts emphasis on getting proper positioning. Possesses great size, above average athleticism and certified toughness. It wouldn't be surprising to see Hockenson go in the top ten.
Second Day (Future) Starter: Drew Sample, Washington
An exceptional blocker and above average pass catcher, Sample is a noted hard worker and mature player (he was married during this past summer). He takes excellent blocking angles when seeking out targets in the second level. Adapts well to poorly thrown balls, adequate bend, excellent length and has deceptive athleticism. He can serve as a safety net for quarterbacks, especially on check downs and make the most with the ball in his hands after the catch. He was also a basketball standout in high school. He has amassed 30 career starts, despite sharing duties with Will Dissly (Seahawks) for most of his career, as the Huskies have implemented various tight end formations on offense. In fact, Sample possesses a catch/block skill-set that compares very favorably to Dissly, who was a fourth round pick in the 2018 NFL Draft. After a prodigious performance at the Senior Bowl, his stock might be even be higher.
Third Day Sleeper: Trevon Wesco, West Virginia
A pulverizing blocker, Wesco doubles as a grave digger, leaving defenders dead in his tracks. The Mountaineers finally figured out a way to best utilize his skill-set, as he caught 24-of-26 pass targets as a senior, for 352 yards and one touchdown—he had just two catches his previous two seasons combined in Morgantown (transfer from Lackawanna Junior College). A tough, physical and borderline violent runner with the ball in his hand, his all-state high school basketball background shows up in his athleticism. He can box out a defender using his great size when making the catch and is very tough to bring down in the open field. He has gained about 50 pounds of muscle over the last few years, making him part offensive lineman, part tight end, while lining up at fullback, h-back, out wide or in the slot. A rare athletic specimen for a man of his size, while he lacks a true position, Wesco is a rare triple threat who can block, catch and run. His athleticism and physicality, to go along with his blocking and soft hands, should make it easy for an NFL team to find ways to use him.