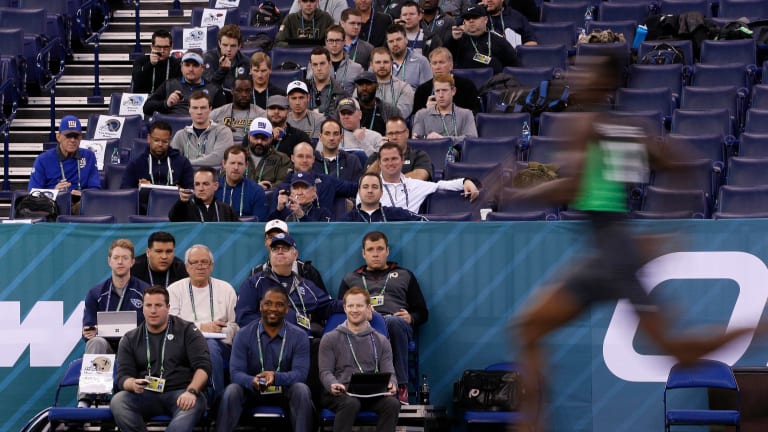 Ten bold predictions for the 2019 NFL Scouting Combine
Film study, high-ranking sources & nearly 20 years of experience provide perspective prior to the Underwear Olympics
The 2019 NFL Scouting Combine officially kicks off this week in Indianapolis with 337 prospective draft picks competing to prove they have the athleticism, size, health and intangibles to play at the next level.
As we have for the past three decades, NFLDraftScout.com will be there, providing analysis and perspective that, frankly, no other independent scouting firm can match.
The beauty of the apples-to-apples comparison that the Combine provides scouts is that it virtually guarantees surprises. We've canvassed sources throughout the country in anticipation for this year's rendition of the annual "Underwear Olympics," forecasting the ten results that will have NFL draft enthusiasts buzzing as the countdown to April continues.
10. Kyler Murray will wait until his Pro Day
While I am hopeful that Murray (and every other able-bodied athlete) chooses to compete at the Combine this year, I have a hunch he is going to make scouts wait until Oklahoma's Pro Day to throw. Everyone knows he is going to dazzle with his athleticism during athleticism testing and few quarterbacks struggle throwing against air, so the big story for Murray this week is how well he measures up during the weigh-in and interviews with teams.
9. "Other" top-rated QBs will shine in passing drills (but does it matter?)
To my knowledge, I am the only member of the mainstream media to have attended the QB throwing sessions at the Combine every year since National Football Scouting opened the doors to the Pro Football Writers Association back in 2007. That experience tells me to expect the traditional pocket passers of this class - Dwayne Haskins, Drew Lock, Daniel Jones, Jarrett Stidham - to earn rave reviews in the climate-controlled, no pass-rush allowed throwing session. Given that awareness, not accuracy, is the bugaboo for many of this year's quarterbacks, the QB throwing session this year is even more of a spectacle (than scout-worthy) than most years.
​
8. Many of top-rated RBs will run slow (but does it matter?)
All year long I've bemoaned the lack of top-shelf talent at running back available in the 2019 NFL draft, where only one runner - Alabama's Josh Jacobs - will earn a top 40 selection. While 40-yard dash times are one of the least reliable indicators of future success of running backs in the NFL, speed is clearly important and it is one of the areas in which this year's class is lacking. Expect plenty of times in the mid to late 4.5s and 4.6s, including by otherwise quality backs like Jacobs' teammate at Alabama, Damien Harris, as well as Kentucky's Benny Snell and Iowa State's David Montgomery.
7. D.K. Metcalf, Noah Fant will turn heads among big pass-catchers
The 2019 crop of wide receivers is much better than at running back and tight end is easily the top class on the offensive side of the ball, so scouts will be paying attention closely to the results in Indianapolis to help establish the pecking order at both positions. At receiver, there are several gifted big-bodied pass-catchers who look the part of future No. 1 targets but will have to run like one to assure earning a top draft pick. Expect Mississippi's D.K. Metcalf and Iowa tight end Noah Fant to put up eye-popping numbers to boost their cause.
​
6. Wide bodies from the West will wow
While the athletic testing of skill-position players is far more entertaining from a fan's perspective, many of the best players in this draft will weigh in north of 250 pounds. And some of the best big athletes of this year's class played their college ball out west, failing to earn the same media attention as some of their peers. Don't be surprised when former PAC-12 standouts Andre Dillard (Washington State), Kaleb McGary (Washington), Renell Wren (Arizona State) and Justin Hollins (Oregon) turn in some of the best numbers in their respective position groups, making a case that each of them should hear his name called on Day Two of the draft, if not sooner.
5. Most important news out of Combine is medical updates
While the 40-yard dash and bench press are certainly more entertaining, the single most important news generated each year at the Combine are the medical reports. That is especially important this year given that arguably the top prospect in the draft - Ohio State edge rusher Nick Bosa - missed more than half of the year after undergoing surgery with fellow early round talents like Rodney Anderson (Oklahoma), Bryce Love (Stanford), Jeffery Simmons (Mississippi State), Jerry Tillery (Notre Dame) and Deionte Thompson (Alabama) also needing to provide teams with medical updates.
4. Introducing Andy Isabella, soon to be a Combine gif
With his rocked-up upper body and lightning-quick lower half, Isabella looks like a human version of the animated character "Dash" from animated films, "The Incredibles." According to insiders, the speed the former UMASS wideout and returner is going to demonstrate this week could also be described as incredible. At the Senior Bowl, the 5-9, 186 pound Isabella claimed he has been clocked in the 4.2s. While that is likely at least a tenth of a second faster than he will be timed on the notoriously sticky Combine surface, don't be surprised if Isabella is the fastest player on offense this year.
​
3. No one has more on the line than Colorado State WR Preston Williams
Sure, timed events like the 40-yard dash are important for Williams but for he, Mississippi State's Simmons and Louisiana Tech defensive end Jaylon Ferguson - the three talented players only begrudgingly invited to the Combine this year due to off-field issues - the interview process is absolutely critical. By remaining at Mississippi State and Louisiana Tech throughout their respective careers, Simmons and Ferguson had time to build relationships with their coaching staffs. Williams, a Tennessee transfer and former five-star recruit, did not have as much time to do so at Colorado State, starring only one year there. Given his talent and off-field concerns, Williams might be the most polarizing prospect in the draft.
2. Ed Oliver wins the Combine
Characterized as a top five cinch since dominating as a true freshman, Oliver has plummeted down the boards of some draft analysts after junior campaign better known for a sideline dispute with then-Houston head coach Major Applewhite than for producing big plays behind the line of scrimmage. Just like how I held steady with Southern Cal quarterback Sam Darnold through his inconsistencies a year ago at this time, Oliver has maintained his position as a top three prospect on my board because of his rare traits - including a spectacular combination of explosiveness and agility that will make him one of the obvious stars of the athletic testing this year.
​
1. Buckeyes' Kendall Sheffield is this year's Fastest Man, Texas A&M's Daylon Mack is the strongest
Predicting the fastest and strongest players at the Combine each year is always entertaining and so I will take a stab at it. A year ago, it was a duo from LSU (cornerback Donte Jackson and wide receiver DJ Chark) who set the Lucas Oil Field track on fire with a pair of low 4.3 times in the 40-yard dash. This year, watch out for the Buckeyes with underrated cornerback Kendall Sheffield likely beating out former teammate Parris Campbell to take home the title as the fastest man at the 2019 NFL Combine. As for the strong-man competition in the bench press drill, I have my eye on the powerful run-stuffing nose guards of this class with the powerful Mack my pick to crack 40 repetitions of 225 pounds.
​