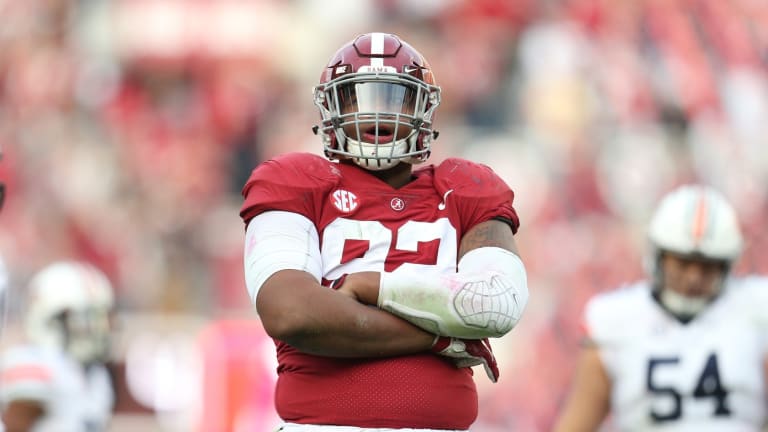 Rang: NFL mock draft 2.0 -- Cardinals go extra large with No. 1 pick
Five of the first six picks go to defensive linemen in an updated mock draft reflecting the official top 20 order
Five of the first six picks go to defensive linemen in an updated mock draft reflecting the official top 20 order
The NFL's regular season has come and gone, securing the selection order for the first 20 picks of the 2019 draft and warranting a fresh look at what might happen April 25 in Nashville.
For now, the order for picks 21-32 are projections and subject to change based on the postseason.
Quarterbacks are usually the topic du jour, but the cupboard is a bit bare this winter with projected first-round pick Justin Herbert opting to return to Oregon for his senior season and the Arizona Cardinals --owners of the No. 1 overall pick -- having used their top pick last spring on quarterback Josh Rosen.
The extraordinary talent this year lies along the defensive line. How much so? Consider that two-time NFL general manager Scot McCloughan shared on a recent episode of the Instinctive Scouting Podcast that the 2019 draft is richer along the defensive line than any draft he's seen in more than 25 years of scouting.
1. Arizona Cardinals -- Quinnen Williams, DT, Alabama
It is the offense, not the defense, that requires fixing in Arizona, but the handful of players who warrant No. 1 overall consideration all play on that side of the ball. In most divisions, adding an impact edge rusher (like Ohio State's Nick Bosa) might make the most sense but in the run-heavy NFC West, dominating interior defensive linemen are just as critical. With all due respect to his teammate Tua Tagovailoa, "Big Q" was the most dominant player in college football in 2018 and he's just a pup, turning 21 years old just a few days ago.
2. San Francisco 49ers -- Nick Bosa, OLB/DE, Ohio State
Like the Cardinals a pick earlier, the 49ers will delay any concerns about their offense to take advantage of this year's extraordinary defensive line class. Bosa is the spittin' image of his older brother, Joey, which is to say that he's a future Pro Bowl edge rusher. He's all the more likely to live up to his talent playing opposite a rising star in DeForest Buckner.
3. New York Jets -- Ed Oliver, DT, Houston
The Jets will be looking for a new head coach and likely some skill position help for young quarterback Sam Darnold, but that isn't going to happen at No. 3 overall. Instead, the front seven streak continues with Oliver, whose undersized frame and disruptive prowess remind me of the Rams' Aaron Donald, the reigning Defensive Player of the Year.
4. Oakland Raiders -- Clelin Ferrell, DE, Clemson
After trading away Kahlil Mack, Jon Gruden and Co. will almost surely dedicate at least one of their three first-round picks on impact defensive linemen. Ferrell isn't the quick twitch athlete some want on the edge, but he possesses terrific length and strength and plays with excellent technique.
5. Tampa Bay Buccaneers -- Deionte Thompson, FS, Alabama
The Bucs were horrific against the pass in 2018, surrendering 34 touchdowns (second worst to Oakland) with just nine interceptions. With multiple investments already made at cornerback, adding an instinctive ball-hawk at free safety like Thompson might be the best way to solidify Tampa's secondary.
6. New York Giants -- Rashan Gary, DE, Michigan
I know that Giants fans are clamoring for a young quarterback, but I'm not sure that is in GM Dave Gettleman's DNA to invest in the future when there will be gifted "hog mollies" on the board. Some scouts believe the 6-5, 280-pound Gary might just be the most gifted player in the entire draft.
7. Jacksonville Jaguars -- Dwayne Haskins, QB, Ohio State
Built to win now, it would surprise no one if the Jaguars opted to add a veteran rather than a rookie quarterback. Until that occurs, however, it is painfully obvious that Jacksonville needs a change at the position. Haskins is mature beyond his years, showing poise and precision from the pocket.
8. Detroit Lions -- Josh Allen, OLB, Kentucky
With Ziggy Ansah set to enter free agency, the Lions will be looking for edge rushers. Allen possesses the burst and bend up-field to make an immediate impact in this area and possesses the maturity Matt Patricia may be looking to add to his young defense. As has been well documented, Allen considered leaving early for the NFL last season but opted to return, significantly improving his stock as a senior with improved strength, technique and even in coverage.
9. Buffalo Bills -- Jonah Williams, OT, Alabama
Although Bills rookie Josh Allen certainly had moments of poor play, he lived up to his hype as one of the more gifted young quarterbacks to enter the draft in years, dazzling with his electric arm and athleticism. If the Bills are going to win consistently, however, they'll need to get him some help, including along the line of scrimmage. Williams does not possess elite length and agility, but he's savvy, tough and as proven as it gets at the collegiate level.
10. Denver Broncos -- Byron Murphy, CB, Washington
Playing in a division with Patrick Mahomes, Philip Rivers and Derek Carr requires a gifted secondary. Murphy had only one dominant starting season at Washington but that was the case for top-drafted cornerbacks Denzel Ward and Marshon Lattimore the past two years, as well. True cover corners are rare. John Elway knows that better than most.
11. Cincinnati Bengals -- Greg Little, OT, Mississippi
With four tackles currently listed as free agents, the always thrifty Bengals may look to the draft for reinforcements, just as they did in the first round a year ago with Billy Price. Don't take his name for it; Little is massive (6-6, 325) with the light feet and length to project as a longtime starting NFL tackle.
12. Green Bay Packers -- Derrick Brown, DT, Auburn
General manager Brian Gutenkunst earned rave reviews last year for taking advantage of a strong class of pass defenders. Given Green Bay's struggles defensively in recent years, don't expect him to steer clear of this year's stellar defensive line class, including Brown, an imposing 6-4, 320-pounder.
13. Miami Dolphins -- Daniel Jones, QB, Duke
Ryan Tannehill is a functional starting quarterback, but he's shown little to suggest he can guide a team to a championship. Jones does not possess the same exciting traits that led to Tannehill earning the eighth overall pick in 2012, but he is a very savvy passer well prepared for the NFL after working with renowned QB guru David Cutcliffe.
14. Atlanta Falcons -- Andraez "Greedy" Williams, CB, LSU
Injuries to lynchpins Devonta Freeman and Keanu Neal (among others) ruined Atlanta's 2018 season, but it does put a club just a few years removed from near Super Bowl glory in position to add an impact player. With his length, fluidity and success against top competition, Williams would seem to be a quality consolation prize.
15. Washington Redskins -- Taylor Rapp, S, Washington
The Redskins' leaky defense has improved from a year ago but shoddy tackling remains an issue. Rapp is among the most appropriately named prospects in this draft, doing an excellent job of wrapping his arms securely around ball-carriers for the secure stop.
16. Carolina Panthers -- Raekwon Davis, DE, Alabama
Carolina needs to reload along the defensive line. Davis did not post the same eye-popping statistics in 2018 that he did in last year's breakout campaign (8.5 sacks) but at an imposing 6-7, 303 pounds, he is certainly a force to be reckoned with.
17. Cleveland Browns -- D.K. Metcalf, WR, Mississippi
What is all the more remarkable about Baker Mayfield setting a rookie record with 27 touchdown passes on the season is that he did it without much consistency at receiver, with the obvious exception of Jarvis Landry. Like former Browns star Josh Gordon, Metcalf is a big-bodied home-run threat and potential legitimate No. 1 target.
18. Minnesota Vikings -- Jeffery Simmons, DT, Mississippi State
After giving the league's richest contract to quarterback Kirk Cousins, you can bet folks in Minnesota are unhappy sitting out of the playoffs. That could lead to all kinds of changes, including on defense, where Anthony Barr and Sheldon Richardson (among others) will be looking for big paydays. Simmons plays with the intensity and physicality coach Mike Zimmer loves.
19. Tennessee Titans -- Brian Burns, DE/OLB, Florida State
With starting outside linebackers Derrick Morgan and Brian Orakpo among Tennessee's upcoming free agents, the Titans may have no choice but to add fresh blood (and a smaller contract) in 2019. The 6-5, 240-pound Burns possesses an ideal combination of burst and bend off the edge.
20. Pittsburgh Steelers -- Zach Allen, DE, Boston College
Steelers fans may be hoping for reinforcements in the secondary, but GM Kevin Colbert has made a career out of building through the trenches and that isn't likely to change in a draft as loaded up front as this one. At 6-5, 285 pounds Allen possesses the girth and strength required to play defensive end in Pittsburgh's scheme but don't mistake him for just a tough guy; he's active behind the line of scrimmage as well, with 40.5 career tackles for loss, including 16.5 sacks.
21. Philadelphia Eagles -- Devin White, ILB, LSU
Along with edge rushers and wide receivers, the Eagles face big decisions at linebacker with no less than four at the position set to enter free agency, including standout middle linebacker Jordan Hicks. Rather than pay a premium price to retain him, GM Howie Roseman may opt for a cheaper contract with the versatile and hard-hitting White.
22. Indianapolis Colts -- Christian Wilkins, DT, Clemson
Largely due to the recovery by Andrew Luck and breakout campaigns by rookie Darius Leonard and veteran defensive lineman Marghus Hunt (a pending free agent), the Colts showed signs this season. Boosting the playmaking ability along the defensive lineman with Wilkins -- a three-time All-American -- could have the Colts racing again in 2019.
23. Seattle Seahawks -- Montez Sweat, DE/OLB, Mississippi State
The Seahawks, predicted by many to struggle this season, finished the regular season 10-6 and in the postseason for the sixth time in the last seven years by following the same strategy Pete Carroll always preaches -- a physical running game and stellar defense. Expect Seattle to take advantage of this year's extraordinary defensive line class to boost its front seven with a twitchy edge rusher like Sweat projecting as an ideal LEO defensive end in Carroll's scheme.
24. Oakland Raiders (from Dallas Cowboys) -- N'Keal Harry, WR, Arizona State
Once the Raiders shipped Amari Cooper out of town it was clear that Jon Gruden and Co. would be looking for a replacement. Gruden's past suggests he'd rather find a veteran pass-catcher but Harry is the type of do-it-all pass-catcher than could excel in this attack. A clean route-runner with underrated agility and speed, Harry reminds me a bit of former Pac-12 star Keenan Allen.
25. Baltimore Ravens -- Marquise "Hollywood" Brown, WR, Oklahoma
Every first round has a surprise and the Ravens could deliver it in 2019 in Hollywood fashion. While Baltimore has dedicated millions of free agent dollars and too many draft picks to count on wide receivers, few boast Brown's agility and speed -- attributes that make up for his relatively slight frame.
26. Houston Texans -- Jachai Polite, OLB, Florida
With former No. 1 overall pick Jadeveon Clowney a pending unrestricted free agent, the Texans have a big decision to make in the offseason. If the club elects not to throw the bank at the talented but inconsistent edge rusher, finding a replacement will be a top priority. Polite lacks Clowney's length but his suddenness and flexibility off the edge are first-round worthy.
27. New England Patriots -- Jerry Tillery, DT, Notre Dame
Bill Belichick is too smart to allow a draft loaded with star defensive linemen slip by without replenishing his team's depth up front. While lacking in consistency, Tillery flashes the ability to dominate and would be a potential steal at this point in the draft.
28. Oakland Raiders (from Chicago Bears) -- Deandre Baker, CB, Georgia
While trading away Mack and Cooper created obvious holes at pass rusher and receiver, the Raiders secondary has been a real problem for years. Baker does not possess the elite speed of some of this year's other top cornerbacks but he's instinctive, physical and battle-tested.
29. Los Angeles Chargers -- Dexter Lawrence, NG, Clemson
Brandon Mebane has proven a rock in the middle for the past 12 seasons but the Chargers would be wise to find his replacement in a draft as deep among defensive linemen as this one. Like Mebane, Lawrence won't wow you with his statistics but just try to move him.
30. Los Angeles Rams -- Noah Fant, TE, Iowa
The Rams do not have many needs but their offense could be that much more dynamic with a legitimate seam threat like Fant forcing defenses to think twice before dropping safeties into the box to load up against Todd Gurley.
31. Kansas City Chiefs -- Amani Oruwaryie, CB, Penn State
Part of the reason why Kansas City's defense is so statistically poor is simply because its offense is so effective, routinely jumping out to big leads while opponents are left to rack up yardage (and scores) during "garbage time." Cornerback is, however, a concern in Kansas City and Oruwaryie boasts a rare combination of length, agility and ball-skills that offensive mavens like Andy Reid (or Patrick Mahomes) will certainly appreciate.
32. Green Bay Packers (from New Orleans Saints) -- Bobby Evans, OL, Oklahoma
Want to know what sunk the Packers' season? The club allowed 53 sacks in 2018, tying them for 30th in the NFL (with the lowly Jaguars). Evans played right tackle for the pass-happy Sooners but possesses the frame and physical nature to slide inside, should his future team need it.