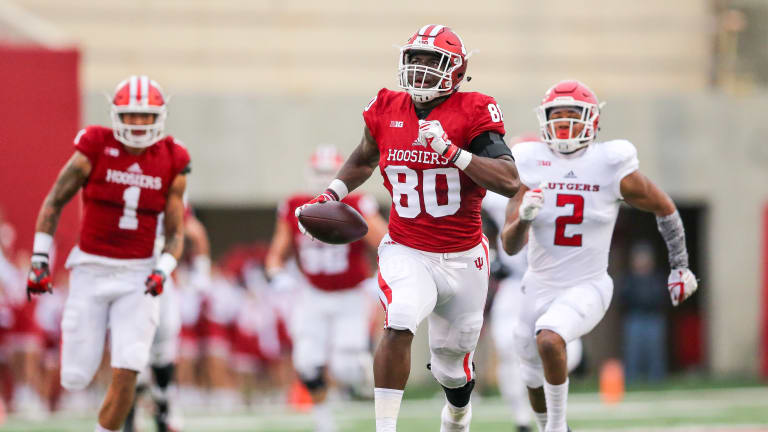 2018 NFL Draft: Picks 101-105
--- NFLDraftScout.com ---
--- NFLDraftScout.com ---
Analysis
STRENGTHS
Developed frame with thick hips and lower half. Athletic with twitchy muscles. Fluid route runner. Smooth body movements to easily adjust to the football. Speed to stretch the seam or bust zones. Doesn't let physical defenders get him off-schedule downfield. Good-sized hands to swallow the ball away from his body. Finishes forward as a ballcarrier and not easy to bring down. Flashes inline power on down blocks to open run lanes. Core flexibility to sustain blocks, relying on his grip strength and lower body bend to get the job done. Self-motivated competitor and there is no question about his commitment to the game. Very well-liked by his coaches at Indiana. – Dane Brugler 1/21/2018
WEAKNESSES
Inefficient in/out of his breaks. One-speed mover and lacks nuance or rhythm as a route-runner. Late to recognize coverages or set up defenders based on his reads. Not a proven YAC threat with minimal missed tackles on tape – only three career receptions over 25-yards. Blocking technique is rough around the edges, especially his handwork. Needs to improve his timing and finish as an on-the-move blocker. Missed time as a senior due to multiple minor injuries, including a sprained left knee (Sept. 2017). Inexperienced with only 11 starts at the FBS-level with unimpressive production. – Dane Brugler 1/21/2018
IN OUR VIEW
Thomas is still raw in several areas and won't be an immediate NFL starter, but he has starter (and star) potential with his balanced athleticism and developing strength.
​
Analysis
STRENGTHS
Body beautiful with developed physique and long arms. Coordinated athlete and could have played tight end at a high level. Greased-up hips and joints to bend, dip and shave tight corners. Extends his reach to press blockers off his frame and create movement. Balanced forward lean. Backside burst to chase down ballcarriers. Instinctive player and sees plays develop half-seconds before they do. Voted a senior captain despite zero career starts his first three years. Magnetic, fun-loving personality and described as "an even better person and leader" by Ohio State head coach Urban Meyer – Holmes stayed patient, spending most of his career stuck behind others on the depth chart. Dedicated himself in the weight room, adding 50+ pounds since his senior year in high school. Logged several snaps inside as a defensive tackle. – Dane Brugler 1/2/2018
WEAKNESSES
Below average backfield production with only 4.0 sacks in 49 career games. Undeveloped pass rush plan with little creativity to his hand/arm moves. Too much hand-fighting without going anywhere. Little set-up to his moves and won't fool NFL blockers. Shows too much respect for blockers. Inconsistent pad level and anchor strength and can be redirected vs. power. Lacks a killer instinct and needs to dial up the aggressiveness. Lacks ideal playing experience, not starting until his senior year and sharing his duties with a deep defensive end group. – Dane Brugler 1/2/2018
COMPARES TO: Taco Charlton, Dallas Cowboys – A late bloomer at Michigan, Charlton needed until his senior year in Ann Arbor to become a steady starter with better traits and football production. It is a similar story with Holmes who checks plenty of boxes with his size, length and athleticism, but also the untapped football ability.
IN OUR VIEW: Overall, Holmes has intriguing promise due to his toolsy physical profile. However, he isn't yet the sum of his parts with the unrealized football potential and lack of production that should give evaluators pause. Holmes needs time and hard coaching, but he can develop into a serviceable NFL player.
​
Analysis
STRENGTHS
Top-end speed to out-pace pursuit. Plant foot burst to gain spacing out of his breaks. Efficient transition from catcher to ballcarrier. Creative with the ball in his hands. Open-field vision to weave through the defense. Start/stop quickness to let defenders overpursue. Uses tempo as a route-runner to sell patterns. Finds open zones in the defense. Tracks the deep ball well. Looks to secure catches with his hands. Enough core strength and balance to bounce off hits. Averaged 25.8 yards per kickoff return with one career touchdown (16/412/1). Improved production each season, catching a pass in his final 25 games – seven career games with 150+ yards. – Dane Brugler 1/14/2018
WEAKNESSES
Rudimentary route-running experience. Routes too easily altered by press or physical coverage. Catch focus plummets on in-breaking routes or impending contact. Not a proven pass-catcher in contested situations. Finesse finisher as a ballcarrier, avoiding contact like the plague. Stops his feet at contact instead of lowering his pads and running through the tackle. Too much east-west on film. Undersized with thin-bones and minimal bulk on his frame. Accustomed to spacing in Texas Tech's spread offense and his toughness will quickly be tested in the NFL. Didn't return punts at Texas Tech. – Dane Brugler 1/14/2018
IN OUR VIEW
Coutee has unimpressive play strength and needs to improve the details of the position, but he is field fast with steady ball skills to threaten every level of the defense. Although scouts are concerned about how quickly he will adapt to a NFL offense, Coutee has a chance to hear his name called on day two with teams looking for playmaking inside receivers.
​
Analysis
STRENGTHS
Short but is not small, possessing a compact, athletic frame with a naturally low center of gravity and very good overall weight distribution. Far from just a track star in pads, Hines is a true three-tier speedster on the football field, boasting excellent initial quickness, smooth acceleration and the long speed to pull away from defenders in the open field. As a running back and returner, Hines attacks the hole, showing the burst to and through it to leave defenders in his dust, as well as the vision to take advantage of his blockers. Hines possesses very good agility to make defenders miss in tight quarters, including a compact spin move (or two, see Louisville-2017), exhibiting impressive body control and spatial awareness to maintain his balance on one foot while eluding defenders. He shows reliable hands as a receiver, extending away from his frame and quickly securing the ball. More physical than his size would suggest, showing good balance and toughness to bounce off hits and no hesitation in running through traffic. Described by head coach Dave Doeren as the "most competitive player on the field." -- Rob Rang 1/13/2018
WEAKNESSES
Does not possess an ideal frame to log 20+ carries a game. Missed three games due to injury in 2017 after registering just 61 rushing attempts over his first two seasons on campus. Short limbs, leaving him literally short-handed when it comes to reaching back to catch passes while covered. Possesses the quickness to get open as a receiver but lacks polish and consistency as a route-runner. Competitive but simply over-matched in pass protection, signaling to the defense that he may be the target if lined up in the backfield on obvious passing downs... One fumble on tape after sustaining a big hit, which knocked him out of the game (Wake Forest-2017). - Rob Rang 1/13/2018
COMPARES TO: Darren Sproles, Eagles - This may not be a fair comparison to either Hines nor Sproles as the former is significantly taller (but thus far less durability) than the 5-6, 190 pound 13-year NFL veteran. Still, the elusiveness, acceleration and versatility which has helped Sproles be one of the league's "biggest" matchup nightmares over the past decade and a half should help Hines earn at least the late 4th round selection by then-San Diego Chargers his playmaking predecessor received out of Kansas State back in 2005.
IN OUR VIEW: Hines may prove more of a jack-of-all-trades, master-of-none type in the NFL than the superstar he proved during his flashy prep and collegiate career in the state of North Carolina but, make no mistake, every team in the league is looking for athletes with his elusiveness and top-end speed. At minimum, Hines is a big play threat every time he touches the ball with the positional versatility to save a roster spot with it entirely possible that he'll achieve much more with a creative play-caller.
​
Analysis
Lightning in a bottle. Twitched-up athlete with explosive change of direction and acceleration. A big play threat any time he touches the ball, showing the elusiveness to make defenders miss, as well as the competitiveness, strength and balance to fight through contact. Good vision and patience to set up blocks, maximizing his opportunities to create, including tight-roping the sideline for extra late yardage. Smooth accelerator and a legitimate homerun threat who can pull away in the open field. Possesses a short but not small body with a compact, athletic frame, including a thick lower half and disproportionately long arms. Generally a reliable hands catcher, extending his mitts far from his frame to keep the ball away from long-armed defenders in close proximity (Alabama, 2016). Tracks the ball well over either shoulder. Has some ice water in his veins, with TDs scored against Alabama, LSU and Tennessee in big moments... Competitive, physical blocker who flashes some feistiness, not backing down at all to bigger defenders. -- Rob Rang 2/24/2018
WEAKNESSES
Below average height limits the role and routes Callaway likely can play at the next level. Featured on lot of smoke screens and simple drag routes to get the ball into his hands in space and may need time acclimating to a more sophisticated route tree... A bit of a freelancer as a route-runner, incorporating extra shakes at times which can get him free but ruin the timing with his quarterback... Has some ugly drops on tape when he attempts to make a move before securing the ball. Believes that he can out-run anyone and occasionally makes reckless decisions with the ball, bouncing it outside or circling back, resulting in some big losses along with his highlight reel plays... A significant character risk that could have some teams simply taking him off the board... Comes with a frightening track record of off-field transgressions, culminating with a suspension for the entire 2017 season for his involvement in a credit card scheme (along with eight other Florida players) after previously being accused of sexual assault (charges were ultimately dropped) in December, 2015 and for possession of marijuana (May, 2016)... -- Rob Rang 2/24/2018
COMPARES TO
Tyreek Hill, Chiefs - Character concerns pushed the speedy 5-10, 185 pound Hill to the fifth round of the 2016 draft. Staying on the straight and narrow off the field has allowed Hill to run wildly on it since with 20 combined touchdowns (13 receiving, three running, three via punt return and one off a kick return) over his first two seasons in Kansas City.
IN OUR VIEW
Some teams will deem Callaway too risky due to his checkered history off the field, but his talent on it is simply undeniable. Callaway is a proven game-breaker as a receiver and return man with a knack for making the big play at critical moments against elite competition. Simply put, Callaway is among the best 32 players in the 2018 NFL draft, though his myriad character red flags could push him down the board significantly further than that.