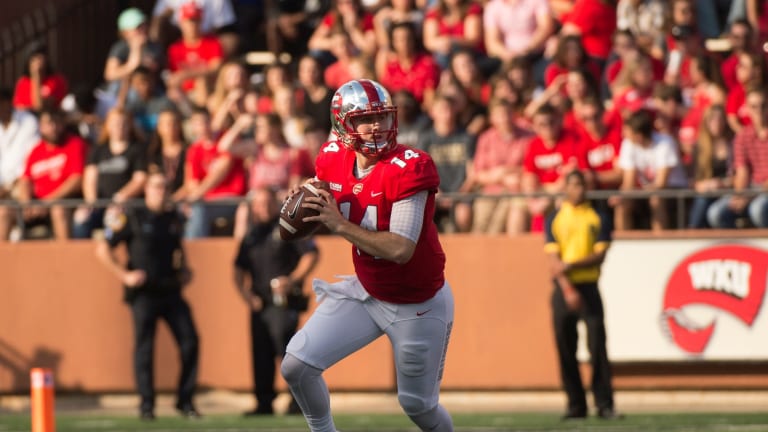 2018 NFL Draft: Picks 171-175
--- NFLDraftScout.com ---
--- NFLDraftScout.com ---
Analysis
…STRENGTHS
Possesses a solid frame with good overall weight distribution with no significant injuries sustained over four seasons as a starting quarterback. Rhythm passer with a quicker, more compact release in 2017 than in previous seasons... Possesses plenty of arm strength to make every NFL throw, including the requisite deep out from the opposite hash. Good touch on bucket throws, especially on post-corners, fades and deep balls, lofting the ball with enough trajectory to allow receivers to run underneath. Throws a very catchable ball with a tight spin that makes it easy to track and secure. Above average overall accuracy, rarely forcing receivers to adjust and often hitting them in stride to help create yardage after the catch. Can drop his arm slot and throw accurately while off-balance. Good patience in the pocket, showing the willingness to take a hit to allow his receivers time to get open and keeping his eyes downfield even amidst a collapsing pocket. Improved vision, flashing the ability to look off or move defenders with his eyes. Confident passer willing to test tight windows... Underrated athlete with enough mobility to buy time, rollout to his left or right and complete passes on the move and scramble, when necessary, rushing for six touchdowns in 2017... Good awareness of the yardage required, extending the ball to hit the pylon or to keep the chains moving... Ideal intangibles for the position... Voted a team captain and was one of 30 candidates nationally for the Senior CLASS award, which is given annually to the player who best exemplifies community, class, character and competition. Was the first male in his family to earn his degree... -- Rob Rang 1/6/2018
WEAKNESSES
Still learning some of the finer points of the position, too often staring down his primary target and throwing with an elongated, baseball-influenced wind-up - each of which tip off the defense as to his intentions. Caught in the headlights a bit in 2017, needing to do a better job of "feeling" pressure, too often absorbing sacks or failing to secure the ball because of a slow internal clock... Made too many pre-determined reads, focusing on his favorite targets despite double coverage and needing to do better job of distributing the ball all over the field to find easier avenues. At times overly confident in his ability to squeeze passes through tight coverage. Faced below average competition with just three touchdowns and seven interceptions thrown in nine games versus Power Five opponents while at WKU and USF, all losses... - Rob Rang 1/6/2018
COMPARES TO: Trevor Siemian, Broncos - With some suggesting that his production in Northwestern's spread offense would not translate into the NFL, Siemian was the final quarterback selected in the 2015 draft (250th overall pick) but he has out-played that position since, throwing for 30 touchdowns (against 24 interceptions) as a part-time starter and often-used backup in Denver. White possesses a stronger arm than Siemian (and therefore should earn a higher pick in 2018) with a similar chance to surprise as a "diamond in the rough."
​
Analysis
STRENGTHS
Possesses excellent size for the position with a long, lanky frame. Punts boom off his foot, with Scott whipping his leg through the ball and nearly hitting himself in the helmet with his foot due to above average flexibility, extension and follow-through. Routinely drives the ball 60+ yards in the air with observers at the Senior Bowl often forced to duck for cover as he left the ballpark... Showed improved touch and trajectory in 2017, with approximately half of his punts being fair caught after just a quarter of them in 2016... Assumed kickoff duties in 2017 with Good directional punter, showing the ability to pin returners near the sideline. Varies his drop, showing the ability to deaden the ball and leave it bouncing backward for teammates to corral... Was a placekicker in high school and has the experience to convert to this role in a pinch, converting one field goal (48 yards) and making all 10 of his PAT attempts, including eight in 2017... Possesses the length and athleticism (among punters) to provide help on coverage units with four tackles to his credit... -- Rob Rang 2/8/2018
WEAKNESSES
Raised his drop point a few inches in 2017, creating more spin on the ball but more inconsistency, as well... For a player with his reputation, Scott showed too many mental errors on tape, including shanks in which the ball simply comes off the side of his foot and dropped holds for the field goal kicker, including notably against rival Auburn in 2017 that Scott compounded with an ill-conceived pass to the kicker that went for a loss of nine yards. Has some experience as field goal kicker, himself, but was just one of four over his career...- Rob Rang 2/8/2018
IN OUR VIEW
Scott not only boasts the size and leg strength to continue punting in the NFL, his experience on kickoffs and even on field goals and PATs could come in handy in a pinch. Scott, Alabama's all-time leading punter, is like many of Nick Saban's top recruits - soon to be cashing NFL paychecks.
​
Became Florida's all-time leading punter in program history with 11,090 yards and 240 total punts as he passed Eric Wilbur (9,900 yards & 231 punts) who held each record since 2006... Moved into SEC history as he finished his career fifth all-time in punting yards and tied for ninth in punts... Set a new career punting average of 46.2 yards, which ranks first in SEC lore… Recorded 11 punts of over 60 yards throughout his career, which is the most by a Gator in records dating back to 1996… His average as a senior in 2017 (47.5) ranked second all-time in UF history behind his own average of 47.9 yards, which he set in 2016… Led the nation and the SEC in punting yardage during his junior and senior seasons…
​
STRENGTHS: Track-like speed with his long, lithe strides…rangy frame with above average length…explodes off the line to immediately threaten vertically…at his best downfield and 17.3 yards per catch at USF is a school-record…flexible ease of movement downfield to properly adjust…flashes the ability to track-and-pluck, climbing the ladder when needed…doesn't appear bothered by physical defensive backs at the catch point…coaches speak highly of his character…graduated with a degree in communications (May 2017) and currently working on his master's…set the USF record for single-season receiving yards (879) – also shares the school-record for longest reception (95 yards).
WEAKNESSES: Thin with wiry, lean-muscled limbs…ran an abbreviated route tree in college…leggy with varying sink at the top of patterns…inconsistent making route adjustments based on coverages…linear body type and can be muscled off his path…inconsistent results in his small sample size vs. press…allows the ball into his body at times, leading to drops…hard to get a feel for his ball skills, isolating the ball on some plays and then losing focus on others…needs to be a better blocker with his size/length…left NC State because he wasn't happy with his role in the offense.
SUMMARY: A two-year starter at South Florida, Valdes-Scantling was the "X" receiver in the USF offense and grew into the No. 1 target for Quenton Flowers as a senior. He was his best stretching out his stride as a vertical threat with 22 of his 75 catches for the Bulls going for 20+ yards. Valdes-Scantling has a rangy frame with above average speed, showing the ability to track, adjust and play above the rim. However, he is closer to a one-trick pony than polished receiver at this point of his development and needs to improve his route-running to secure a NFL roster spot. Overall, Valdes Scantling needs to hone the details of the position, but he is tall with plus speed and body control and that combination at receiver will always be welcomed in a NFL training camp.
​
Round 6
​ Overview
Although he caught only 47 passes in three years of college, Ratley has the size (over 6-1, 196) and speed (hand timed at 4.39 seconds for 40 yards at pro day) to play this game at a high levell (oh yea, 38-inch vertical leap.
Analysis
STRENGTHS: Size, speed, leaping ability. Can stretch a defense, as evidenced by average of 23.1 yards per catch last season and 11 catches of more than 25 yards. Good feet and can run after the catch.
WEAKNESSES: Natural ability is unrefined and could use a little more attitude or toughness. Loses football posture at times when he stands upright, diminishing his ability to make lateral moves.
IN OUR VIEW: Has natural speed, explosion that cannot taught. If he gets on team with good coaching or mentoring he could gain skills to be a good pro.