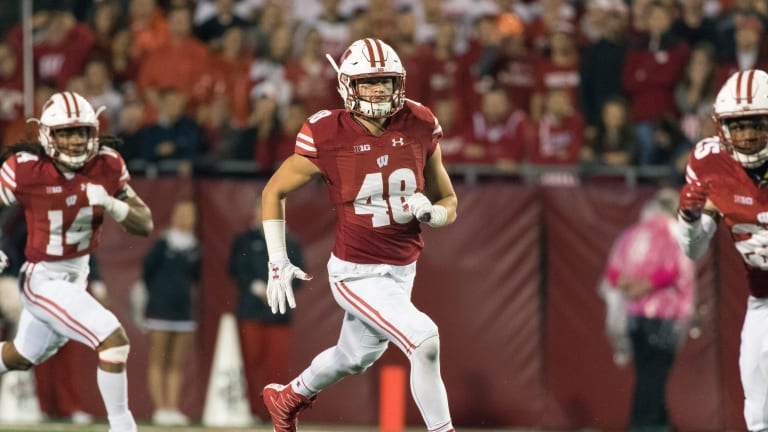 2018 NFL Draft: Picks 201-205
--- NFLDraftScout.com ---
--- NFLDraftScout.com ---
​
STRENGTHS: Fluid athleticism and body control…lateral range is outstanding…excellent acceleration in pursuit or as a blitzer…above average instincts to key and diagnose…physical mentality and doesn't stay attached to blocks for long…sacrifices himself filling gaps, taking out blockers…comes to balance on the move and breaks down as a tackler…strikes low and balanced…coordinated feet in coverage…team-first mentality and voted a 2017 captain…reserved off the field, but a warrior on the field who won't take a play off…former walk-on, earning a scholarship in 2015…injuries have strengthened his physical and mental toughness – has no problem playing through pain (see 2016 vs. Iowa)…graduated with his degree (Dec. 2017)…athletic bloodlines – father (Steve) was a two-year starter at safety at Notre Dame and scored a touchdown in the legendary "Chicken Soup Game" in 1979; mother (Lisa) played college basketball at Marquette; older sister (Tessa) played college basketball at Wisconsin; grandfather (Sid) was a long-time head coach in North Dakota and was inducted into the National High School Sports Hall of Fame.
WEAKNESSES: Medicals will be red flagged, missing the entire 2017 season after tearing the ACL in his right knee (Aug. 2017) during preseason practice – missed the final seven games of the 2016 season after tearing his left pectoral (Oct. 2016)…lean-muscled and weight gain has always been a battle for him…eager to get off blocks, sacrificing his balance at times…inconsistent depth in man coverage, losing track of his assignment…too reactive in coverage, leading to spacing issues…will leave his feet early at times on tackle attempts…collegiate resume feels incomplete with only 11 career starts, playing in only seven games the past two seasons.
SUMMARY: A two-year starter at Wisconsin, Cichy moved from outside to inside linebacker as a sophomore and was a budding star in the Badgers' 3-4 scheme before two devastating injuries. Over the last two seasons (28 games), Cichy has appeared in only seven games and hasn't played a snap since October 2016. When healthy, Cichy competes with a quick trigger and shows off his impressive blend of athleticism and smarts. He fits all the stereotypes of a former walk-on with his non-stop hustle and enormous chip on his shoulder and his football character will instantly endear him to NFL teams. Overall, Cichy is a loose athlete with outstanding instincts, toughness and finishing skills to be a starting NFL linebacker, but his draft projection will be reliant on the medical examinations.
​
Analysis
STRENGTHS
Checks boxes with a prototypical build for the position with good height, broad shoulders and a strong right arm with plenty of velocity to make every NFL throw. Possesses a smooth overall throwing motion with a classic over-the-top release and clean footwork, generally stepping into his throws. Varies his release, showing the ability to speed up his throwing motion when required. Zips underneath and intermediate routes, showing enough accuracy on slants, quick outs and posts to help receivers generate yardage after the catch. Good trajectory on deep balls, showing the willingness to give his receivers opportunities to make a play on the ball. Impressed the Nebraska coaching staff with his leadership and commitment when joining the team as a transfer in 2016... -- Rob Rang 12/30/2017
WEAKNESSES
Limited "feel" for a quarterback with three starting seasons, showing below average awareness of pass rushers around him and playing with a slow internal clock. Has to see it before he throws it, failing to anticipate openings and deliver the football with timing. Possesses an elongated release with a wind-up, leaving the ball vulnerable to rushers to slap away and giving defensive backs a split-second head start to break on the ball. Struggles on intermediate and deep bucket throws which require touch to fit over the top of linebackers and under safeties, too often sailing them... Below average athlete with lead feet who struggles to buy time in the pocket or offer much in terms of a scrambling threat. - Rob Rang 12/30/2017
COMPARES TO: Tom Savage, Texans - Like the 6-4, 230 pound Savage (a fourth round pick by Houston in 2014), Lee possesses the size and arm to warrant the initial investment of a Day Three draft pick. To this point, however, both quarterbacks have teased with their potential rather than deliver production and, more importantly, the wins necessary to be anything more than backup fodder in the NFL.
IN OUR VIEW: Lee possesses the size and arm strength scouts are looking to develop but he will need to significantly speed up his game to be effective at the next level, projecting as a late round or perhaps even undrafted free agent.
​
SUMMARY: A no-star running back recruit out of high school, Trenton Cannon won a district rushing title at Kecoughtan, but was under-recruited and signed with Division-II Shepherd (W.V.). After two seasons, he left the program to transfer closer to home, turning down an offer from FCS-level Norfolk State because he didn't want to sit out a season. Cannon walked on at Virginia State and quickly emerged as the team's top weapon. He posted 1,638 rushing yards as a senior to become the school's all-time leading rusher and CIAA Offensive Player of the Year. Cannon averaged 32.6 yards per kickoff return the last two seasons with three return scores. He looks like he is moving at a different speed than everyone else on the field, using his nimble feet and quick-thinking moves to create. He doesn't have an ideal build for full-time running back work. Overall, Cannon is a speedy, slashing ballcarrier with the receiving/return versatility that will stand out in NFL training camp.
​
STRENGTHS: Prototypical frame, build and length for an edge rusher…owns the initial quickness to beat tackles from the jump…nimble bender, staying low in his pursuit of the corner…hips and feet stay in sync through the rush…extends his arms into blockers, using leverage and forward lean to get blockers moving in reverse…comfortable on his feet as a high school linebacker and will occasionally drop on tape or blitz from various angles…sees through blockers to cut off outside runs…battled back from a serious injury and won the 2017 Brian Piccolo Award, which is awarded to the "most courageous" football player in the ACC…graduated with a degree in communications (May 2017)…experienced as a stand-up linebacker in a 3-4 and defensive end in a 4-3 scheme…productive career with 24.0 tackles for loss and 14.0 sacks in 20 starts.
WEAKNESSES: Suffered a dislocated and fractured left hip (Dec. 2015), requiring immediate surgery and a 12-month rehab schedule – went under the knife a second time (July 2016) after a minor setback…didn't show the same explosive movements post-injury and spent much of the 2017 season getting his feet back underneath him…frequently mistimes his initial snap movements, jumping early or late…predictable spin move…late hands and can be controlled in the run game, allowing blockers to get into his frame and move him…inconsistent break down skills in space, leading to missed tackles…other medical concerns include surgery to repair a bulging disk in his back (Jan. 2015)…immature background nearly cost him his scholarship – arrested and charged with criminal trespass (Dec. 2012); arrested and charged with third-degree burglary (July 2012).
SUMMARY: A two-year starter at Louisville, Young put his name on the NFL radar in 2015 as a junior outside linebacker in the Cardinals' 3-4 scheme prior to his career-threatening hip injury. He returned to the field in 2017 and played defensive end in Louisville's four-man front, rushing from both a two- and three-point stance. Young showed steady improvement throughout his senior season as he worked back to football shape, but didn't flash the same arc explosiveness or overall effectiveness. He is a smart run defender with his read/react ability, but needs to improve his take-on skills to keep himself free. Overall, Young looked like an early round draft pick before his hip injury sidetracked his career, but the post-injury version of Young still has enough traits to carve out a rotational pass-rushing role in the NFL – if the medical staff signs off.