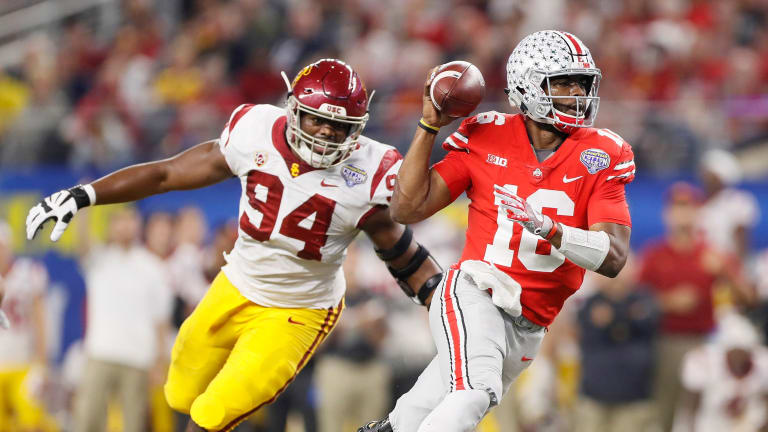 2018 NFL Draft: Possible UDFAs from each FBS team, Part II
--- By Dane Brugler, NFLDraftScout.com ---
--- By Dane Brugler, NFLDraftScout.com ---
Only 256 prospects will hear their name called on draft weekend and with 130 underclassmen entering the NFL early, the number of draft slots dwindles for seniors. However, every FBS-level football program will have at least one prospect who will sign a free agent contract or receive a tryout.
Central Michigan quarterback Cooper Rush made this list last year and went undrafted as expected. However, he signed a free agent deal with the Dallas Cowboys and impressed enough in training camp that he made the team, eventually overtaking Kellen Moore for the back-up role behind Dak Prescott. Wisconsin running back Corey Clement didn't hear his name called in the 2017 NFL Draft, but he found a home with the Philadelphia Eagles and carved out a piece of NFL history with 100 receiving yards in Super Bowl 52.
Everyone knows about the nation's top pro prospects, but we offer a team-by-team look at one prospect from each of the 129 FBS programs who isn't expected to be drafted although the professional dream may live on.
Although they may not hear their names called on draft weekend, these prospects have a fighting chance to make NFL rosters as undrafted free agents.Part One (FBS Schools, A-M)
(Programs are listed in alphabetical order)
NAVY
--LB Micah Thomas (6-0, 244, 4.82)
The size and speed measureables won't stand out, but he led Navy in tackles each of the last two seasons and led the team with three interceptions in 2017.
NC STATE
--TE Cole Cook (6-5, 257, 4.88)
A two-year team captain for the Wolfpack, Cook is a stiff athlete, but he has steady hands and was a vocal leader on offense. His mother was an All-American basketball player for Pat Summitt at Tennessee.
NEBRASKA
--QB Tanner Lee (6-4, 218, 4.98)
A Tulane transfer, Lee never reached 58-percent completions in any season in college, but he has the size, toughness and arm that will at least keep him on the roster as a camp arm.
NEVADA
--WR Wyatt Demps (6-3, 206, 4.73)
Demps, who posted career-bests as a senior with 67 catches for 908 yards and 11 scores, is reminiscent of Jordan Leslie with his frame and versatility, also playing on special teams in college.
NEW MEXICO
--QB/RB/WR Lamar Jordan (5-10, 185, 4.46)
An option quarterback in college, Jordan is a versatile athlete, but his competitive nature and leadership traits (three-time team captain) might be what NFL teams like about him most.
NEW MEXICO STATE
--RB Larry Rose III (5-9, 192, 4.42)
Although he isn't a tackle-breaker with an undersized frame for the position, Rose is an effective route runner with soft hands, projecting best as a pass-catcher and punt returner in the NFL.
NORTH CAROLINA
--WR Austin Proehl (5-9, 182, 4.55)
Proehl, who is the son of 17-year NFL veteran receiver Ricky Proehl, missed most of his senior season with an injury, but he is a crisp route runner with the pedigree that will stand out to NFL coaches.
NORTH TEXAS
--SS Kishawn McClain (5-10, 190, 4.58)
McClain put together a strong career resume for the Mean Green (336 tackles and seven interceptions) and posted respectable testing numbers (34.5-inch vertical, 7.05 three-cone).
NORTHERN ILLINOIS
--TE Shane Wimann (6-3, 251, 4.95)
The size and speed don't stand out, but Wimann is a reliable receiver and blocker was the safety valve in the NIU offense, especially in the red zone, averaging one touchdown every 3.8 catches in college.
NORTHWESTERN
--DT Tyler Lancaster (6-3, 313, 5.01)
A three-year starter, Lancaster wore the prestigious No. 1 jersey because of his leadership and hustle. He is a limited athlete, but his core strength could earn him reps as a rotational nose tackle.
NOTRE DAME
--LB Nyles Morgan (6-1, 230, 4.76)
Morgan recorded 90+ tackles in his junior and senior seasons as a starter, but average athleticism and durability issues will likely drop him to the undrafted free agent pool.
OHIO
--RB Dorian Brown (5-10, 210, 4.58)
Brown doesn't offer much as a pass-catcher and averaged under 10 carries per game in 2017, but he averaged 6.8 yards per rush and scored 11 touchdowns for the Bobcats.
OHIO STATE
--QB JT Barrett (6-1, 224, 4.70)
Although his slower, conservative passing process will be an issue, Barrett has off-the-chart intangibles, resilient leadership and the accomplished college resume that NFL coaches will embrace.
OKLAHOMA
--WR Jeff Badet (5-11, 182, 4.34)
A graduate transfer from Kentucky, Badet had moderate production in 2017 (26 catches, 400 yards, three touchdowns), but his raw speed and athleticism (39.5-inch vertical) is what teams are looking for after the draft.
OKLAHOMA STATE
--OC Brad Lundblade (6-3, 295, 5.45)
A high school state champion in the discus and shot put, Lundblade walked on at Oklahoma State and started 38 games at center, displaying the intelligence and determination that translates to the pro game.
OLD DOMINION
--DT Bunmi Rotimi (6-3, 273, 5.05)
The son of African immigrants, Rotimi was late to the game of football and walked on at Old Dominion where he showed flashes with his rangy athleticism and short-area quickness.
OREGON
--FS Tyree Robinson (6-2, 202, 4.54)
Although he tends to play on his heels in coverage, Robinson is a reliable, low tackler with an accurate strike zone and the hand strength to hook and finish tackles, both on defense and special teams.
OREGON STATE
--LB Manase Hungalu (6-1, 238, 4.69)
The measureables are average, but Hungalu mirrors well vs. the run and trusts his vision, putting himself in position to make plays. He is a reliable finisher with the competitive hunger required for the NFL.
PENN STATE
--WR Saeed Blacknall (6-2, 208, 4.37)
Although his four-year production (50 catches, 979 yards, seven touchdowns) looks more like one season for several of the top receiving prospects, Blacknall averaged 19.6 yards per catch and has speed that NFL teams covet.
PITTSBURGH
--TE Matt Flanagan (6-5, 260, 4.82)
A graduate transfer from Rutgers, Flanagan has a more impressive resume in the class room than the football field, but he is a smooth mover with the blocking appetite and reliable hands that NFL teams will appreciate.
PURDUE
--LB Ja'Whaun Bentley (6-2, 246, 4.75)
The tone-setter for the Boilermakers' defense, Bentley is a physical downhill player with the backfield vision to move laterally, find the right gap and stuff the run, projecting best as a back-up MIKE linebacker.
RICE
--LB Emmanuel Ellerbee (6-0, 230, 4.64)
The film shows a linebacker with suspect backfield vision and discipline, but Ellerbee showed well at his pro day with a 4.64 40-yard dash, 41.5-inch vertical and 10-feet-2 broad jump.
RUTGERS
--RB/FB Gus Edwards (6-1, 229, 4.52)
A graduate transfer from Miami (Fla.), Edwards, who led Rutgers in rushing and all-purpose yards in 2017, routinely picked up yards after first contact, using his physical run style and light feet.
SAN DIEGO STATE
--WR Mikah Holder (6-0, 183, 4.56)
The top target in the Aztecs' offense, Holder is undersized and quicker than fast (6.88 three-cone, 40-inch vertical), but he shows above average field sense and doesn't go down easily.
SAN JOSE STATE
--CB Jermaine Kelly (6-0, 196, 4.52)
Although he doesn't receive as much hype as his cornerback teammate Andre Chachere, Kelly led the Spartans with 13 passes defended in 2017 and will get looks after the draft.
SMU
--OC Evan Brown (6-2, 302, 5.03)
A four-year starter, Brown split his playing time between guard and center for the Mustangs, displaying above average strength (36 reps), smarts (received offers from Ivy League schools) and athleticism for the position.
SOUTH ALABAMA
--FS Jeremy Reaves (5-11, 204, 4.58)
Reaves, who started at five different defensive back spots in college, isn't a dynamic size/speed/strength athlete, but he is a football lifer with the competitive make-up and versatility that will appeal to NFL coaches.
SOUTH CAROLINA
--OG/C Cory Helms (6-4, 309, 5.10)
With 46 career starts spread between left guard, right guard and center, Helms has outstanding experience on the interior offensive line and can push for a back-up role if he improves his contact balance.
SOUTH FLORIDA
--QB/RB Quinton Flowers (5-10, 214, 4.63)
After an illustrious college career, Flowers has a shot to hear his name called late in the draft (Bengals like him a lot), but regardless, he is the type of athlete and person I'm not betting against.
SOUTHERN MISS
--TE Julian Allen (6-2, 242, 4.65)
A JUCO transfer, Allen has only 22 catches at the FBS level, but his pro day numbers were better than his production, posting 4.65 40-yard dash, 1.59 10-yard split, 36-inch vertical and 10-feet-2 broad jump.
STANFORD
--OT/G David Bright (6-5, 309, 5.20)
With 24 career starts spread between both tackle and both guard positions, Bright was thought to be a day three draft pick, but a serious knee injury after the season likely leaves him undrafted.
SYRACUSE
--LB Zaire Franklin (6-0, 239, 4.62)
A rare three-year captain, Franklin's overaggressive style leads to mistakes, but he is a battering ram vs. the run, competing with the ferocious conviction and temperament that stands out.
TCU
--CB Ranthony Texada (5-10, 179, 4.48)
With 42 starts and 33 passes defended in college, Texada has a resume worthy of NFL eyes and although he can be out-matched due to his lack of size, his speed will help give him a chance.
TEMPLE
--WR Keith Kirkwood (6-2, 221, 4.45)
Kirkwood, who bypassed basketball scholarships to play football at Hawaii, transferred to Temple and compiled 87 catches the last two seasons. NFL teams are intrigued by his raw traits.
TENNESSEE
--CB/S Emmanuel Moseley (5-11, 190, 4.42)
Although the tape doesn't show a NFL player, Moseley posted dynamic testing numbers (4.42 40-yard dash, 38.5-inch vertical, 6.84 three-cone drill) that will land him in a NFL camp.
TEXAS
--WR Armanti Foreman (6-0, 205, 4.58)
Foreman, who is the twin brother of running back D'Onta Forman with the Texans, saw his role with the Longhorns fall off under the new coaching staff, but there is talent there.
TEXAS A&M
--WR Damion Ratley (6-2, 196, 4.39)
Everyone knows about Christian Kirk, but the "other" Aggies wide receiver prospect in this draft is Ratley, who set career-highs as a senior and posted the testing numbers that turned heads at the pro day.
TEXAS STATE
--LB Gabe Loyd (5-11, 227, 5.05)
The height/weight/speed measureables aren't impressive, but Loyd flashes on tape with his smooth athleticism in space eye discipline to trigger and match physicality in the trenches.
TEXAS TECH
--WR Derrick Willies (6-4, 207, 4.55)
Although injuries took him off the field over the years, Willies has pro talent when healthy and his testing numbers (41-inch vertical, 11-feet-2 broad jump, 6.84 three-cone) reminded scouts just how gifted he is.
TOLEDO
--RB Terry Swanson (5-9, 208, 4.51)
Although his spotty vision and patience will get him in trouble, Swanson has a thick lower body with the lateral quickness and balance to squirt out of tackle attempts.
TROY
--RB Jordan Chunn (6-0, 239, 4.67)
Although his flaws, notably ball security, will likely leave him undrafted, Chunn has the size and mentality of a workhorse ballcarrier, but the fluidity and light feet of a much smaller player.
TULANE
--RB Dontrell Hilliard (5-11, 202, 4.42)
Hilliard posted a 1,000-yard season as a senior, including a notable performance against Oklahoma (19 carries, 104 yards, one touchdown). His pro day (4.42 40-yard dash, 6.87 three-cone) also turned heads.
TULSA
--DE Jesse Brubaker (6-3, 260, 5.08)
The production (1.0 sack in 2017) and testing numbers (5.08 40-yard dash) aren't impressive, but NFL teams are keeping tabs on Brubaker with his toughness, versatility and competitive make-up.
UCF
--OT/G Aaron Evans (6-5, 309, 5.31)
A college left tackle, Evans isn't an explosive or rangy player and struggles on the move, but he is tough, smart and works hard to sustain, projecting best inside at guard in the NFL.
UCLA
--WR Eldridge Massington (6-2, 215, 4.44)
When he was on the field, Massington was very up-and-down with only 65 career catches, including nine catches in 2017. However, athletes with his size and speed will continue to get chances in the NFL.
UNLV
--WR Devonte Boyd (6-1, 193, 4.59)
Although his senior season didn't go as planned with a career-low 34 catches and 612 yards, Boyd had draftable grades from teams entering the season with his routes and toughness after the catch.
USC
--WR Steven Mitchell (5-10, 189, 4.44)
Although ACL tears to both knees have derailed his career, Mitchell is an effective catch-and-go target, doing his best work on slip or bubble screens with his toughness and gear-control athleticism.
UTAH
--OG Salesi Uhatafe (6-5, 310, 5.39)
A four-year starter, Uhatafe started at both left and right guard in college and although he lacks ideal athleticism, he is stout and durable with the core strength needed for the NFL level.
UTAH STATE
--CB Jalen Davis (5-9, 181, 4.44)
Although undersized for the position, Davis has intriguing athletic traits with the ball awareness and confidence that leads to production (47 passes defended and 11 interceptions in 49 starts at Utah State).
UTEP
--LB Alvin Jones (5-11, 231, 4.75)
Jones, who is the twin brother of current Green Bay Packers running back Aaron Jones, is a four-year starter and finished his career with 343 career tackles, including a career-best 102 stops in 2017.
UTSA
--QB Dalton Sturm (6-1, 206, 4.78)
Although he lacks elite physical traits, Sturm is an instinctive quarterback with the foot quickness to create on the move. He also improved his completion percentage from 56.5 as a junior to 62.3 as a senior.
VANDERBILT
--WR Trent Sherfield (6-0, 203, 4.45)
A steady pass-catcher in a run-first offense, Sherfield, who lit up the stopwatch at the pro day, consistently moved the chains with 38 of his 50 catches in 2017 resulting in a first down or touchdown.
VIRGINIA
--WR Andre Levrone (6-3, 216, 4.52)
With only 25 career catches entering his senior season, Levrone finished strong with 34 catches and a 20.3 yards per reception average in 2017, following up with a strong pro day performance.
VIRGINIA TECH
--LB/FB Andrew Motuapuaka (5-11, 235, 4.87)
A native of New Zealand, Motuapuaka doesn't have ideal athletic traits, but he is better than expected in coverage due to his hard-working demeanor and instincts. Several teams view him as a viable fullback option.
WAKE FOREST
--TE Cam Serigne (6-2, 240, 4.97)
A senior captain, Serigne will struggle to uncover and doesn't have many open-field moves, but he tracks the ball well down the seam, adjusting his frame and holding on after a big hit.
WASHINGTON
--RB Lavon Coleman (5-11, 215, 4.65)
Coleman will get what is blocked for him and shows adequate receiving and blocking traits, but what might keep him in the NFL is his willingness to compete on special teams (17 special teams tackles in college).
WASHINGTON STATE
--LB Frankie Luvu (6-2, 235, 4.84)
Playing the "Rush" linebacker position as a senior, Luvu lined up across the front-seven and was used as an attack dog downhill with his instant quickness and appetite for contact.
WEST VIRGINIA
--LB Al-Rasheed Benton (6-0, 235, 4.92)
Although his struggles in coverage and lack of chase speed limits his NFL potential, Benton is tough-minded and a mechanically sound tackler, rarely leaving production on the field (110 tackles in 2017).
WESTERN KENTUCKY
--TE Deon Yelder (6-3, 251, 4.74)
With zero catches entering the 2017 season, Yelder put himself on the NFL radar with a breakout senior year (52 catches, 688 yards, seven touchdowns), flashing NFL receiving traits and blocking skills.
WESTERN MICHIGAN
--FB/HB Donnie Ernsberger (6-3, 241, 4.78)
Ernsberger has steady hands as a pass-catcher, but his bread-and-butter is his courage as a blocker and impact on special teams, which could be enough to earn him a NFL roster spot.
WISCONSIN
--DE Alec James (6-3, 262, 4.87)
Although he lacks the get-off burst to consistently threaten the edge, James is a try-hard competitor who can hold up at the point of attack, projecting best as a base end.
WYOMING
--CB Rico Gafford (5-10, 184, 4.22)
A cornerback with a track background, Gafford ran a 4.22 at the Wyoming pro day, which is the fastest 40-yard dash during the 2018 NFL Draft process.