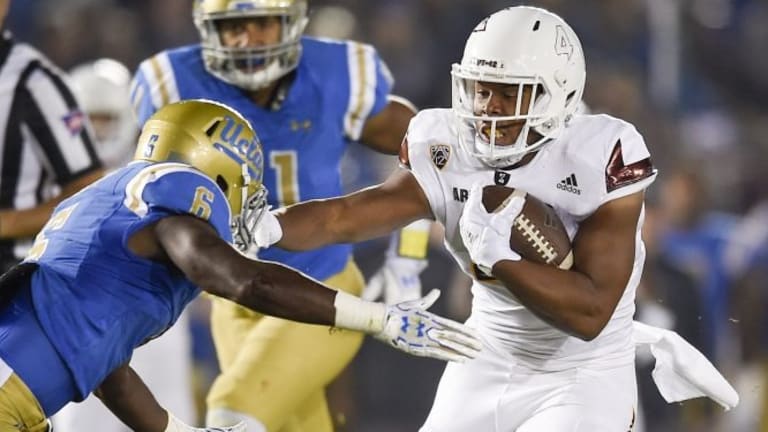 2018 NFL Draft: Potential UDFAs for each FBS program
— By Dane Brugler, NFLDraftScout.com —
Only 256 prospects will hear their name called on draft weekend and with 130 underclassmen entering the NFL early, the number of draft slots dwindles for seniors. However, every FBS-level football program will have at least one prospect who will sign a free agent contract or receive a tryout.
Central Michigan quarterback Cooper Rush made this list last year and went undrafted as expected. However, he signed a free agent deal with the Dallas Cowboys and impressed enough in training camp that he made the team, eventually overtaking Kellen Moore for the back-up role behind Dak Prescott. Wisconsin running back Corey Clement didn't hear his name called in the 2017 NFL Draft, but he found a home with the Philadelphia Eagles and carved out a piece of NFL history with 100 receiving yards in Super Bowl 52.
Everyone knows about the nation's top pro prospects, but we offer a team-by-team look at one prospect from each of the 129 FBS programs who isn't expected to be drafted although the professional dream may live on.
Although they may not hear their names called on draft weekend, these prospects have a fighting chance to make NFL rosters as undrafted free agents.
Below: Part One (FBS Schools, A-M)
To Come: Part Two (FBS Schools, N-Z)
(Programs are listed in alphabetical order)
AIR FORCE
–LB Ross Grant (6-0, 221, 4.73)
Grant is undersized, but he produced decent numbers at his pro day and put together a strong senior campaign with a team-best 97 tackles, 9.5 tackles for loss and four forced fumbles.
AKRON
–WR Austin Wolf (6-3, 217, 4.52)
The college production was mediocre (33 catches, 476 yards, five touchdowns in 2017), but Wolf is a good-sized athlete with enough traits that give him a fighting chance.
ALABAMA
–WR Robert Foster (6-2, 196, 4.41)
A former big-time recruit, Foster is a better athlete than football player right now, but his size/speed profile will land him in a training camp with a chance to impress NFL coaches.
APPALACHIAN STATE
–OG Beau Nunn (6-3, 304, 5.01)
A four-year starter at right tackle, Nunn put together adequate game film and tested much better than expected (5.01 40-yard dash, 31-inch vertical, 28 reps on the bench).
ARIZONA
–OT Gerhard de Beer (6-6, 319, 5.21)
A native of South Africa, De Beer came to the U.S. after earning a scholarship in track and field (2015 Pac-12 discus champion) before giving football a try, starting 18 games at right tackle the last two seasons.
ARIZONA STATE
–RB Demario Richard (5-9, 223, 4.70)
While Kalen Ballage is the better NFL prospect, it was Richard posted more rushing yards each of the last four seasons for the Sun Devils and offers a sturdy build with plus vision.
ARKANSAS
–CB Henre Toliver (6-0, 188, 4.63)
Although he plays upright and unbalanced, Toliver is battle tested with the height and ball skills that fits in the NFL, setting career-bests with 11 passes defended and three interceptions in 2017.
ARKANSAS STATE
–TE Blake Mack (6-2, 229, 4.72)
A former wide receiver, Mack transitioned to tight end as a junior where he started 23 games the last two seasons. He has strong hands to secure the ball away from his body, posting 10 touchdowns the last two years.
ARMY
–OT Brett Toth (6-5, 286, 5.14)
With a two-year service commitment and inexperience in pass protection, Toth likely goes undrafted, but he has an intriguing skill-set that a forward-thinking general manager should secure.
AUBURN
–LB Tre Williams (6-2, 236, 4.66)
A former five-star recruit, Williams didn't live up to the hype and his limited redirection skills are an issue, but his aggressive nature and toughness are both NFL quality.
BALL STATE
–DE/LB Anthony Winbush (6-1, 249, 4.82)
While he has a chance to be drafted, Winbush is likely a priority free agent because although his tape and production (11.5 sacks in 2017) are impressive, his tweener size and traits won't be a fit for many NFL defenses.
BAYLOR
–OT Mo Porter (6-5, 305, 5.30)
A starting college left tackle, Porter has wild hand placement, allowing defenders to control him, but he has NFL size, length (35 5/8 inches) and adequate initial quickness in his pass-sets.
BOISE STATE
–TE Jake Roh (6-2, 235, 4.96)
A productive red zone player with 11 touchdowns in 2017 (nine receiving, two rushing), Roh doesn't have the build of a traditional NFL tight end, but he has steady hands as a pass-catcher.
BOSTON COLLEGE
–LB Ty Schwab (5-11, 230)
A player with an always-revving motor, Schwab has outstanding instincts vs. both the run and the pass. However, he suffered an injury to his right foot during training and wasn't able to work out for NFL teams.
BOWLING GREEN
–WR Teo Redding (6-1, 181, 4.46)
While his career production is lackluster (94 catches), Redding has an intriguing athletic profile with a 4.46 40-yard dash, 38.5-inch vertical, 11-foot broad jump and 6.85 three-cone drill.
BUFFALO
–DE Demone Harris (6-4, 261, 4.89)
A former walk-on, Harris led the team in tackles for loss (9.5) and sacks (5.0) as a senior and impressed at his pro day with a 32.5-inch vertical and 10-feet-1 broad jump.
BYU
–WR Jonah Trinnaman (5-10, 192, 4.30)
With only 52 catches and one touchdown, Trinnaman isn't a household name, but his athletic testing numbers are off-the-charts: 4.30 40-yard dash, 40.5-inch vertical, 12-foot broad jump and 6.96 three-cone drill.
CALIFORNIA
–RB/FB Vic Enwere (6-1, 241, 4.79)
Although he has the size of a fullback, Enwere moves more like a running back with the balanced to keep his feet through contact, drawing similarities to former USC running back LenDale White.
CENTRAL MICHIGAN
–CB Amari Coleman (5-11, 183, 4.51)
A smooth-moving cover man, Coleman has the tape that maintains NFL interest and the athletic testing that helps his cause: 39-inch vertical, 10-feet-5 broad jump and 6.90 three-cone drill.
CHARLOTTE
–WR Trent Bostick (6-0, 202, 4.57)
Charlotte doesn't have a Larry Ogunjobi prospect like last year, but Bostick, who led the team in receiving touchdowns as a senior, might have a shot as a free agent.
CINCINNATI
–RB Mike Boone (5-10, 206, 4.44)
Although his production declined as an upperclassman, Boone is a quick-footed scatback with reliable receiving traits and springs in his legs (42-inch vertical and 11-feet-7 broad jump).
CLEMSON
–OG Tyrone Crowder (6-2, 342, 5.75)
A three-year starter at right guard, Crowder doesn't have NFL range, but he is a wide-bodied blocker with the point-of-attack strength and awareness to hold up in his square.
COASTAL CAROLINA
–LB Kerron Johnson (6-1, 216, 4.69)
Only a part-time starter in college, Johnson doesn't boast an impressive resume (five starts and 50 tackles in 2017), but his athleticism (6.95 three-cone, 10-feet-8 broad jump, 36.5-inch vertical) will draw NFL eyes.
COLORADO
–WR Bryce Bobo (6-2, 204, 4.68)
Bobo doesn't look like a great athlete on tape and the testing numbers back it up (28.5-inch vertical, 7.38 three-cone), but he is a reliable possession target with large hands and excellent plucking skills.
COLORADO STATE
–OC Jake Bennett (6-3, 294, 5.53)
While undersized with average athleticism, Bennett is a smart, attentive blocker with a wise understanding of his skill-set to mask his shortcomings, working hard to stay between defender and ball.
CONNECTICUT
–LB Junior Joseph (6-0, 229, 4.91)
Linebackers with his size and speed rarely get drafted, but Joseph collected 91 tackles as a senior and his three-cone (6.94) shows that he has the movement skills that give him a shot in the NFL.
DUKE
–DT Mike Ramsay (6-2, 300, 4.89)
Ramsay, who posted 9.5 tackles for loss and 5.5 sacks as a senior, is quick to leverage gaps with his brute power, quickly regaining his momentum to sharpen his angles to the quarterback.
EAST CAROLINA
–WR Davon Grayson (6-1, 199, 4.51)
After missing the 2016 season with an injury, Grayson returned in 2017 and set career-bests with 59 catches and 886 yards and six touchdowns, showing the quick hands to track, adjust and finish.
EASTERN MICHIGAN
–QB Brogan Roback (6-3, 213, 5.03)
While he gets himself in trouble when he rushes his process, Roback didn't have much talent around him and handled himself with a veteran presence that helped pull the EMU program out of the depths of despair.
FLORIDA
–S Marcell Harris (6-1, 216)
After missing the 2017 season due to a torn Achilles tendon, Harris might go undrafted, but his junior tape (73 tackles, two interceptions) shows flashes of a NFL player if he stays healthy.
FLORIDA INTERNATIONAL
–QB Alex McGough (6-3, 214, 4.62)
A four-year starter, McGough has the size and athletic traits that NFL teams covet and he has the skill-set poised to be much more than what the FIU offense allowed him to be on tape.
FLORIDA ATLANTIC
–WR John Franklin III (6-0, 184, 4.44)
Best known from Netflix's "Last Chance U", Franklin transferred from Auburn to Florida Atlantic and didn't make an impact (seven catches in 2017), but he is an intriguing athlete with potential.
FLORIDA STATE
–RB Ryan Green (5-10, 192, 4.41)
Although he struggled to see playing time in Tallahassee, Green turned heads around the NFL with his testing numbers at the FSU pro day: 4.41 40-yard dash, 1.51 10-yard, 6.90 three-cone, 38-inch vertical.
FRESNO STATE
–WR Da'Mari Scott (6-0, 205, 4.47)
Despite uneven quarterback play, Scott was able to set career-highs as a senior with 57 catches and 566 yards, also posting a 6.86 three-cone at his pro day workout.
GEORGIA
–FS Dominick Sanders (5-11, 193, 4.65)
Although his lack of NFL measureables and struggles in run support will likely leave him undrafted, Sanders matched the Georgia record with 16 career interceptions and has seen a lot of football (53 career starts).
GEORGIA SOUTHERN
–RB L.A. Ramsby (5-10, 208, 4.56)
The program has recent success of sending running backs to the NFL (Jerick McKinnon, Matt Breida) and Ramsby could be next with his square shoulders and athletic lower body to bounce through creases.
GEORGIA STATE
–CB Chandon Sullivan (5-11, 194, 4.60)
The most prolific defensive back in school history with the records for passes defended (25) and interceptions (seven), Sullivan has arm length and fluid athleticism, but his technique and discipline aren't NFL-ready.
GEORGIA TECH
–DE/LB Antonio Simmons (6-2, 252, 4.50)
The team-leader in both sacks (5.5) and tackles for loss (8.0) in 2017, Simmons created a buzz in the scouting community after his pro day with a 4.51 and 4.50 in his two 40-yard dash attempts.
HAWAII
–OG/C Dejon Allen (6-2, 295, 4.97)
After starting at guard his first two seasons, Allen started 25 games at left tackle his junior and senior seasons, showing the athletic feet and body control to tie up rushers, projecting best inside at center or guard.
HOUSTON
–WR Steven Dunbar (6-1, 210, 4.76)
Although he lacks dynamic speed, Dunbar showed steady improvement over the last four seasons, including a career-high 1,070 receiving yards as a senior, providing a reliable strike zone for the quarterback.
IDAHO
–QB Matt Linehan (6-3, 230, 4.92)
Linehan, who is the son of Dallas Cowboys offensive coordinator Scott Linehan, put together a respective career as a four-year starter for the Vandals, offering the toughness, bloodlines and physical traits teams appreciate.
ILLINOIS
–CB Jaylen Dunlap (6-0, 186, 4.52)
While recent surgery to repair a torn ACL in his right knee will likely keep him undrafted, Dunlap is an intriguing athlete with the closing speed and finishing skills to make plays vs. the pass and the run.
INDIANA
–CB Rashard Fant (5-10, 182, 4.45)
Although his lack of size and body armor are concerns, Fant combined for 53 passes defended the past three seasons, showing the foot quickness and knack for making plays that can find a home in the NFL.
IOWA
–LB Ben Niemann (63, 235, 4.75)
Finishing his senior season with 80 tackles, Niemann was often overlooked by Josey Jewell on the Hawkeyes' defense, but he is a hard-charging athlete, testing well at his pro day (7.01 three-cone, 33.5-inch vertical).
IOWA STATE
–S Kamari Cotton-Moya (6-0, 202, 4.64)
A high school quarterback, Cotton-Moya has the aggressive nature and baseline athletic traits that fit the NFL, but past health and accountability issues could be a sticking point for teams.
KANSAS
–TE Ben Johnson (6-4, 246, 4.99)
Johnson, who posted career-bests 30 catches for 363 yards as a senior, lacks ideal size/speed for what the NFL seeks at the position, but he has reliable hands and doesn't shy from eliminating defenders as a blocker.
KANSAS STATE
–DT Will Geary (5-11, 304, 5.38)
A former walk-on, Geary doesn't have ideal NFL measureables, but his lack of height allows him to win with leverage, using his relentless motor to routinely invade the backfield on tape.
KENT STATE
–CB Jerrell Foster (5-11, 181, 4.60)
Despite average size and speed, NFL scouts speak highly of Foster and his skill-set. He did impress in the lower body explosion drills (37.5-inch vertical, 10-feet-6 broad jump) and posted 10 passes defended in 2017.
KENTUCKY
–LB Courtney Love (6-1, 236, 4.81)
Although his struggles in space or coverage stand out on film, Love competes with a physical mentality and does a great job diagnosing pre-snap, getting a head start on the play (92 tackles in 2017).
LOUISIANA LAFAYETTE
–CB Simeon Thomas (6-3, 190, 4.46)
The tape is inconsistent, but the physical traits are off the charts. Along with his 4.46 40-yard dash, Thomas jumped 39-inches in the vertical and 11-feet-3 in the broad jump, boasting a remarkable 35 1/4-inch arms.
LOUISIANA MONROE
–WR Brian Williams (6-4, 215, 4.75)
A former quarterback, Williams entered 2017 with only three career catches, but he put together an encouraging senior campaign with 45 catches for 626 yards and four scores, including a 70-yard catch-and-run touchdown vs. Auburn.
LOUISIANA TECH
–RB Boston Scott (5-7, 195, 4.40)
Despite his diminutive size, Scott quickly finds the hole, makes quick cuts and doesn't quit pumping his legs at contact. He impressed at the La Tech pro day (6.67 three-cone drill, 38.5-inch vertical).
LOUISVILLE
–RB Malik Williams (6-0, 220, 4.65)
A JUCO transfer, Williams averaged 7.9 yards per carry in his two seasons for the Cardinals and show the toughness, run instincts and pass-catching skills that give him a chance to make a NFL roster.
LSU
–WR Russell Gage (6-0, 186, 4.50)
With only 26 career catches in college, Gage isn't a well-known player, but he flashed enough during his pro day (1.54 10-yard split, 39-inch vertical, 10-feet-2 broad jump) to show teams that he has NFL athleticism.
MARSHALL
–FS CJ Reavis (6-0, 198, 4.59)
Reavis, who was dismissed from Virginia Tech following his freshman season, went the JUCO route before ending up at Marshall, finishing his senior season with 63 tackles and one interception.
MARYLAND
–LB Jermaine Carter (6-1, 222, 4.68)
Although his aggressiveness will work against him at times, Carter plays like he was shot out of a cannon and his active play style led to a team-best 90 tackles and four forced fumbles as a senior.
MASSACHUSETTS
–DE Da'Sean Downey (6-4, 237, 4.84)
Primarily a stand-up rusher on tape, Downey doesn't have ideal bulk or power for the edges, but his game is reliant on reaction quickness and pursuit speed, displaying the range to make stops away from the line of scrimmage.
MEMPHIS
–OG/C Gabe Kuhn (6-4, 299, 5.25)
A four-year starter, Kuhn logged snaps at both center and guard over his career and his film shows a steady performer. He also owns interesting family lineage as the grandson of the inventor of the Easy Bake Oven.
MIAMI (FLA.)
–DE Trent Harris (6-2, 246, 5.02)
Although he started only one game as a senior, Harris led the Hurricanes in sacks (8.5) in 2017, displaying the balanced athleticism, edge quickness and hustle that will give him a shot once in a NFL training camp.
MIAMI (OHIO)
–CB Heath Harding (5-9, 191, 4.44)
A prospect with a notable resume with 38 passes defended and 10 interceptions over 43 starts, Harding is undersized and plays undersized, but he is tough vs. the run and doesn't give receivers easy reps.
MICHIGAN
–FB/TE Khalid Hill (6-2, 263, 4.80)
Switching between fullback and tight end over his career, Hill logged only 42 career carries, but scored 13 rushing touchdowns and is a reliable lead blocker and pass protector.
MICHIGAN STATE
–OC Brian Allen (6-1, 298, 5.32)
Although he has a chance to hear his name called late, there is a better chance Allen will follow in the footsteps of his older brother (Jack) – go undrafted, but stick on a NFL roster.
MIDDLE TENNESSEE STATE
–CB Charvarius Ward (6-1, 198, 4.44)
Although his tape is very up and down, but Ward has the size (32 1/4-inch arms) and athleticism (37.5-inch vertical and 11-foot broad jump) at cornerback that NFL teams covet.
MINNESOTA
–DT Steven Richardson (5-11, 296, 5.19)
Richardson disappointed as a senior (3.5 tackles for loss, no sacks) and lacks the size to overwhelm blockers, but he is built like a fire hydrant, using his flexible body control and natural leverage to make an impact.
MISSISSIPPI
–LB Demarquis Gates (6-2, 221, 4.61)
Although he doesn't have top-notch instincts or cover skills, Gates looks the part and competes with the play speed and hustle to finish through the whistle.
MISSISSIPPI STATE
–CB Lashard Durr (5-11, 188, 4.48)
A JUCO transfer, Durr doesn't have elite size or length, but he displays a balanced foundation, smooth transition skills and the ability to read routes and put himself in position to make plays.
MISSOURI
–SS Anthony Sherrils (5-11, 204, 4.40)
A three-year starter, Sherrils was solid, yet unspectacular on tape, but his testing numbers (4.40 40-yard dash, 35-inch vertical) shows he has the athleticism that fits on a NFL field, giving him a chance once in training camp.