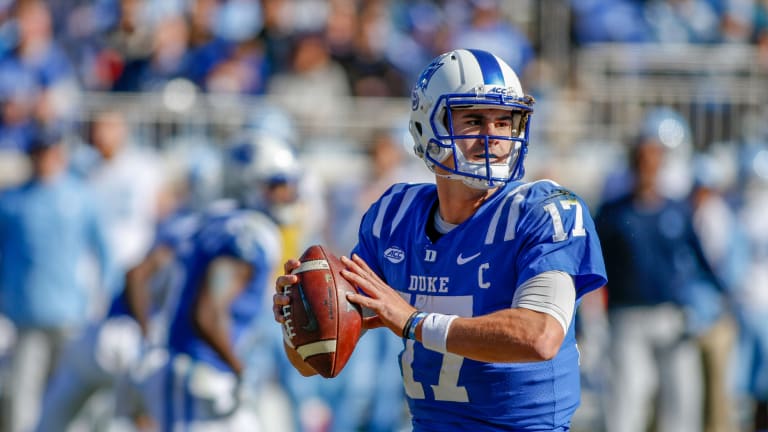 2019 NFL Draft gets big boost as possible QB1 Daniel Jones leaves Duke for pros
Scouts can check a lot of boxes with Jones but some have questions about his arm strength and best fit in the NFL.
Scouts can check a lot of boxes with Jones but some have questions about his arm strength and best fit in the NFL.
The quarterback crop available to teams in the 2019 NFL draft received a significant boost Monday with Duke quarterback Daniel Jones announcing his intention to forgo his final season of eligibility.
Jones, a prototypical 6-foot-4, 220 pound pocket passer, is one of two quarterbacks projected as first round picks in my all-new mock draft, following Ohio State's Dwayne Haskins, a fellow underclassman who has not yet announced his plans.
Jones completed 60.5% of his passes for 2,674 yards and a respectable 22 touchdowns against nine interceptions in 2018. His numbers likely would have been better had he not missed two games in September (Baylor, North Carolina Central) due to a broken collarbone that resulted in midseason surgery.
Jones capped his career with an MVP performance in Duke's 56-27 win over Temple in the Independence Bowl, throwing for 423 yards and five touchdowns, both career-highs.
He leaves Duke with 8,201 passing yards, a career 59.9% completion percentage and 52 touchdowns against 29 interceptions with another 1,323 rushing yards and 17 scores on the ground over three starting seasons.
Hand-selected and taught by renowned QB guru David Cutcliffe the past four years, Jones enters the draft already ahead of most young passers from a mental and technical standpoint.
An over-the-top passer who throws a tight spiral, Jones is a terrific distributor of the ball, identifying weaknesses in the defense both pre and post-snap and utilizing a variety of receivers. Jones can make every throw in an NFL playbook, showing good timing and anticipation for perimeter passes and pillow soft touch. He is also a very willing runner, with good speed and decisiveness to take yards when the defense allows it.
The biggest knock on Jones -- at least in comparison to Missouri's Drew Lock and the top-rated senior quarterbacks -- is arm strength. While a natural thrower, the ball does not explode out of Jones' hand. Jones was asked to throw to the perimeter on occasion in Cutcliffe's shotgun-based offense but the majority of his throws were inside the hashes and within 10-15 yards, raising some question as to whether he would be as good of a fit in more vertical offense, especially one often being played in inclement weather.
While Jones' average velocity is a concern, because of his smarts, accuracy and underrated athleticism, Jones projects quite well in many of today's up-tempo offenses. In these ways, at least, he reminds me of a more athletic version of Nick Foles.