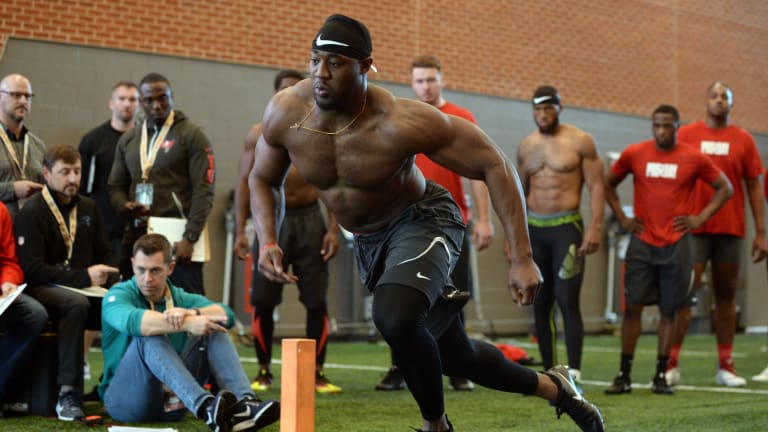 2019 Pro Day Workout Dates Announced
The NFL Combine kicks off this week but there are hundreds of prospects preparing instead for their on-campus workouts
The 2019 NFL Scouting Combine kicks off this week in Indianapolis but across the country there are hundreds of "other" prospects just as diligently preparing for their on-campus Pro Day workouts prior to the draft.
Purdue and Miami (OH) officially kick off the Pro Day eight days from today on Tuesday, March 5 with the Stanford Cardinal hosting one of the final big workouts roughly a month later on April 4, perhaps giving injured star running back Bryce Love enough time show some progress since the Combine in his recovery from a torn ACL.
As we have for the past two decades, NFLDraftScout.com will be on hand at several Pro Day workouts, providing access, insight and perspective unavailable elsewhere.
Below, in the order they will take place, are the confirmed dates (and in most cases the local times) for the top Pro Days leading up to the draft.
Date School Time
03/05/19 Purdue 8:00 AM
03/06/19 Cincinnati 9:30 AM
03/06/19 Colorado 1:00 PM
03/06/19 Colorado State 7:45 AM
03/06/19 Kansas State 9:00 AM
03/06/19 Miami (OH) 2:00 PM
03/06/19 Northern Illinois 9:30 AM
03/07/19 Alabama-Birmingham 8:00 AM
03/07/19 Nebraska 1:00 PM
03/07/19 Samford 1:00 PM
03/08/19 Alabama State 3:00 PM
03/08/19 Auburn
03/08/19 Maine 8:00 AM
03/08/19 New Mexico 11:00 AM
03/08/19 Northern Colorado 8:00 AM
03/11/19 Air Force 12:00 Noon
03/11/19 Arkansas 8:00 AM
03/11/19 Austin Peay 2:00 PM
03/11/19 Illinois 9:00 AM
03/11/19 Laval 10:00 AM
03/11/19 Middle Tennessee 9:00 AM
03/11/19 Tennessee State 1:00 PM
03/11/19 Troy 9:00 AM
03/12/19 Central Arkansas 9:00 AM
03/12/19 Concordia (Canada) 10:00 AM
03/12/19 Georgia Tech 9:00 AM
03/12/19 Kennesaw State 2:30 PM
03/12/19 New Mexico State 10:00 AM
03/12/19 Northwestern 8:00 AM
03/12/19 Oklahoma State 9:00 AM
03/12/19 Vanderbilt 10:00 AM
03/13/19 Buffalo 8:30 AM
03/13/19 Central Oklahoma 1:30 PM
03/13/19 East Tennessee State 10:00 AM
03/13/19 Georgia Southern 1:30 PM
03/13/19 Marshall 9:00 AM
03/13/19 Mercer 8:00 AM
03/13/19 Nevada 10:00 AM
03/13/19 New Hampshire 10:00 AM
03/13/19 Oklahoma 9:00 AM
03/13/19 Wisconsin 10:00 AM
03/14/19 Central Michigan 10:00 AM
03/14/19 Clemson 8:00 AM
03/14/19 Columbia 11:30 AM
03/14/19 Fordham 10:00 AM
03/14/19 Oregon
03/14/19 Tennessee 8:00 AM
03/14/19 Tulsa 9:00 AM
03/14/19 Wagner
03/14/19 Wofford 5:00 PM
03/15/19 Chattanooga 8:30 AM
03/15/19 Georgia State 1:30 PM
03/15/19 Michigan 8:00 AM
03/15/19 Oregon State 12:00 Noon
03/15/19 Princeton 1:00 PM
03/15/19 Rutgers
03/15/19 Tennessee Tech 1:30 PM
03/15/19 Texas State 1:00 PM
03/15/19 West Georgia 8:30 AM
03/18/19 California (PA) 8:00 AM
03/18/19 Fresno State 11:15 AM
03/18/19 Louisiana-Monroe 1:00 PM
03/18/19 Michigan State 11:30 AM
03/18/19 Pennsylvania 12:30 PM
03/18/19 Pittsburg State 9:00 AM
03/18/19 Syracuse 12:15 PM
03/18/19 Temple
03/19/19 Alabama 11:00 AM
03/19/19 Albany 8:30 AM
03/19/19 Bowling Green 8:30 AM
03/19/19 California-Davis 1:00 PM
03/19/19 Louisiana Tech
03/19/19 North Carolina AT 10:00 AM
03/19/19 Penn State 10:00 AM
03/19/19 Sacramento State 9:00 AM
03/19/19 Toledo 12:30 PM
03/20/19 Boston College 1:00 PM
03/20/19 Duquesne 7:00 AM
03/20/19 Georgia 9:00 AM
03/20/19 Harvard
03/20/19 Louisiana 2:00 PM
03/20/19 Missouri State 8:00 AM
03/20/19 Missouri Western 8:00 AM
03/20/19 Northwestern State 8:15 AM
03/20/19 Notre Dame 10:00 AM
03/20/19 Ohio State
03/20/19 Pittsburgh 10:00 AM
03/20/19 Southern California 7:30 AM
03/20/19 Wake Forest 9:00 AM
03/20/19 Western Kentucky 9:00 AM
03/21/19 Azusa Pacific 8:30 AM
03/21/19 California 10:00 AM
03/21/19 Elon 10:00 AM
03/21/19 Gannon 4:00 PM
03/21/19 Grand Valley State 8:00 AM
03/21/19 Holy Cross 1:00 PM
03/21/19 Louisville 9:00 AM
03/21/19 Massachusetts 10:00 AM
03/21/19 McNeese State 8:30 AM
03/21/19 Missouri 9:00 AM
03/21/19 Murray State 9:00 AM
03/21/19 Sam Houston State 10:15 AM
03/21/19 South Carolina 8:00 AM
03/21/19 Tulane 12:00 Noon
03/21/19 West Virginia 8:15 AM
03/21/19 Western Michigan 1:00 PM
03/22/19 Akron 8:00 AM
03/22/19 Central Connecticut State 10:00 AM
03/22/19 Charlotte 8:30 AM
03/22/19 Citadel 8:30 AM
03/22/19 Coastal Carolina 3:00 PM
03/22/19 Delaware 8:00 AM
03/22/19 Eastern Kentucky 2:00 PM
03/22/19 Eastern Michigan 8:00 AM
03/22/19 Kent State 1:00 PM
03/22/19 Kentucky 9:15 AM
03/22/19 LSU 8:00 AM
03/22/19 San Diego State 10:30 AM
03/22/19 Southern 2:00 PM
03/22/19 Youngstown State 8:30 AM
03/25/19 Hampton 8:00 AM
03/25/19 North Carolina 1:00 PM
03/25/19 Old Dominion 1:00 PM
03/25/19 Prairie View 2:00 PM
03/25/19 Rice 8:15 AM
03/25/19 South Alabama 8:00 AM
03/25/19 Southern Miss
03/25/19 UNLV 10:15 AM
03/25/19 Villanova 8:00 AM
03/25/19 West Florida 2:00 PM
03/25/19 Western Illinois 10:30 AM
03/25/19 William & Mary 9:00 AM
03/26/19 Alcorn State 10:00 AM
03/26/19 Central Florida 11:30 AM
03/26/19 Duke 12:00 Noon
03/26/19 Florida Atlantic 2:00 PM
03/26/19 Florida International 8:00 AM
03/26/19 Iowa State 8:30 AM
03/26/19 James Madison 2:00 PM
03/26/19 Monmouth (NJ) 1:30 PM
03/26/19 Morgan State 12:00 Noon
03/26/19 North Carolina Central 3:00 PM
03/26/19 Northern Arizona 9:00 AM
03/26/19 Northern Iowa 3:30 PM
03/26/19 Richmond 8:00 AM
03/26/19 Southeast Missouri 10:00 AM
03/26/19 Texas AM 8:15 AM
03/26/19 Texas-San Antonio 3:30 PM
03/27/19 Arizona State 8:00 AM
03/27/19 Campbell 3:00 PM
03/27/19 Connecticut 8:00 AM
03/27/19 Delta State 2:30 PM
03/27/19 Florida 8:30 AM
03/27/19 Incarnate Word 7:00 AM
03/27/19 Jacksonville 3:00 PM
03/27/19 Kansas 7:00 AM
03/27/19 Lamar (TX) 8:00 AM
03/27/19 Maryland
03/27/19 Memphis 7:30 AM
03/27/19 Minnesota 9:00 AM
03/27/19 Mississippi State 8:00 AM
03/27/19 North Carolina State 11:00 AM
03/27/19 Stony Brook 8:00 AM
03/27/19 Texas 2:00 PM
03/27/19 Texas Tech 9:00 AM
03/27/19 Utah State 8:00 AM
03/28/19 Appalachian State
03/28/19 Arkansas State
03/28/19 Bryant 2:00 PM
03/28/19 Dartmouth 9:00 AM
03/28/19 East Carolina
03/28/19 Florida State 1:00 PM
03/28/19 Houston 8:30 AM
03/28/19 Liberty 2:00 PM
03/28/19 North Dakota State 9:15 AM
03/28/19 North Texas 2:00 PM
03/28/19 Ohio 11:30 AM
03/28/19 Southern Methodist 9:00 AM
03/28/19 Tennessee-Martin 9:00 AM
03/28/19 Towson 9:00 AM
03/28/19 Utah 8:00 AM
03/28/19 Virginia 8:30 AM
03/29/19 Bethune-Cookman 10:00 AM
03/29/19 Brigham Young 8:30 AM
03/29/19 Mississippi 8:00 AM
03/29/19 South Dakota State 8:30 AM
03/29/19 South Florida 9:00 AM
03/29/19 Texas Christian 8:30 AM
03/29/19 Virginia Tech 10:30 AM
04/01/19 Indiana State 9:00 AM
04/01/19 Washington 11:00 AM
04/02/19 Baylor 8:30 AM
04/02/19 Boise State 10:30 AM
04/02/19 Indiana 11:45 AM
04/03/19 Ball State 9:00 AM
04/03/19 Washington State 10:00 AM
04/04/19 Eastern Washington 10:00 AM
04/04/19 Stanford 9:00 AM
​