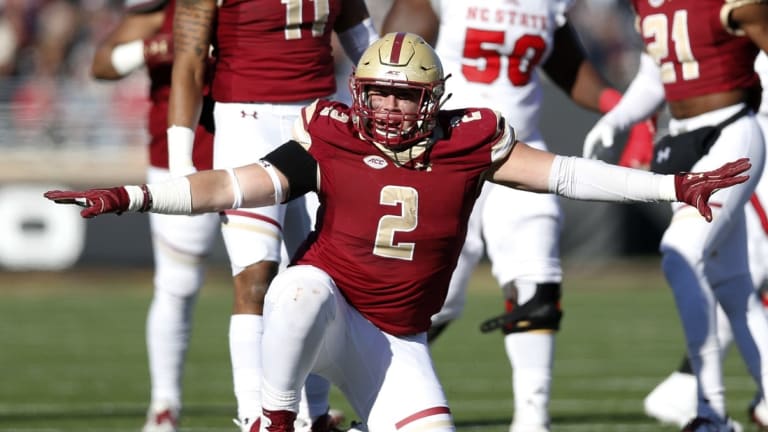 2019 Prospect Peek: Boston College DE Zach Allen
By Dane Brugler, NFLDraftScout.com
By Dane Brugler, NFLDraftScout.com
Zach Allen, DE, 6-5, 283, 4.82 (40 yards), senior
Expectations for 2018:
NFL scouts rolled through Chestnut Hill last season, focusing on potential first-round edge rusher Harold Landry. Allen, however, stole the show with his breakout 2017 campaign, joining Stanford's Harrison Phillips as the only FBS-level defensive lineman with triple-digit tackles last year.
Not including anyone on Clemson's roster, Allen is the best returning defensive lineman in the ACC this season. He is viewed as a top-40 overall type of NFL prospect, but a strong senior year could cement his first-round status.
Allen showed steady improvement from start-to-finish last season, setting up expectations for gaudy production as a senior. While it is early, it is already well known that next spring's draft class will be strong on the defensive line, and Allen is one of the numerous reasons why.
What the 2017 tape says:
Shutting down the run might not be sexy for defensive ends, but Allen is one of the best run-defending edge rushers in college football. He lined up all over the Eagles' front last season, primarily on the edges (both sides), but also over the B-gap and nose-to-nose with the center from a two-point stance. Although young for his class (doesn't turn 21 until mid-August), he has done a nice job filling out his broad-shouldered frame.
Allen is above average in two areas that allow him to be an outstanding run defender: point-of-attack power and ball instincts. The coaches could play him anywhere up front because of these two traits, which allow him to fight through contact without losing sight of the football. He is quick to shoot his hands into blockers and efficiently reset to react to the action of the play.
As a pass rusher, Allen uses pad level and his explosive upper body to work through the shoulder of blockers. He has terrific body control and enough lateral quickness to evade blockers in space, but his average get-off athleticism won't scare many NFL offensive tackles. Allen needs to show better creativity and secondary measures instead of relying on his power and intensity to wear down the edge.
Background:
Allen, a three-star recruit out of New Canaan High School, helped lead the Rams to back-to-back state titles in his junior and senior seasons, earning 2014 Connecticut Gatorade Player of the Year honors. He initially committed to Northwestern as a junior, but flipped to nearby Boston College in the week before Signing Day.
After playing primarily on special teams as a true freshman, Allen was a valuable sophomore reserve in 2016 with 10 tackles for loss, including six sacks. He became a full-time starter as a junior and emerged as one of the ACC's best defensive linemen. Allen finished the 2017 season with a team-best 15.5 tackles for loss and six sacks, finishing second with 100 tackles.
Despite Day Two projections for the 2018 NFL Draft, Allen, who is on pace to graduate in December, elected to return for his senior season.
More Prospect Peeks
-- Iowa State RB David Montgomery
-- West Virginia QB Will Grier