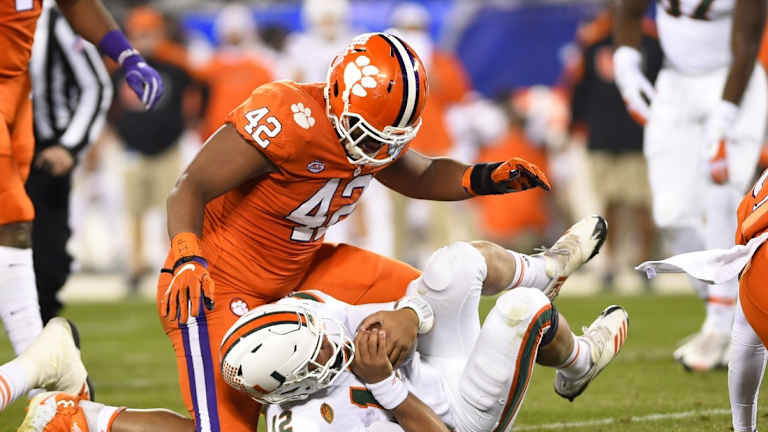 2019 Prospect Peek: Christian Wilkins, DT, Clemson
Wilkins simply moves differently than most 300-plus pounders
Wilkins simply moves differently than most 300-plus pounders
Christian Wilkins, DT, 6-3, 310, 4.95 (40 yards), senior
Expectations for 2018:
Clemson's starting four (Christian Wilkins, Dexter Lawrence, Clelin Ferrell, Austin Bryant) are all future high draft picks, but who is the best of the lot? Wilkins has a strong case and likely would have been a first-round pick if he left school early for the 2018 NFL Draft.
Despite earning his degree in December 2017 (in only two-and-a-half years), he elected to return for his senior season, opening himself up for nit-picking but also creating an opportunity to push his name into top-10 consideration.
Playing alongside talented players, Wilkins should often see one-on-one match-ups this season and he needs to take advantage of those opportunities. He has started all 29 games in the past two seasons, but has only eight sacks in those contests.
While there is no questioning his natural ability, Wilkins needs to translate those skills into more football production to maximize his NFL Draft grade.
What the 2017 tape says:
Well-known for his celebratory split following Clemson's victory in the 2017 national championship game, Wilkins simply moves differently than most 300-plus pounders. With his flexible hips and joints, Wilkins stays balanced while extending into contact, allowing him shed by contorting his frame. He does an excellent job in pursuit due to his fluid movement skills and chase speed to catch ball-carriers from the backside.
Playing mostly as a three-technique, Wilkins is best as a one-gap penetrator, but if he doesn't win with initial quickness, he doesn't show the counter measures or creativity to quickly adjust. And once strong-handed guards latch on, it can be too easy for them to seal him from the ball, slowing his pursuit.
Wilkins is highly intelligent and flexible, but he needs to better use those skills in unison on the field. If he is able to string together pass rush moves and better anticipate blocking angles, Wilkins will see his draft stock ascend this fall.
Background:
A five-star recruit out of high school, Wilkins was a multi-sport star at Suffield Academy (Conn.), averaging 19.9 points and 11.8 rebounds in basketball as a junior. His senior season in football, he logged 71 tackles, with 22 for loss and eight sacks, and four forced fumbles, attracting plenty of attention as a recruit.
Wilkins was the top recruit in the state of Connecticut and was one of a handful of defensive tackles to receive a five-star ranking. He considered programs like Ohio State, Stanford and others before committing to Clemson.
More Prospect Peeks
-- Mississippi State QB Nick Fitzgerald
-- Boston College DE Zach Allen
-- Iowa State RB David Montgomery
-- West Virginia QB Will Grier