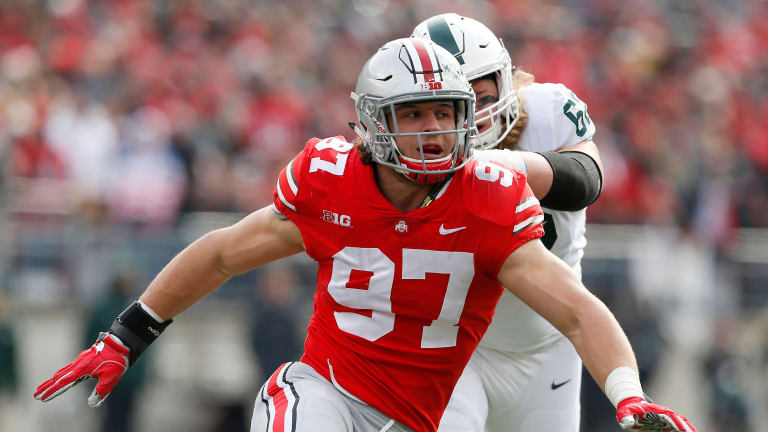 2019 Prospect Peek: Ohio State DE Nick Bosa
By Dane Brugler, NFLDraftScout.com
Nick Bosa, DE, 6-4, 265, 4.67 (40 yards), junior
Expectations for 2018:
Not only is Bosa the top player in the Big Ten, he is quite possibly the No. 1 player in all of college football.
Three Ohio State defensive ends were drafted in April, but it was Bosa who led the team last season with 16 tackles for loss and 8.5 sacks. With Sam Hubbard, Tyquan Lewis and Jalyn Holmes now in the NFL, Bosa won't be jockeying for snaps, but he will see more attention from opponents, who would be wise to shift extra protection to his side of the field.
When Nick's older brother, Joey, was in his junior season in Columbus, he managed only five sacks because of the constant double- and triple-teams. The same could happen in 2018 to the younger Bosa, although that will create a different kind of problem for opponents.
With former five-star recruit Chase Young at the other end -- and standout junior Dre'Mont Jones patrolling the interior with Robert Landers -- the Buckeyes' defensive front can wreak havoc from multiple angles.
But even if Nick Bosa doesn't reach his 2017 production, that won't stop a NFL team from drafting him in the top three overall -- just like Joey in 2016.
After two seasons in the NFL, Joey Bosa's current trajectory is on a path ending in Canton. And yet several scouts around the league believe Nick will be even better as a pro.
What the 2017 tape says:
With his muscular, flexible frame and tendency to routinely be in the face of quarterbacks, Nick looks like a carbon copy of his older brother. The No. 97 jersey number doesn't hurt, either.
Bosa is a fluid athlete with outstanding body control to use a combination of forward lean and contact balance to work through road blocks. Whether he uses power or quickness -- or both -- during his pass rush, Bosa always appears to have a plan of attack, flashing impressive instincts and polish for such a young player.
Just like his older brother, what separates Bosa from most college pass rushers is his technically-sound hand use, especially at the top of his rush. He understands timing to jar blockers off balance with his reach and showcases a diverse set of hand tactics to snatch, stash and shed.
Bosa holds his ground vs. power to shut down the edges against the run, but he does have room to improve his recognition skills to be a half-tick quicker in the run game. While he can improve his consistency in areas, the tape doesn't show any glaring weaknesses, which is why he is in the conversation to be the No. 1 overall pick in the 2019 NFL Draft.
Background:
Following in the footsteps of your All-American brother can be a daunting task, but that challenge has brought out the best in Nick, who prepped at Fort Lauderdale's St. Thomas Aquinas. Despite tearing his ACL as a high school senior, he had every school pining for his skills during the recruiting process before choosing to follow his brother north to Columbus. Two months after Nick signed with the Buckeyes, Joey was drafted No. 3 overall in the 2016 NFL Draft.
More Prospect Peeks
-- West Virginia QB Will Grier