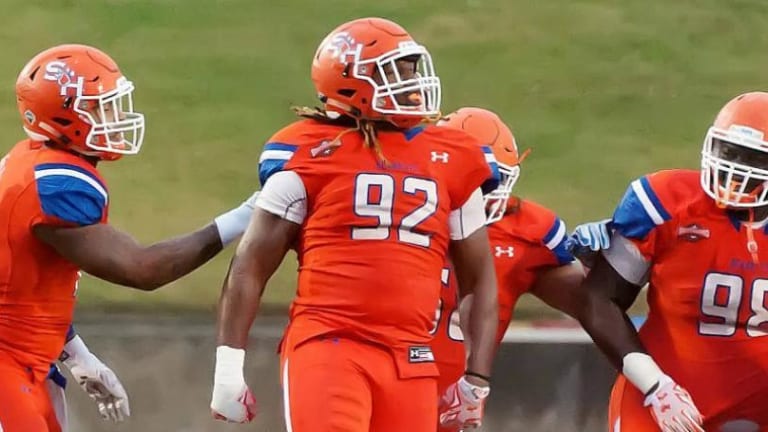 From Dane Brugler:
BACKGROUND: A no-star defensive end recruit out of high school, Patrick "P.J." Hall was a letterwinner in football, powerlifting and track at Seguin, finishing third at 2012 regionals with a 53-foot shot put. He played defensive end and running back and finished his senior season with 71 tackles, 10.0 tackles for loss and 6.0 sacks, adding 604 rushing yards and nine touchdowns to earn First Team all-district honors. Despite his high school production, Hall went overlooked due to size (6-1, 250) and fit concerns, signing with FCS-level Sam Houston State as a tight end/defensive end. After redshirting in 2013, he started 15 games as a true freshman defensive end and produced remarkable numbers with 93 tackles, 24.0 tackles for loss, 12.0 sacks and four forced fumbles, earning Southland Freshman of the Year honors. Hall started 15 games as a sophomore and posted 75 tackles, 19.0 tackles for loss, 11.0 sacks and one forced fumble to earn First Team All-Southland and Second Team All-American honors. He started 13 games as a junior and recorded career-bests with 24.5 tackles for loss and 13.0 sacks, earning Southland Defensive Player of the Year honors (also finished second in the voting for the Buck Buchanan Award, nation's top defender). Hall returned for his senior season and moved to nose tackle, finishing with 60 tackles, 19.0 tackles for loss, 6.0 sacks and one forced fumble, earning First Team All-Southland honors for the fourth straight year. He accepted his invitation to the 2018 East-West Shrine Game.
STRENGTHS: Extraordinary college production with a FCS-record 86.5 tackles for loss, also setting school-records for career sacks (42.0) and blocked kicks on special teams (14, second-most in FCS history)…initial quickness to explode out of his stance and penetrate gaps before blockers react…attracts holding calls due to his play speed…plays with a low center and maintains his balance through contact…physical take-down tackler…always looking to rip the ball out, collecting nine forced fumbles in college…rangy player due to his effort, making second-chance tackles away from the line of scrimmage…generates power through his hips and lower body…focused on adding weight as a senior, adding 30 pounds without sacrificing quickness…four-year starter with 55 career starts to his name, becoming the second player in school history to earn First Team all-conference honors four straight seasons.
WEAKNESSES: Shorter stature and arm length…shows tweener traits and needs to find a more consistent weight…lack of length limits his ability to reset and shed once engaged…little shock in his hands, not creating movement at contact…pads rise at contact with inconsistent leverage and point-of-attack power…loses sight of the ball too easily with marginal instincts…undisciplined vs. the run and doesn't stay true to his gap responsibilities, losing contain and abandoning his post…plays with energy, wearing himself down, especially vs. a steady diet of double-teams…missed the first two as a senior due to a right ankle injury (Sept. 2017)…faced lower level of competition.
SUMMARY: A four-year starter at Sam Houston State, Hall played defensive end as an underclassman before moving to nose tackle as a senior, but he continued to line up across the line of scrimmage, even standing up off the edge. He recorded jaw-dropping production and is one of the most accomplished defensive linemen in FCS history, accounting for 406 negative yardage with his 86.5 career tackles for loss. For a player with shorter arms, Hall found the ball at the line of scrimmage with 33 passes defended and 14 blocked kicks (six field goals, six extra points, two punts). While he is explosive through gaps, his tape showed consistent issues vs. the run, struggling to sustain and find the football. Overall, Hall is an intriguing one-gap penetrator with the college production that shouldn't be overlooked, projecting as a rotational three-technique in a four-man front.