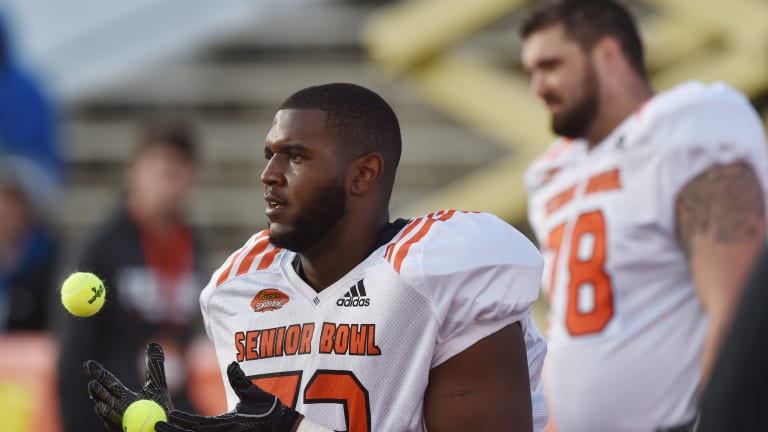 #65 Raiders: OT Brandon Parker
--- NFLDraftScout.com ---
--- NFLDraftScout.com ---
From NFLDraftScout.com Profile:
Overview
  Parker is out to prove that flashy Chicago Bears rookie Tarik Cohen wasn't the only future NFL player to sign with the Aggies in 2014.
And if the Senior Bowl was any indication, he is well on his way towards accomplishing that goal.
Measuring in at a prototypical, 6-foot-7, 323 pounds with 35 3/8" arms and 85 1/4" wingspan, Parker was one of the big winners at the Senior Bowl weigh-in and his performance in Mobile against elite competition only turned more heads as the week went on.
Of course, those who watched him dominate the Mid-Eastern Athletic Conference for the undefeated and national champion Aggies expected as much. Led by Parker at left tackle, A&T became the first FCS historically black to finish untied and unbeaten since Division I-AA play began 39 years ago and the only team in school history (74 years) to not suffer a defeat, beating Grambling State 21-14 in the Celebration Bowl.
It is not a stretch to say that Parker was the team's foundation. He started all 48 games of his college career, not allowing a single sack during that time. His success is all the more impressive given Parker's humble beginning.
Parker fell through the cracks as a high school recruit, not landing a single FBS offer. He signed with North Carolina A&T in large part because his older sister, Jasmine, played basketball there. He also received offers came from North Carolina Central and Winston Salem-State.
He was the first Aggie to win MEAC Offensive Lineman of the Year since Qasim Mitchell did it in 2001, taking home the biggest personal accolade for a blocker at this level after each of the past three seasons.
BACKGROUND
Led his team to an 8-4 record as a senior...Played three varsity seasons under Mike Newsome and Ron Massey at A.L. Brown, where he was a starter for two years...Ranked 46th in the state by Max Preps...His team averaged 287 yards rushing per game, and completed 62.4 percent of its passes...Graduated Cum Laude from A.L. Brown. Majored in electrical engineering at North Carolina A&T.
Analysis
  STRENGTHS
Parker looks the part of an NFL tackle with rare height, arm length and a well-distributed musculature including thick limbs and a powerful base. He shows good initial quickness and coordinated footwork in his initial kick-slide, calmly easing out of his stance and catching opponents with his long arms, excelling in pass protection when he keeps his knees bent and his feet sliding to mirror. He possesses the agility and balance to mirror edge rushers. Shows very good core strength and flexibility to handle bull rushers, bending at the knees and popping his hips forward to absorb without getting walked into the pocket. While a bit sporadic with his hand placement in the running game, Parker's length and leg drive make him an effective drive blocker. He looks for work in this area, hustling to the second level and cutting off opponents from ball-carriers to provide effective downfield blocks, albeit not always physically engaging defenders. Terrific durability with no known injuries to date. - Rob Rang 1/27/2018
WEAKNESSES
Not the sum of his parts... Gets fundamentally lazy, at times relying upon his length to force pass rushers outside and failing to keep his feet sliding, getting stuck in the mud as he makes contact with opponents. Possesses a high cut frame and struggles with pad level, too often getting tossed aside by shorter, stouter defenders when attempting to run block. Needs to show more accuracy and explosiveness with his initial strike, showing the ability to steer defenders in the running game but struggling to latch on and control and failing to sustain his blocks for long. Not the dancing bear that his size and pass blocking success indicates... A bit heavy-footed, showing good but not elite initial quickness and agility in pass protection and actually lumbering a bit when adjusting to second-level targets in the running game. - Rob Rang 1/27/2018
COMPARES TO
Jared Veldheer, Cardinals - The 6-8, 321 pound Veldheer has emerged as a quality NFL tackle after initially getting drafted in the third round by Oakland out of tiny Hillsdale College back in 2010. If Parker develops Veldheer's physicality and commitment to technique, he too, has the starter kit necessary to make a successful leap to the NFL.
IN OUR VIEW
Parker starred at left tackle for the Aggies but the majority of his snaps came at right tackle at the Senior Bowl. He possesses immense potential but to reach it, Parker needs to add some glass to his diet and some dynamite to his hands, winning at the FCS level despite a finesse playing style that simply won't cut it against NFL defenders.