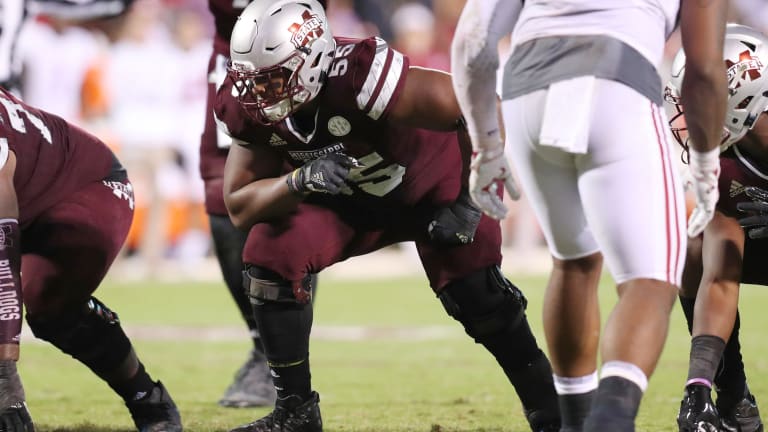 #80 Texans: OT Martinas Rankin
--- NFLDraftScout.com ---
--- NFLDraftScout.com ---
From NFLDraftScout.com Profile:
Overview
  …A two-year starter at Mississippi State, Rankin went from afterthought high school recruit to All-SEC performer over the past five seasons, developing into one of the better left tackles in college football as a senior. Aside from being a top JUCO recruit, he put his name on the NFL radar after holding his own vs. Myles Garrett in 2016 and showed steady improvement with each game.
Rankin is a balanced athlete with the snap-to-step quickness and stubborn hands to keep rushers tied up, finding proper position to stay between defender and pocket. He isn't an overpowering strength player, but he flashes violence with his punch and looks to win early in the rep.
BACKGROUND
A no-star offensive tackle recruit out of high school, Martinas Rankin had the grades and raw talent out of Mendenhall, but didn't receive any FCS or FBS scholarship offers. He enrolled at Mississippi Gulf Coast Junior College where he played the 2013 and 2014 seasons and developed into the No. 1 ranked JUCO offensive tackle recruit.
Rankin received several high-profile offers and narrowed his choice to Ole Miss, Mississippi State and Oklahoma, choosing the Bulldogs. After redshirting in 2015, he worked his way into the starting line-up as a junior, starting the final 10 games of the 2016 season at left tackle. Rankin returned for his senior year and missed a few games due to injury, finishing the 2017 season with nine starts at left tackle, which was enough to earn First Team All-SEC honors.
Analysis
  …STRENGTHS
Explosive upper body. Controlled punch with proper timing. Balanced kickslide and stays on his feet. Effective counter measures to reset after initial contact. Uses his reach to extend the arc of rushers, altering the path to the quarterback. Alert to recognize blitzers and reorganize his assignments. Efficient puller through run lanes, locking onto second level defenders and eliminating them from the equation. Strong hands to latch-and-steer in the run game. More likely to move rushers than be moved himself. Extensive practice experience at center. Mild-mannered off the field, but cranks up the intensity on the field. Self-made and committed the time and resources to develop his game. – Dane Brugler 12/30/2017
WEAKNESSES
Doesn't have elite length or movement skills, making the corner vulnerable vs. speed. Bad habit of prematurely opening his kickslide. Uses his hands well to meet rushers, but placement requires fine-tuning. Lacks ideal power in his legs. Needs to better sink and roll his hips instead of relying on his upper body. Hunts at the second level, but sustain skills vs. linebackers need work. Only average experience with 19 career starts at the FBS level. Missed three games as a senior due to a serious left ankle sprain (Sept. 2017). – Dane Brugler 12/30/2017
IN OUR VIEW: Rankin is still learning the nuances of the position and lacks a dominant trait, but he grades slightly above average in almost every critical area for playing the position at a high level. He can stay at tackle in the NFL, but also has the versatile skill-set to provide depth at guard and center.