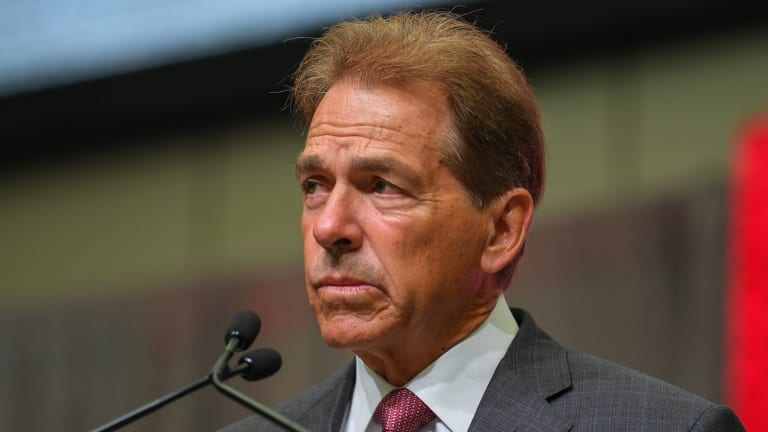 Alabama gives Saban another contract extension, raise
If Nick Saban's new contract is any indication, he plans to stick around at Alabama for a while longer.
If Nick Saban's new contract is any indication, he plans to stick around at Alabama for a while longer.
The school on Friday announced a contract extension that runs through the 2025 season. Saban will make approximately $7.5 million in 2018 and will receive annual raises culminating in the final year of the deal being worth $10.3 million.
Saban's base pay will include yearly increases of $400,000 and retention bonuses of $800,000 for remaining at Alabama in 2019, 2020 and 2021.
"Our family is thrilled to agree to a contract extension with the University of Alabama that will keep us in Tuscaloosa for the rest of our coaching career," Saban said in a statement. "For Terry and me, the Tuscaloosa community and the state of Alabama have become home, and a place with deep roots for our entire family. We are very excited about the future, and this agreement allows us to continue to build on the success we have enjoyed at Alabama — both on and off the football field.
"We want to thank the Board of Trustees, President Bell, Director of Athletics Greg Byrne, our athletics administration, the football staff and the entire University community for their support. I've said this before, but the most satisfying part of our job is seeing the young men that represent our program grow and develop, not only in football, but more importantly in what they have been able to accomplish in their lives because of their involvement in our program."
Since Saban arrived at Alabama in 2007, the Crimson Tide have won five national championships and five SEC titles in his 12 seasons. His record at Alabama is 127-20, and his teams are 125-14 since 2010. A total of 77 players have been selected in the NFL Draft and 26 of those are first-round picks.
The 66-year-old Saban would be 74 if he coaches until the end of his new contract, which still needs to be approved by the Alabama Board of Trustees.
"We are so fortunate to have the best football coach in the country here at Alabama in Coach Saban, and we are very pleased that he has agreed to another contract extension," Byrne said. "What this program has accomplished under him over the past decade is truly remarkable, and it goes well beyond the five national championships. There is obviously a very high expectation to succeed on the field, however that expectation carries over into the classroom and the community, and it has shown in the number of graduates and hours of community service performed.
"The impact he and Ms. Terry have had, and continue to have, on the program, athletics, our University, Tuscaloosa and the state of Alabama is unmatched, and we look forward to having them around for many years to come."