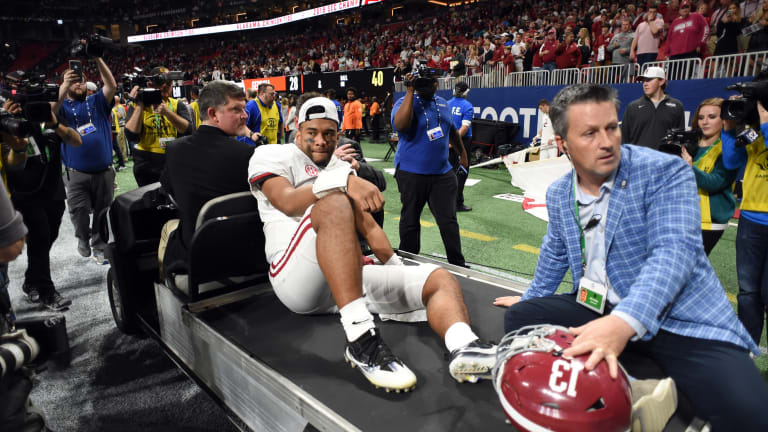 Alabama QB Tagovailoa on ankle: 'No setbacks'
Alabama sophomore quarterback Tua Tagovailoa said Wednesday that his sprained left ankle is at about 80-85 percent.
"It's been a lot better," Tagovailoa said. "If I could grade it on a scale from 0-100, I would say it's at about 80-85 percent. It's been really good. No setbacks."
Tagovailoa isn't the only ailing quarterback heading into Saturday's College Football Playoff semifinal at the Orange Bowl in Miami.
Heisman Trophy winning quarterback Kyler Murray skipped Oklahoma's media availability on Wednesday because he wasn't feeling well, a school spokesman said.
Murray and the No. 4 Sooners (12-1) will bid to upend Tagovailoa and No. 1 Alabama (13-0) on Saturday (8 p.m. ET).
Tagovailoa underwent surgery after sustaining the injury in the SEC Championship Game on Dec. 1 against Georgia.
"I let my parents deal with that, with how they wanted to go about doing things with the trainers," Tagovailoa said when asked why he decided to undergo the surgery.
"They talked to the trainers and the trainers and my parents sat me down and talked to me about it, and I told them as long as it's fine with my parents, I'm fine with it."
The Hawaiian has thrown for 3,353 yards with 37 touchdowns against four interceptions this season. He completed 67.7 percent of his passes and led the nation in yards per catch (16.9).
Oklahoma offensive coordinator Cale Gundy didn't offer much insight into what is plaguing Murray.
"I didn't know anything about it until I got in the car this morning," Gundy said. "I'm sure the doctors got with him and probably thought it was best to get a little rest before practice.
"He should be fine I think, but I don't really know a whole lot of it."
While Murray became Oklahoma's seventh Heisman winner, his future is expected to take place on the diamond. Murray was selected with the ninth overall pick of the Oakland Athletics in Major League Baseball's draft last summer.
Murray threw for 4,053 yards and rushed for 892 more while accumulating a total of 51 touchdowns (40 passing, 11 rushing) this past season. He recorded 10 games with at least three touchdown passes in 2018.