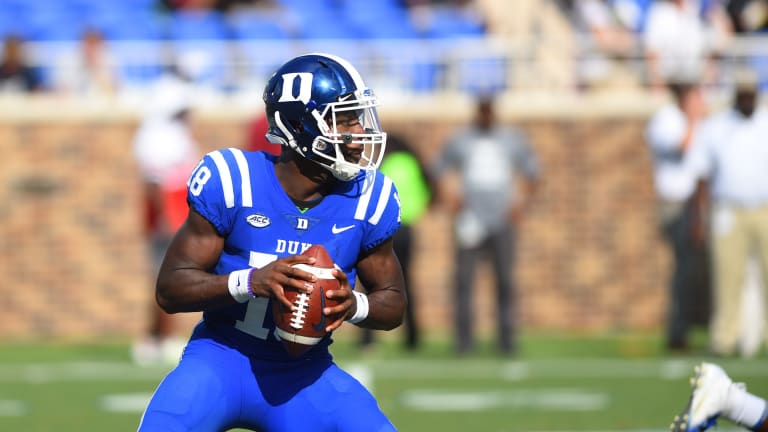 Backup QBs battle when No. 22 Duke welcomes Virginia Tech
DURHAM, N.C. — Duke dodged trouble in the short term when its starting quarterback went down.
DURHAM, N.C. — Duke dodged trouble in the short term when its starting quarterback went down.
Now it's time to see if Virginia Tech can do the same.
The teams meet Saturday night in an Atlantic Coast Conference game at Duke's Wallace Wade Stadium.
Virginia Tech is coming off a stunning loss at previously winless Old Dominion. Quarterback Josh Jackson suffered a broken left fibula in the defeat.
Now it's Ryan Willis' turn to take snaps for the Hokies (2-1, 1-0 ACC).
"He's competitive. He has been training and working for this opportunity," Virginia Tech coach Justin Fuente said. "It's up to everybody else to step their game up as well and help him out and support him."
No. 22 Duke (4-0, 0-0) is rolling along, holding an unblemished record through four games for the second year in a row. The last two games have been with Quentin Harris at quarterback after three-year starter Daniel Jones went down with a broken collarbone.
This has the earmarks of a big game, particularly for Duke. Last year, the Blue Devils didn't capitalize on the 4-0 start, losing their next six games.
"I don't think it adds any pressure for us," Harris said. "We look forward to building the momentum."
Willis is a redshirt junior who sat out last year after transferring from Kansas. He started eight games as a freshman.
Duke coach David Cutcliffe said the Hokies have enough weapons to create concerns. He said the Blue Devils will be dealing with an upgrade from what they've encountered earlier this season.
"Their team speed challenges us in different ways than we've been challenged so far," Cutcliffe said.
Cutcliffe said he's not putting a lot of stock in Virginia Tech's stumble at Old Dominion, though he admired the way the underdogs played.
"If they play 100 times, that happens only once," Cutcliffe said. "That's why it's an outlier."
Still, Fuente said his team must have a better reaction to adversity and that's one of the main points of emphasis for this week.
"We were challenged and did not respond in the right way," he said. "We did not handle it very well. We've got to pull ourselves up and roll our sleeves up and go back to work. … We've got to own it and suck it up and go back to work."
The Hokies have generally bounced back after setbacks under Fuente. They're 6-1 in games following a loss with him in charge.
Virginia Tech's defense was uncharacteristically torched in the Old Dominion game. A day after, the school announced the dismissal from the team of starting defensive end Trevon Hill, perhaps further complicating matters.
Two of Virginia Tech's 34 shutouts with defensive coordinator Bud Foster on the coaching staff have come against Duke. Those were in 1987 and 2005.
The Blue Devils are expecting to see different things from the Hokies after last weekend's results.
"We definitely think they'll show some different looks defensively that we haven't seen," Harris said.
Cutcliffe didn't rule out seeing a return from Jones, pointing out he has been doing some practice work. But with an open date to start October, it figures the Blue Devils would like to give him extra time to heal before he's in game action.
Duke also could have the return of receiver Aaron Young, who made a big splash with 114 receiving yards in the opener against Army but has been out with an injury ever since.
Duke is shooting for its first 5-0 record since the 1994 season. The Blue Devils have won seven games in a row dating to the end of last season for the third-longest winning streak among Power 5 teams behind Ohio State and Penn State.
Virginia Tech is 12-2 against Duke since joining the ACC. That includes a 6-0 record in road games in that span.
"Probably the best Duke team we've played since I've been here," Fuente said. "We've kind of seen this coming. They've been a little bit young and they've continued to get better and better."