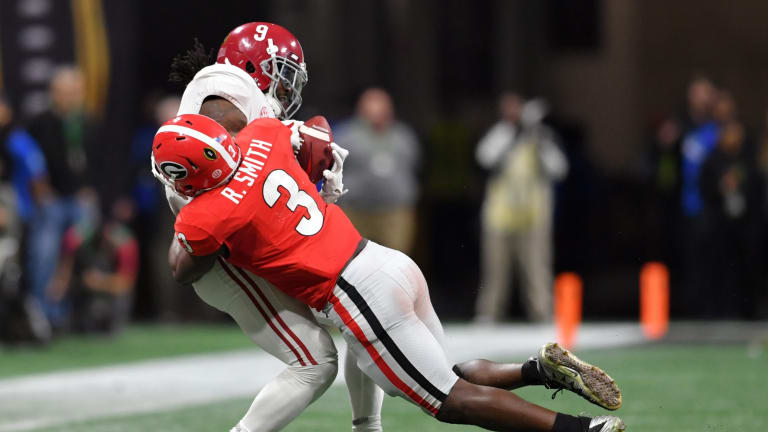 Bears first-round pick Smith "relentless"
--- NFLDraftScout.com ---
--- NFLDraftScout.com ---
The Chicago Bears drafted Georgia linebacker Roquan Smith with the eighth overall pick. Here is what he had to say to the media:
Thoughts on being drafted by the Bears and what do you expect?
What they can expect from me when I arrive is a relentless guy. On the field and off the field I go about my business the right way and I'm going to do whatever it takes to put the Bears in the best possible situation every time I step on to the field or the practice field. I'm beyond excited. I can't put into words how excited I am about this opportunity to be a Chicago Bear. It's insane and I'm ready to give the city of Chicago everything I have.
What do you see as your greatest leadership qualities?
I feel like it's a combination of a few things. I feel like I can be a vocal guy, but not a "rah-rah" guy all up in your face all the time. You have to know your teammates to be able to respect them. I think I lead by example and guys tend to follow guys who do things the right way and go about their business. I feel like guys respect that because I know I have the utmost respect for individuals who do things the right way.
What do you do best on the field?
I feel my skillset is rare. I think I'm a rangy guy, sideline to sideline. I can put my facemask on you. I feel like I can do a lot of things and this opportunity that I have to showcase all of my abilities and my IQ and knowledge of the game I feel like is on another level.
Impressions of Vic Fangio
Great guy. He's coached a lot of legends. I had a little talk with my head coach in college, Coach Smart, so that was definitely big. I've heard so many great things about him and read so many great things about him myself just being a football guy. I'm excited to play for his defense and get things going. I think it's going to be very special.
On Navorro Bowman and Patrick Willis
All those guys are like legends in the game so I definitely know about those guys.
On being the same size as Bowman
I feel like we're all different in our own way. We're all special, all unique. I feel like me and Patrick Willis have similar speed and both have a high IQ of the game.
Impressions of the Bears on visit
It's a great franchise. A lot of rich tradition, especially on defense. From way back with Dick Butkus, Mike Singletary, Lance Briggs, Brian Urlacher all of those types of guys it's insane and I'm excited.
Where do you feel you get your football instincts?
I would say just my film study and just the way I go about things in preparing for my opponent. It's all I see. I feel if I set my mind on anything I can achieve it and that was my mindset each and every week so I just did that to the best of my ability.
What do you take the most pride in leading that Georgia team to the national championship?
I took a lot of pride in just being the best teammate that I could be. Always being there for my teammates regardless of the circumstances and through adverse times always welcoming the guys knowing regardless of what the turnout may be I was going to be there for them. I just really enjoyed the brotherhood we shared there.
On being teammates with Leonard Floyd
It's going to be insane. Leonard Floyd, I looked up to the guy a lot coming from Georgia. He was an older guy, a redshirt junior when I was a freshman. It was definitely big looking up to him. I was a young big-eyed freshman and seeing this guy here who was pretty special and watching him go 9th overall to the Chicago Bears. I'm beyond excited right now.
On intangibles of a middle linebacker
I would say just doing things the right way, on the field and off the field. Don't ask your teammates to do anything you wouldn't do. Being relentless, no matter the circumstances and never letting up.
On your experience with Mel Tucker
Great guy. I have a lot of love for him. He taught me a lot of things throughout my career at Georgia so I enjoyed it.
On being labeled undersized
You hear that a lot here and there but if you look at the top linebackers in the NFL right now, the guys are all around 6-1 like I am and a weight of 235 so I don't view myself as undersized. I know what I bring to the table. If you say I'm undersized, everyone's entitled to their own opinion but I feel like my skill set is everything I bring to the table.
Did you feel the Bears would take you if you were there?
I didn't know a lot of teams expressed the same level of interest but I really enjoyed my visit. I love what they're doing at the facility with renovating and everything like that so I'm definitely excited to get up there and get to work in Chicago.