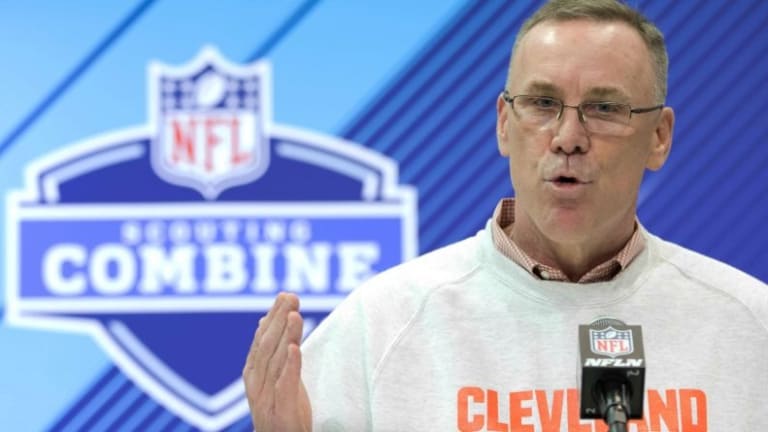 Browns GM open to trading top pick, says Jets have called
--- NFLDraftScout.com ---
Cleveland Browns general manager John Dorsey said that the New York Jets inquired about moving up to the top overall spot in the 2018 NFL Draft prior to trading with the Indianapolis Colts earlier this month.
"They called but part of the exercise of talking, it takes two parties, but it wasn't what we were looking for," Dorsey said on Monday, per Cleveland.com. The Jets' call to the Browns for the No. 1 pick initially was reported by The New York Daily News.
While Dorsey said the potential deal to secure the top overall pick "better be pretty good," he insisted that he's serious when saying the No. 1 slot is available via trade.
"You have to explore all options," Dorsey said. "You never know until you know. We have to do that as an organization. To get us better I'll explore every opportunity there is up until it comes time to make that pick."
The Browns hold the first and fourth overall picks and the New York Giants have the second selection in the 2018 NFL Draft, which will be held on April 26-28 at AT&T Stadium in Arlington, Texas.
The Jets, who could be eyeing a potential franchise quarterback, moved up three spots to No. 3 and sent the No. 6 pick, two second-round selections in this draft (Nos. 37 and 49) and a second-round pick in 2019 to the Colts in the trade on March 17.
Rob Rang of NFLDraftScout.com has USC quarterback Sam Darnold as the top overall prospect of the 2018 NFL Draft in his most recent edition of his Big Board.
"I thought he had a really nice workout," Dorsey said of Darnold's Pro Day last week in the rain in Los Angeles. "I thought he showed feet, he showed the ability to roll out, extend the play, he showed the quick release, he showed downfield accuracy. I mean it really was a really good workout."
Darnold was the only top quarterback prospect who did not throw at the NFL Scouting Cmbine last month.
RELATED:Rang Mock 3.2: Allen No. 1|Brugler Mock 3.0: Darnold No. 1
UCLA quarterback Josh Rosen is listed second by Rang, followed by Penn State running back Saquon Barkley, Notre Dame offensive guard Quenton Nelson and North Carolina State defensive end Bradley Chubb.
"(Rosen's) really smart, he's engaging, he does want to be in Cleveland," Dorsey said.
Dorsey admitted to speaking with Giants general manager Dave Gettleman on Monday, although the conversation seemed light-hearted at best.
"Actually I had coffee with Dave this morning, but we really didn't bring that up," he said. "Just talked. Asked how our summers were. How was your fall offseason (out of football)?"
Recent history suggests Cleveland isn't shy about parting ways with top picks, as the club traded out of the No. 2 slot in 2016 — with the Philadelphia Eagles selecting quarterback Carson Wentz.
Last year, the Browns traded down from No. 12 and the Houston Texans selected quarterback Deshaun Watson.
The Browns have been extremely busy this offseason having added wide receiver Jarvis Landry, quarterbacks Tyrod Taylor and Drew Stanton, running back Carlos Hyde, offensive tackle Chris Hubbard, and defensive backs Damarious Randall and E.J. Gaines.