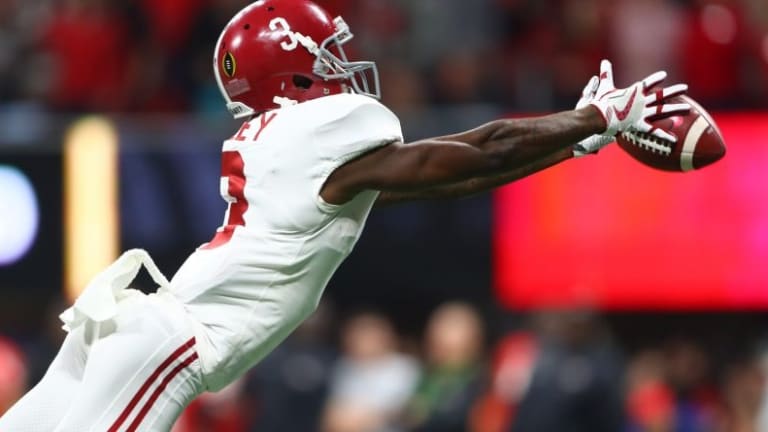 Brugler: Value in middle rounds at WR
— By Dane Brugler, NFLDraftScout.com —
Alabama's Calvin Ridley stands above the rest of the receivers in the 2018 NFL draft class, although he doesn't have the elite skills to be a sure-fire top-15 pick.
It might be a stretch to think another receiver could go in the first round.
But while this crop of receivers might lack multiple NFL No. 1 receivers, it is a deep and versatile group that has several quality prospects, some of whom can also make an impact as returners.
NFLDraftScout.com senior analyst Dane Brugler, in his latest mock draft, has Ridley going with the 19th pick to the Oakland Raiders and Maryland's D.J. Moore at No. 32 to the Eagles at the end of the first round.
"It will be hard to break these guys up. Look, there will be no consensus," Brugler said of the wide receiver class on the Trust the Tape podcast.
"For everybody who is looking at these wide receivers or doing your own rankings, just trust what your eyes tell you because there is no right or wrong here. These guys will be all over the map."
After Ridley and Moore, Brugler ranks Anthony Miller of Memphis at No. 3, followed by SMU's Courtland Sutton and Notre Dame's Equanimeous St. Brown.
RELATED:Rang Mock 3.2: Allen No. 1 | Brugler Mock 3.0: Darnold No. 1
St. Brown's numbers were down last season in Notre Dame's run-based attack — 33 catches for 515 yards and four touchdowns — but he is 6-foot-5 and runs a 4.48 40.
"Courtland Sutton and St. Brown being four and five, I think those are the two guys who have legit No. 1 potential," Brugler said. "I don't know if they will reach that level, but they at least have that potential."
Brugler's next five-rated receivers are Colorado State's Michael Gallup, Texas A&M's Christian Kirk, LSU's DJ Chark, Washington's Dante Pettis and Oklahoma State's James Washington.
NFLDraftScout.com ranks 25 wide receivers with at least a fifth-round grade.
"It's definitely a talented group, but trying to figure out where the pecking is … these guys are all different," Brugler said. "It just depends on what you're looking for. It's a deep group. If you get (Penn State's) DaeSean Hamilton in the fourth round, which I think is very possible, that's not a bad play. He's not a burner, but he can get open.
"There are plenty of options into Day 3 this year."