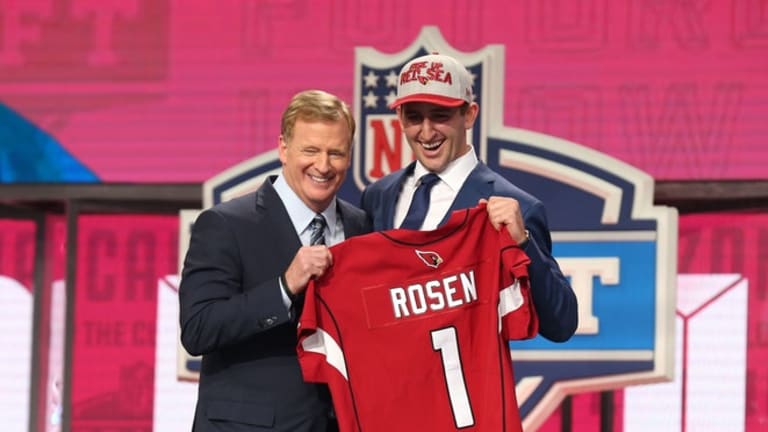 Cardinals: Rosen chosen one; analysis, quotes
--- NFLDraftScout.com ---
--- NFLDraftScout.com ---
Kent Somers, Bob McManaman, insiders for azcentral.com, break down the Cardinals' pick of quarterback Josh Rosen at No.10.
The Arizona Cardinals added two quarterbacks in free agency, Sam Bradford and Mike Glennon. Bradford is guaranteed to make $15 million this year and Glennon has a $4 million guarantee, so it's unlikely either is going anywhere this year.
The starter, at least for now, is Bradford.
"We got Sam to be our starting quarterback and I would still say that is the case," head coach Steve Wilks said. "I'm very excited about Josh ... what he can bring. Every position is open for competition."
Rosen is regarded as a polished passer and perhaps the most NFL-ready quarterback in the class. At the Scouting Combine in February, he had to deal with questions about his outspoken personality and his motivation for playing football.
Thursday night, Rosen was angry. Not at the Cardinals, but at not being taken in the first three picks.
"I dropped and I was pissed," he said in a conference call with Arizona reporters. "I thought I was going to have to put on a face and fake happiness. But for some reason when I got that call, that's not what happened. I got really happy and really motivated. All I wanted to do basically was get on a plane right then and go straight to Arizona and start working."
There is no doubt about Rosen's physical talents. He's 6-foot-4 and 218 pounds. A three-year starter at UCLA, he completed nearly 61 percent of his passes and threw for 59 touchdowns and had 26 passes intercepted.
There are two reasons he wasn't drafted earlier: injuries and outspokenness. Shoulder surgery cut short his sophomore year and he missed games last year after suffering two concussions.
Over those three years, Rosen raised eyebrows by noting how hard it was to be both a student and athlete in college. He also once wore a "F--- Trump" hat while golfing at one of President Donald Trump's courses.
Rosen said he likes to engage people in conversation and is respectful of differing opinions, but admitted:
"Maybe if I had shut up these last three years, I could have been picked higher. The Arizona Cardinals know what they are getting. They are not getting a kid who is going to say stupid things and piss people off unnecessarily. They're going to get a kid that everyone knows who they are getting every day that I walk in the building."