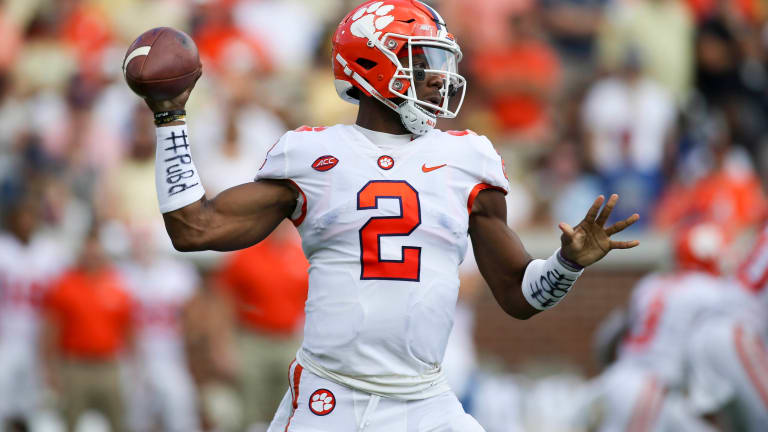 Clemson QB Bryant to transfer after losing starting job
QB Kelly Bryant has decided to transfer from Clemson after losing his starting role to freshman Trevor Lawrence.
Bryant declared his intentions to The Greenville News after meeting with coach Dabo Swinney. The latter described Monday's meeting with Bryant as "emotional" and allowed him to take the day off from practice, although the senior quarterback skipped Tuesday's session as well.
"They asked me how I felt about it," Bryant told the newspaper about his meeting with Swinney. "I was like, 'I'm not discrediting Trevor. He's doing everything asked of him, but on my side of it, I feel like I haven't done anything to not be the starter. I've been here. I've waited my turn. I've done everything y'all have asked me to do, plus more.'
"I've never been a distraction. I've never been in trouble with anything. To me, it was kind of a slap in the face."
Bryant has posted a 16-2 record as a starter and led Clemson to the College Football Playoffs last year. He started the first four games this season, but split time with Lawrence.
"I feel like it's what's best for me and my future," Bryant said of his decision to transfer. "I was just going to control what I could control and try to make the most of my opportunity, but at the end of the day, I just don't feel like I've gotten a fair shot."
Swinney had a chance to respond to Bryant's claim of being given a "fair shot" on the ACC coaches teleconference Wednesday, declaring that he was as open about the quarterback competition.
"He won the job after Deshaun Watson and beat out the No. 1 (high school) quarterback in country to do that in Hunter Johnson, and another recruited quarterback in Zerrick Cooper, both who have gone on to play elsewhere," Swinney said, per ESPN.
"He won the job, and he was the starter for us last year and did a great job, and he came out of camp slightly ahead, and so he continued to start these first four games, but I definitely feel he's been given a fair shot. But at the end of the day, this is not middle school. There's tough decisions that have to be made at this level, and you gotta do what's best for the team."
Bryant has completed 36 of 54 passes for 461 yards with two touchdowns and one interception this season. He has also rushed for 130 yards and two scores.
The 6-foot-5, 205-pound Lawrence is 39 of 60 for 600 yards with nine scores and two interceptions this season for Clemson (4-0, 1-0 Atlantic Coast Conference), which faces Syracuse on Saturday.
Redshirt freshman Chase Brice will serve as Lawrence's backup.