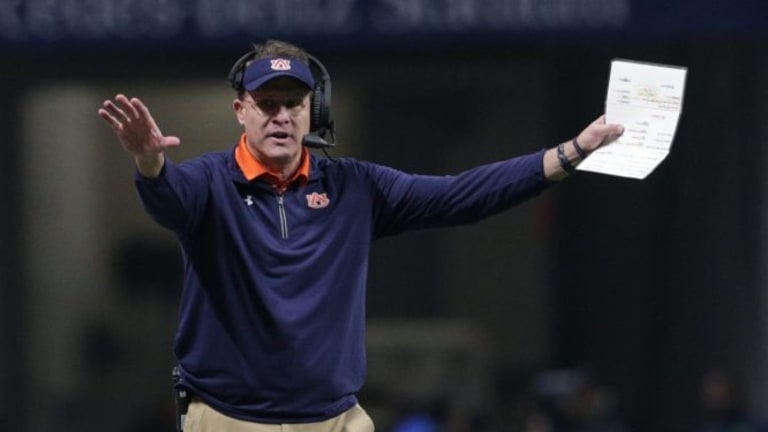 Defensive showdown looms as No. 9 Washington visits No. 6 Auburn
Coach Petersen: "Their defense jumps out right away." Coach Malzahn: "They're very good against the run."
— By Kyle Kensing, The Sports Xchange —
The College Football Hall of Fame is a short trek in Atlanta away from Mercedes-Benz Stadium, site of Saturday's Top 10 showdown between No. 6 Washington and No. 9 Auburn.
There, monuments to the game's past reflect landmark moments. Assigning such gravity to this Pac-12 vs. SEC showdown may be premature, even if both the Huskies and Tigers harbor legitimate College Football Playoff aspirations that will either bloom or wilt dependent on Saturday's result.
For those who appreciate the history of the game, however, Auburn and Washington offer defensive approaches that, in an era of high scores, serve as throwbacks.
Head coaches Gus Malzahn and Chris Petersen both built their reputations on offensive innovation: Malzahn coordinated the Tigers' 2010 national championship offense, and coached three teams that ranked No. 26 or better nationally in points scored since 2013.
Petersen, also a former offensive coordinator, gained fame in his first season as head coach at Boise State, calling a variety of high-risk plays in a Fiesta Bowl win over Oklahoma that launched both that program and his name into the stratosphere.
However, it's their teams' respective defenses that pique the other's interest.
"Their defense jumps out right away," Petersen said of Auburn. "That is a physical group that doesn't make a lot of mistakes. … Sometimes when guys are moving the ball and scoring points, it's broken-down plays when quarterbacks are scrambling."
The strength of Auburn's defense, which held opponents to just 18.3 points per game and a 3.6-per carry rushing yield in 2017, begins at linebacker. Returners Deshaun Davis and Darrell Williams combined for almost 140 tackles a season ago
Likewise, Malzahn offered effusive praise of the Huskies' defense.
"They fly to the football. You can tell they really know their responsibilities," Malzahn said. "It's impressive to watch. They're very good against the run, and the secondary is one of the best in the country."
Each program took a different path to the defensive reputation its cultivated heading into 2018. Washington coordinator Pete Kwiatkowski is a longtime assistant to Petersen, working first as a defensive line coach at Boise State in 2006 before assuming the same position there that now he holds for the Huskies.
The stability Washington enjoys in coaching leadership extends onto the field this season, with the Huskies returning nine starters on that side of the ball.
"I think it's the best defense we've had," said defensive back JoJo McIntosh. "We've lost players over the years, but we keep getting more and more players, and we keep getting better and better."
After a difficult 2014 season with Ellis Johnson, Malzahn brought current South Carolina head coach Will Muschamp back to the Plains, but the Tigers saw little improvement.
"Coach Muschamp was a really good coach … but a lot of guys couldn't pick up the system," Davis said at July's SEC media days. "We had to move on, and I'm glad coach (Kevin) Steele came in. He's doing a great job with us now."
Steele won SEC Defensive Coordinator of the Year in 2017 — a meaningful award, given the emphasis the conference places on that side of the ball.
The SEC has collectively staked its reputation on defensive prowess through a run in which it won eight of 10 national championships. In essence, Washington is tasked with beating Auburn at its, and the SEC's, own game.
The Huskies must also do so in the epicenter of SEC country.
"I'd love to play in a neutral-site game," said Petersen with a laugh. "I don't think we're playing in a neutral-site game. It's very much their backyard. It's a home game on a different field for them."
Just a 90-minute drive from the Auburn University campus, Atlanta's become something of a home-away-home for the Tigers. Saturday marks the program's third consecutive game at Mercedes-Benz Stadium, dating to last season's SEC Championship Game and Peach Bowl.
Auburn lost both, but Malzahn seemed unfazed with the Tigers' recent misfortune there.
"We like playing there; that's where they play the SEC Championship. That's our goal every year," Malzahn said.
But that's not for another three months. Week 1 may feel like ancient history by then, but it sets the course for both teams' seasons.