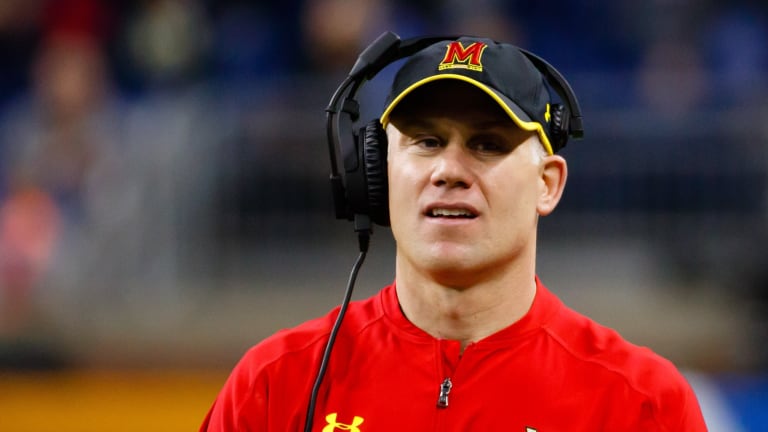 DJ Durkin reinstated as Maryland head coach
DJ Durkin has been reinstated as Terrapins head coach.
DJ Durkin has been reinstated as Terrapins head coach.
In what would have to be characterized as a major upset in a tumultuous Maryland football season, DJ Durkin has been reinstated as Terrapins head coach.
The announcement from the Maryland University System Board of Regents came Tuesday In Baltimore following multiple investigations by the university, the university system and external agents. All those actions followed the June 13 death of sophomore offensive lineman Jordan McNair at a team workout, and a subsequent ESPN report that a "toxic" culture existed in Durkin's program.
"We believe that Coach Durkin has been unfairly blamed for the dysfunction in the athletic department," said board chair James Brady. "And while he shares some of the responsibility, it is not fair to place all of it at his feet."
Durkin, who has a 10-15 record in his previous two seasons at Maryland, has been on administrative leave since August, pending the conclusion of the investigations. He was basically exonerated in a report out late last week.
The "toxic" culture was mostly put on former strength and conditioning coach Rick Court, who took a buyout in August as he was placed on leave.
Durkin, athletic director Damon Evans and university president Dr. Wallace Loh will remain in place, though Loh announced he will retire in June, perhaps setting the stage for a new president to come in and continue a clean-up of the athletic program.
Durkin apparently impressed the Board of Regents in an appearance before them last week. It was in addition to more than 10 hours of meetings with a commission established to investigate his leadership of the football program. It was not immediately apparent if Durkin would be back on the sideline Saturday, though he met with his staff and the team before practice Tuesday.
Maryland (5-3, 3-2) hosts Michigan State this Saturday with the Terrapins just one victory away from bowl eligibility. They've achieved that feat under interim head coach/offensive coordinator Matt Canada, who came aboard this offseason, a fact that made him less part of the program's culture.
"Our players have focused on each other," Canada said.
"We have really closed off our room and said it's about us. … We can control how we respond, how our kids respond to each other. I think that's something they've done a great job with, all the way back to how they mourned, how they have dealt with adversity, how they dealt with losses."
Board chairman Brady reaffirmed that the latest report found there was no toxic culture, although problems within the team festered because too many players feared speaking out. Further, a lack of accountability prevailed throughout the athletic department, and first-time head coach Durkin wasn't given proper supervision, issues Brady said are already being resolved, obviously to the satisfaction of the board.
Further, Maryland will work to establish an "independent medical model" to pursue best practices to safeguard student-athletes throughout the university and will move forward "forever" remembering McNair.
McNair passed away June 13, two weeks after going down in practice with what was later diagnosed as heatstroke. After an external review of the circumstances of McNair's death, Maryland released a statement placing "members of the Athletics staff on administrative leave."
ESPN next released a report detailing a "toxic" culture in Durkin's program, primarily focused on behavior involving Court. In the story, McNair family attorney Billy Murphy also said McNair had suffered a seizure at a May 29 workout, and nearly an hour elapsed before a call to 911 was made.
On August 11, Evans issued a statement that Durkin was among those placed on leave. Others were Court, head trainer Wes Robinson and trainer Steve Nordwall. The next day, Murphy called for the school to fire Durkin, and announced a forthcoming civil lawsuit.
At a press conference on Aug. 14, Loh said the university accepted "legal and moral responsibility for mistakes (the) training staff made." Loh also announced the formation of an independent group to investigate the "toxic" allegations.
McNair's parents called for Durkin's dismissal two days later, and The Washington Post reported Loh had last year rejected a proposal by then-AD Kevin Anderson to change the structure of athletic health care at the university. On Aug. 17, the Maryland university system's Board of Regents took over the investigation.
On Sept. 21, the University System announced the training staff did not follow protocol at the May 29 workout, but took no action at that time on personnel matters, as the investigation into the program's culture continued.