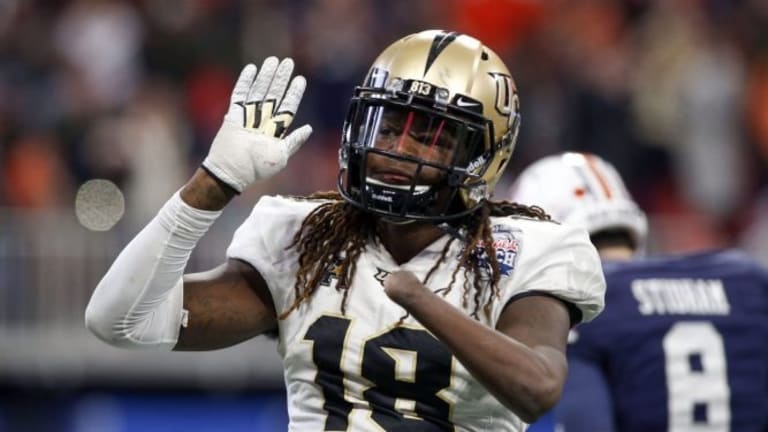 Exclusive: Why LB Griffin slid to fifth round
— By Frank Cooney, NFLDraftScout.com —
— By Frank Cooney, NFLDraftScout.com —
There was a reason he slipped lower than some expected, but Shaquem Griffin's feel-good story continued Saturday as the Seattle Seahawks drafted the Central Florida linebacker with the 141st pick of the 2018 NFL Draft.
Despite playing with only one hand, Griffin was very productive in college and his stock soared after a tremendous workout at the NFL Combine at Indianapolis, which included a blazing time of 4.38 seconds in 40 yards.
He moved into the top 100 on many boards and was rated as a third-round pick. However, NFLDdraftScout.com learned that Griffin's great clocking at the combine was incorrect because the clock started a little late. It was estimated his time was closer to 4.58 seconds.
Still a good time, but not in that elite 4.3-second territory. But, on balance, it made only a little difference in his overall rating and because he was THE feel-good story at the combine, the timing incident was not reported.
However, NFLDraftScout.com learned that many teams repositioned him on draft boards, but still considered Griffin an excellent prospect. For them, his so-called slide from the top 100 to 141 was no surprise, but his on-field credentials predict he will be productive in the NFL.
Griffin, who had his left hand amputated as a child, overcame it in winning the American Athletic Conference's Defensive Player of the Year and turned heads at the NFL Draft Combine in March.
The 6-feet, 227-pounder impressed talent evaluators and became a legitimate draft prospect.
His dream came true Saturday as the Seahawks selected him in the fifth round and paired him with his twin brother, Shaquill, whom Seattle took in the third round a year ago.
Despite being regarded as the best defensive player in the AAC on an undefeated Central Florida squad, Griffin was not initially among the 300 or so players invited to the Combine. His performance in the Senior Bowl eventually got him a later call-up. Scouts were wowed by his versatility, instincts and raw athleticism.
Though it seems illogical that a player with only one arm could be an effective defender, Griffin has adapted wonderfully, using his forearm to fend off opponents. Offensive linemen are taught to grab the wrist and pull defenders down if they are successful in reaching their chest. Griffin's narrow limb, however, gives opponents a comparatively small, blunt target, which — combined with his agility — makes it very difficult for blockers to keep him contained for long.
Griffin used a prosthetic on his left arm to replace his amputated left hand and performed 20 repetitions of 225 pounds in the bench press.
He participated in the Golden Knights' Pro Day in late March and registered a vertical jump of 37 1/2 inches. That would have ranked sixth among linebackers at the Combine. Among those in attendance for his Pro Day were representatives from the New Orleans Saints, Seahawks, Oakland Raiders, Minnesota Vikings and Buffalo Bills.
Griffin notched 18.5 sacks in his final two seasons at Central Florida.